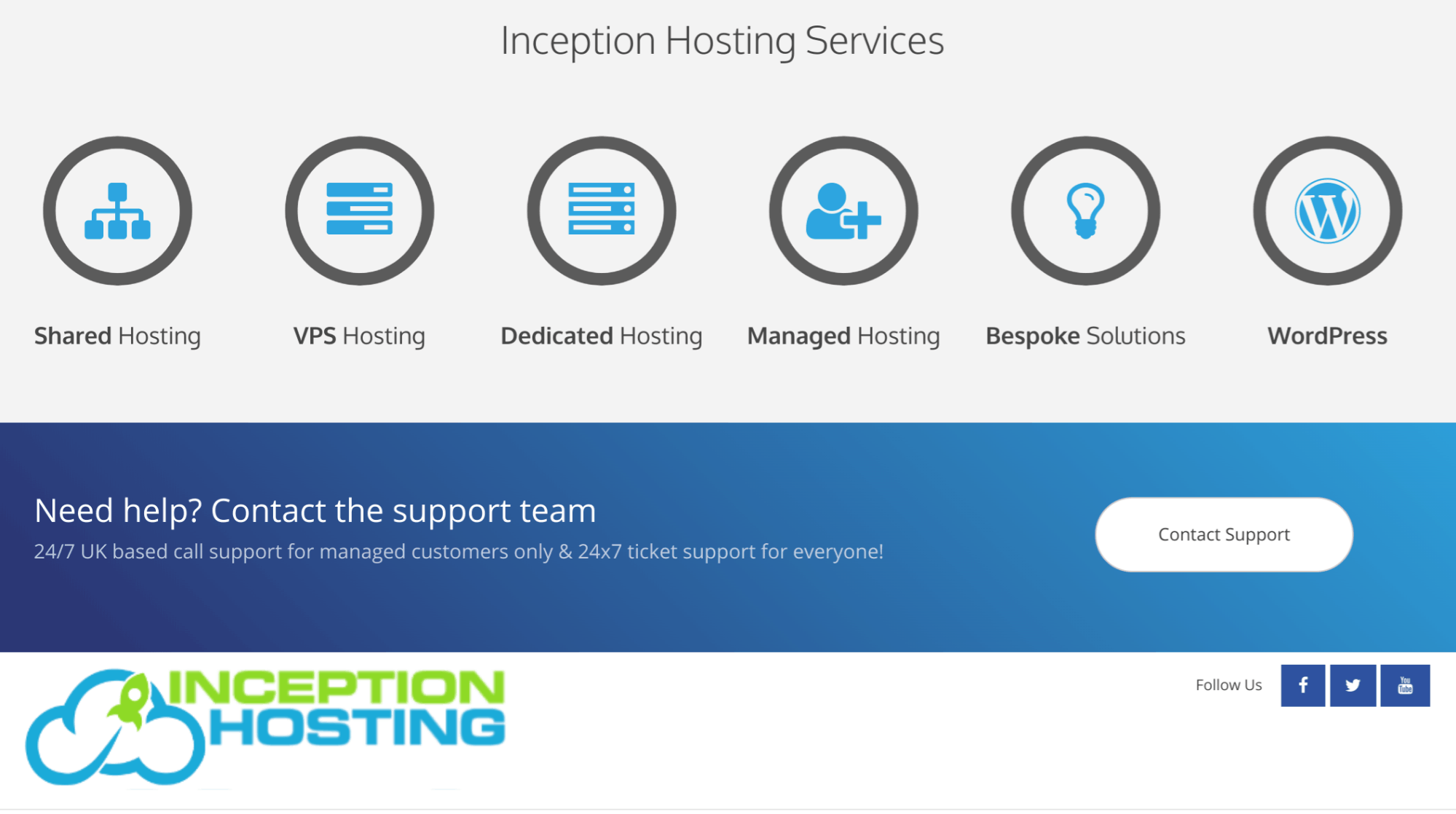 British hosting company Inception Hosting offers a range of hosting solutions including reseller hosting, shared web hosting, VPS, and dedicated server solutions. This U.K. provider also has a strong presence in the United States, China, France, and India.
Features and Ease of Use
Inception Hosting has invested in its service delivery to ensure that clients get satisfactory hosting solutions. The standard hosting features you can expect from this vendor include:
99.9% uptime guarantee
MySQL databases
PHP support
Unlimited email accounts
Apache
400+ one-click installations
DDoS protection
Inception Hosting's solutions use Linux, Windows, and BSD operating systems. It has streamlined the setup process with an Instant Activation feature that ensures users can get started as soon as they have purchased their preferred package. The most popular hosting package is the KVM VPS Servers package that comes with 2-8 CPU Cores, 256MB to 32GB RAM, 500GB to 8TB monthly bandwidth, and disk space of between 5GB and 640GB.
DDoS protection is offered only to VPS customers within the U.K., but shared hosting customers can enjoy this feature regardless of their location. VPS solutions also use the SolusVM control panel rather than the popular cPanel but shared hosting customers get cPanel.
You receive daily automatic backups, which include safe and secure remote backups, providing you with peace of mind.
Pricing and Support
Inception Hosting has very cheap hosting plans that come packed with pretty advanced features, and all cPanel-based hosting comes with a free SSL certificate.
This provider offers a 99.9% uptime guarantee backed by an impressive compensation plan that gives you a month of free hosting if the availability falls below 99.9%. You also get a 14-day money-back guarantee on all their services except dedicated servers, domain registration, and VPS packages. That is, unless you purchase hosting using a promotional code, in which case you only get a 48-hour money-back guarantee. Oh, I should also say that a 10% administration fee is always deducted from refunds and some customers have complained about not getting refunded at all.
You can contact Inception Hosting's 24/7 support team via their ticketing system, but managed hosting customers also get telephone support. This vendor is active on social media platforms that serve as communications channels between customers and the company. Sounds good, until I tell you that the support staff can come across as unfriendly and unresponsive.
The support pages are available in over 20 languages, but these appear to be automated translations using the Google plugin. The knowledge base is not really worth the paper (or computer screen) it's written on since it contains just a handful of articles.
How much does Inception Hosting cost?
Inception Hosting offers plans from $1 to $3. The price depends on which type of hosting plan you choose. You can see the updated pricing table (updated weekly) below.

Which Inception Hosting plan should I get?
My recommendation is to start with a cheaper plan. You can always upgrade later on. Inception Hosting can help you with the migration to a more expensive plan. The increase in visitors many times takes longer than expected and you shouldn't pay a lot of money until the need arises. Of course, your needs may vary, and you can consult with a hosting expert from Inception Hosting here.

How good is Inception Hosting's customer support?
Inception Hosting is not ranked as one of our top web hosts. But that can also be a result of Inception Hosting being a small, under the radar, hosting provider. There are advantages to a small hosting company – as a customer, you are more important to them. You can also check out our comparison of the most popular web hosting services here.