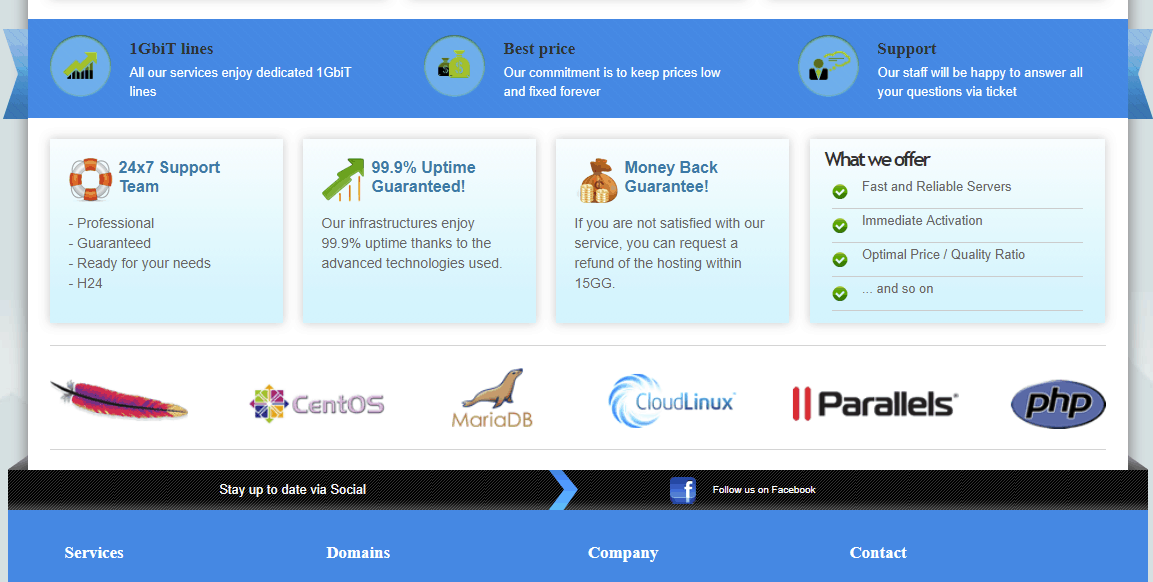 Founded in 2011, IlTuoHosting is a web hosting company based in Milan, Italy. It offers shared hosting, semi-dedicated hosting, dedicated servers, Virtual Private Servers (VPS), and reseller hosting. Its servers are located in Germany and its website is available in Italian only.
Features and Ease of Use
IlTuoHosting offers only one shared hosting plan for small businesses and personal blogs. These are the features that customers enjoy:
99.9% uptime
Automatic backups
Lets Encrypt SSL certificate
Unlimited storage space
One domain
FTP and emails are backed-up every 14 days, while MySQL databases are backed up daily. However, those backups can't be restored by customers. If you want them, you'll have to contact support and pay a fee, so you should take your own manual backups from time to time.
For some reason, many web hosting companies advertise themselves as "unlimited" resource providers when there's not really unlimited hosting. For this one, the unlimited hosting doesn't cover media files, only programming scripts, and even that is still limited.
A quick search in its terms and conditions shows that it only guarantees 3GB SSD for everything, including emails and 50GB traffic despite advertising unlimited on both on its web hosting page.
Its PHP memory limit is 128MB. That's enough for many scripts but if you need to increase it to 256MB, IlTuoHosting allows the editing of the PHP.ini file, so you can quickly sweep in to make the changes that you want.
IlTuoHosting supports Perl, PHP, and some PHP extensions and tools namely suPHP, phpPDO, phpJSON, phpPEAR, phpSOAP, and phpMCRYPT. For beginners who don't understand PHP and coding, they can use the Application Vault to install WordPress, Joomla!, OsCommerce, PrestaShop, Magento, and VBulletin.
The control panel that's provided is Plesk, which is a beginner-friendly panel and one of my favorites. All of these features are set up on the CloudLinux operating system for a fantastic shared hosting experience.
Pricing and Support
Its shared hosting is offered in one subscription duration only: 12 months. The price is low and competitive when compared to other web hosting providers offering similar features.
If you don't think it's worthwhile yet, maybe the free domain on offer will change your mind. The company offers .it, .com, .info, .name, and .eu domain registration for free with hosting. It accepts payments through PayPal payment processor or bank wire.
Customers are protected with a 15-day money-back guarantee. That's shorter than the industry standard of 30 days, but given that the price here is much lower, it's great that there's a money-back guarantee at all. Keep in mind that the cost of the domain will be taken out before you're refunded.
There are VPS plans available, and they also offer a semi-dedicated hosting plan that ranges from low cost to fairly priced. They provide more features, so if the shared plan won't do, you can choose one of the other plans.
I'm a fan of live chats, but even though IlTuoHosting doesn't have a live chat, it provides adequate substitutes with a knowledge base, email, ticket, and phone support. I sent an email and received a reply a few minutes later.