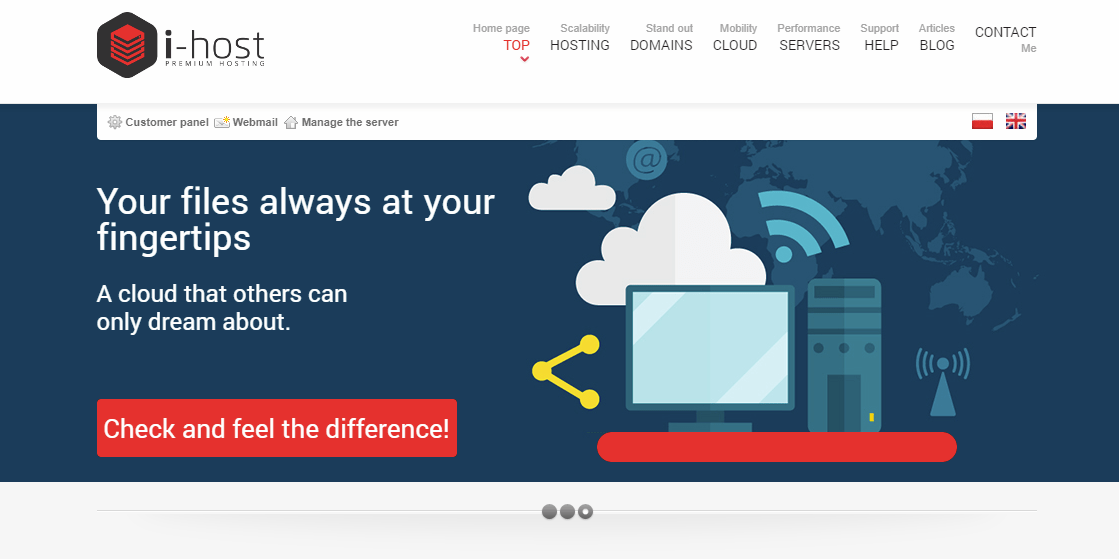 In business for over 10 years, i-host.pl offers shared hosting and Virtual Private Servers (VPS). The company is located in Krakow, Poland. Its website is available in Polish only; there's a button for an English version but it only redirects back to the polish version.
Features and Ease of Use
If you want VPS, you'll have to contact the company to build custom configurations that meet what you want. For shared hosting, there are two plans that offer the following features:
Up to 20 add-on domains
10GB or 20GB storage space
Asides from the plans, i-host.pl allows potential customers to configure their shared hosting server. You can pick the number of domains that you want to host on the account, the number of databases, email accounts, and disk space. This helps you to only pick and pay for the features that you want.
Linux operating system runs on the servers, and the company uses Apache web server and MySQL databases. i-host.pl supports PHP programming, but not much else. If you plan to code in Python, you'll have to look elsewhere.
i-host.pl doesn't provide cPanel; its control panel is custom-built for its customers. From my experience, it's simple and intuitive. Options to manage domains, emails, and databases are arranged in sidebars. It doesn't provide as many options and tools as cPanel, though.
On the plus side, it has an installer for WordPress. All you have to do is choose the domain that you want to install the CMS in and the application will handle everything else. However, it installs WordPress only, no other web application is provided.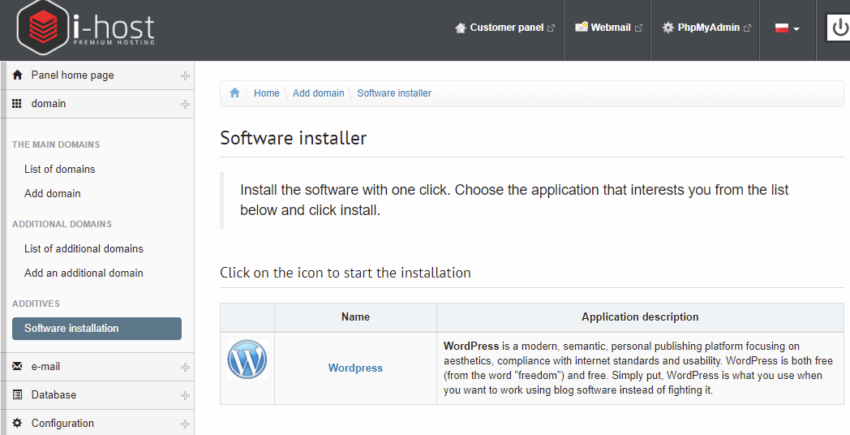 Pricing and Support
i-host.pl offers low-cost prices on its two prepared plans. The custom configurations are affordable, as well. The biggest advantage is that you don't pay for features that you don't need. You only pick the resources that are relevant and pay for those. Also, there's a seven-day free trial on some of its shared plans.
Be aware, though, that the company doesn't offer a free domain or SSL certificate. However, with these low prices, the added cost of the domain and SSL certificate shouldn't excessively ramp up hosting spend.
The company promises that there are no hidden charges and tricks when it's time to renew your hosting plan.
i-host.pl has a help center that DIY oriented customers can use for a bit of self-support, however, it doesn't provide in-depth tutorials. It should work for the basic settings, though. If you'd rather be in touch with a technical support agent, you're covered with i-host.pl's 24 hour promised support.
The technical team can only be reached through phone and email, which can be restricting, especially for customers outside Poland who want to talk to an agent right away without incurring call tariffs. Unfortunately, there's no live chat option, so you're left with email support.
Regardless, it's 24/7, so you could expect a fast response. Unfortunately, in my experience after sending an email, I didn't get a response despite waiting for more than three weeks.