Ukrainian host HyperHost has been providing high quality hosting products in Ukraine, Russia, and the rest of the world since 2008. This customer-oriented company's slightly overpowering website is available in English, Russian, and Ukrainian.
Features and Ease of Use
HyperHost's diverse product range includes shared website hosting, unlimited hosting (presumably still for websites), CMS hosting, WordPress hosting, Windows and Linux VDS, VPS, and reseller hosting. This company also provides associated services such as domain registration, dedicated servers, SSL certificates, CDN, VPN, data backup, and a site builder.
Looking at the shared hosting packages specifically, there's a lot to like, including:
99.97% guaranteed uptime

SSD storage

Site builder

Free SSL certificate

cPanel and ISPmanager

CMS installer

Daily backups

Unlimited bandwidth

SSD storage
Tech-savvy customers will appreciate the support for PHP, CGI-BIN, Ruby-on-Rails, Python, Django, Perl, MySQL/PostgreSQL, Git, Zend Optimizer, IonCube Loader, ImageMagick, GD, and cURL. Developers can also use Cron to schedule scripts, can take advantage of SSH and FTP access, and can configure MX records.
Beginner webmasters without a technical background can use the Fantastico auto-installer built into the cPanel control panel to install popular CMS and other apps including WordPress, Joomla, and Drupal. Alternatively, the free site builder included with all subscriptions allows you to build a beautiful website easily.
To top it all off, you benefit from freebies such as Let's Encrypt SSL certificates with all subscriptions and a free CDN with the Pro plan. It goes without saying that you get unlimited resources with the "unlimited" packages.
Pricing and Support
HyperHost has the big selling point of being very transparent about its pricing, with lots of budget-friendly subscriptions that are tailored to different needs. Whether you want shared hosting, VPS, VDS, or dedicated server hosting, you'll find it here.
The smallest "web hosting" plan offers 1 GB of SSD storage, while the most modest "unlimited" subscription provides you with 30 GB. If you sign up for any plan except the lowest one for a minimum of six months, you'll receive a free domain.
HyperHost offers both free website hosting, and (unusually) free VPS/VDS hosting, so you have some opportunities for you to try before you buy. If that's not enough, there is a 30-day money-back guarantee that gives you some time to get out of your commitment early if you're not entirely happy.
You can contact customer services 24/7/365 via email, telephone (mainly for emergencies), and even postal mail. A live chat channel is available during business hours, and I've found the live chat team to be professional and responsive: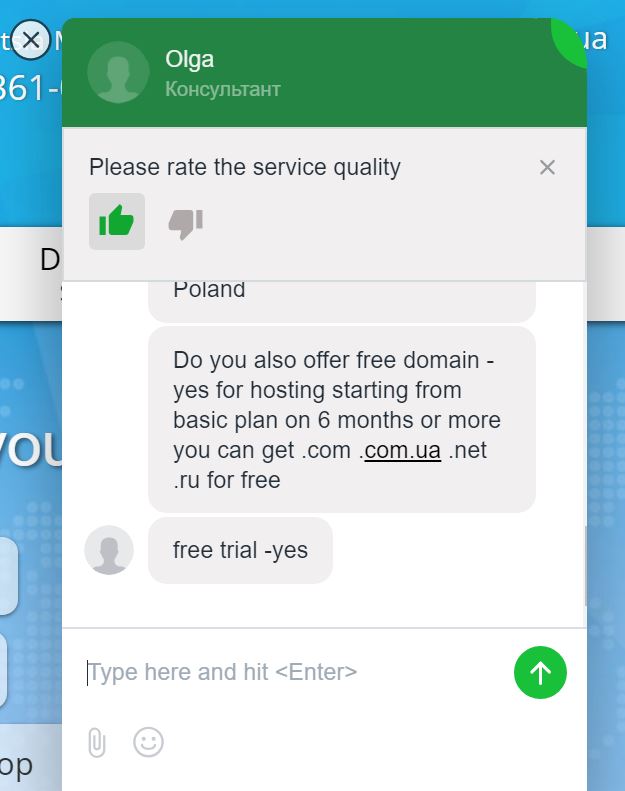 How much does HyperHost cost?
HyperHost offers plans from $0 to $14. The price depends on which type of hosting plan you choose. You can see the updated pricing table (updated weekly) below.

Which HyperHost plan should I get?
My recommendation is to start with a cheaper plan. You can always upgrade later on. HyperHost can help you with the migration to a more expensive plan. The increase in visitors many times takes longer than expected and you shouldn't pay a lot of money until the need arises. Of course, your needs may vary, and you can consult with a hosting expert from HyperHost here.

How good is HyperHost's customer support?
HyperHost is not ranked as one of our top web hosts. But that can also be a result of HyperHost being a small, under the radar, hosting provider. There are advantages to a small hosting company – as a customer, you are more important to them. You can also check out our comparison of the most popular web hosting services here.