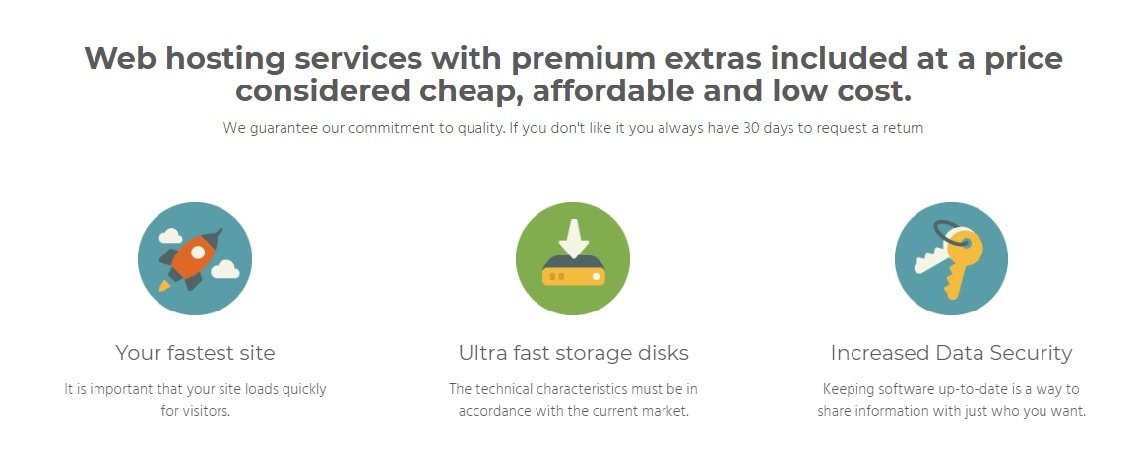 HostWebis (also known as simply "WebIS") has been in business in one form or another since 1998, when it went straight to setting up an international presence but with a specific U.K. brand. It set up a Portuguese brand in 2003, which it subsequently merged with WebIS, and in 2006, it bought an Indian web hosting website. In 2007, it expanded again to cover 20 more countries.
The HostWebis website is in English whereas the WebIS website is in Portuguese. Both sites advertise essentially the same hosting offerings.
Features and Ease of Use
The HostWebis and WebIS websites advertise three single-site shared hosting plans, three multisite/reseller hosting plans, and three dedicated server plans. Note that this company's WHMCS-powered store page shows some additional plans, including a VPS plan which (according to customer services) is available.
With the single-site shared hosting plans, you get:
2 GB to 8 GB disk space
20 GB to 80 GB data transfer
20 to unlimited email accounts
2 to 8 MySQL databases
Support for PHP5 and Java applications
Webmail
Free activation
The daily statistics provide useful insights into your web traffic, and the 99.9% uptime guarantee means your website should be available almost all the time (but no more than the industry average).
HostWebis utilizes SSD storage to enhance performance and reliability, incorporating SoftRAID (or RAID 10 for VPS) for protection against disk data disasters. They ensure security with a firewall and DDoS mitigation.
Pricing and Support
The HostWebis shared hosting plans are competitively priced, and the single-site plans come with a free domain when you commit for at least a year. Other billing cycles are monthly, biannual, and biennial, and you get a 30-day refund window which should make you feel better about making a one- or two-year commitment (because you can get out early). Pay in euros by PayPal, credit card, bank transfer, or euPago.
HostWebis provides support via telephone, ticket, live chat, or email, and I'm pleased to say that I received quick answers to my queries via live chat: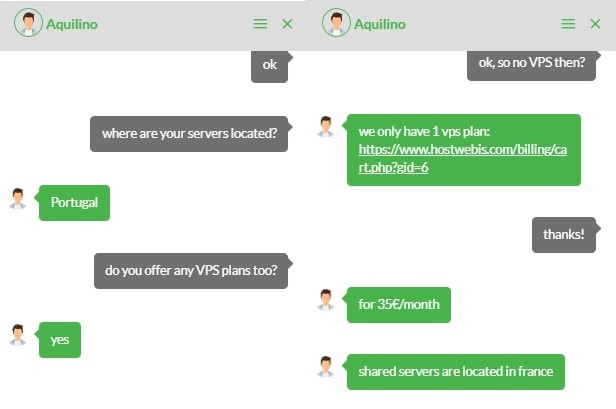 The HostWebis knowledge base is bare, so there are no self-support resources apart from a few YouTube videos.
How much does HostWebis cost?
HostWebis offers plans from $2 to $4. The price depends on which type of hosting plan you choose. You can see the updated pricing table (updated weekly) below.

Which HostWebis plan should I get?
My recommendation is to start with a cheaper plan. You can always upgrade later on. HostWebis can help you with the migration to a more expensive plan. The increase in visitors many times takes longer than expected and you shouldn't pay a lot of money until the need arises. Of course, your needs may vary, and you can consult with a hosting expert from HostWebis here.

How good is HostWebis's customer support?
HostWebis is not ranked as one of our top web hosts. But that can also be a result of HostWebis being a small, under the radar, hosting provider. There are advantages to a small hosting company – as a customer, you are more important to them. You can also check out our comparison of the most popular web hosting services here.