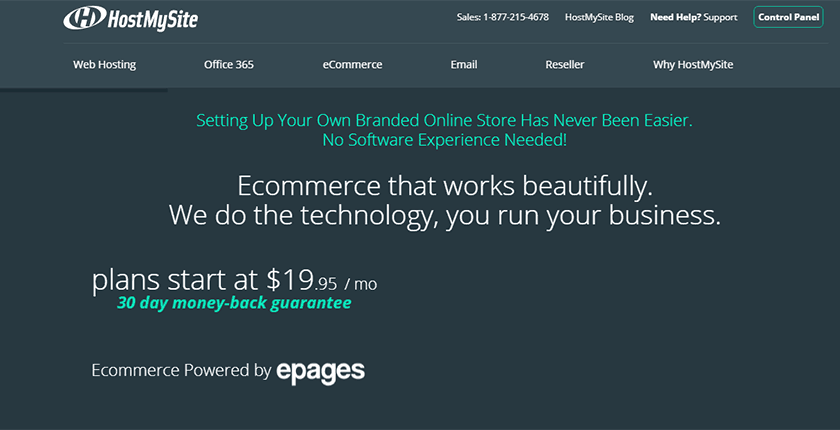 There are few web hosting companies that have been around as long as HostMySite; they have been in operation since 1997 and continually offered premier web hosting services. The US-based company owns and operates their networks and data centers and offers US-based customer support to help you build any size website you desire.
Features and Ease of Use
Like most website hosting services, HostMySite offers many standard features that will help you get your site online including:
Unlimited bandwidth
Free domain name
cPanel
MySQL database support
They also offer a few value-added features you don't see offered by most web hosts:
Choice of Linux or Windows based hosting
500 Mailboxes
Integrated app catalog
Web presence builder
The integrated app center gives you the ability to use WordPress, Joomla!, and other installation scripts to simplify the website creation process. They also support various E-commerce tools, such as oscommerce, opencart, Zen cart, and PrestaShop.
Few web hosts offer 500 mailboxes as standard, making HostMySite perfect for those that need solid email options for their site. Also, HostMySite lets you choose between Windows and Linux-based hosting. If you're unsure of which one you need to use, you can always contact customer support for help.
Since they don't have a website builder, HostMySite isn't going to be suitable for absolute beginners, but those who understand how to install site scripts or who are good at following online tutorials will be fine. Otherwise, most web developers should find HostMySite simple to navigate and use.
Pricing and Support
HostMySite only offers two service plans: Basic and Pro and both offer the features listed above and only have small differences listed in the chart below:
| | | |
| --- | --- | --- |
| | Basic | Pro |
| Domains | 1 | 10 |
| Storage | 5GB | Unlimited |
| Databases | 10 | Unlimited |
| Database Storage | 1GB | Unlimited |
There is a bit of a catch on the "unlimited" storage. HostMySite has an Unlimited Resource Policy that restricts the types of data you can host. For example, you cannot use your site for any kinds of torrenting or even legal video sharing that are not part of the operation of your site.
Also, the following qualify as a misuse of system resources:
Scheduled tasks that run more frequently than 5 minutes
Cron jobs
Databases larger than 2 GB
Knowing this, if you require large databases, such as product or customer databases, HostMySite may not be for you. Also, they don't offer free web hosting services, but both plans come with a 30-day money back guarantee.
HostMySite has solid 24/7 customer support with multiple support options. They offer a robust, searchable knowledge database that can answer most support questions. If you still need help, you can open an online support ticket, contact customer support via live chat, or call them on their toll-free support number. When I contacted them, the agents were very knowledgeable and able to answer questions quickly.
Note that you must have an account and log in before you have access to live chat, so if you have questions before you have an account, you must call them.
HostMySite Has Hosted Websites Since Before Web Hosting Was Cool
There are few companies with the track record of HostMySite. For over 20 years they've successfully hosted websites from around the world thanks to a solid set of features along with US-based customer service.
Pros
500 Mailboxes
Linux or Windows hosting
Unlimited bandwidth
Large app catalog
Cons
No free website builder
Restrictive Unlimited Resource Policy