HostMetro is a U.S.-based web hosting vendor with
affordable hosting solutions
backed by expert technical support and an extremely thorough knowledge base. They were founded in 2012 and
specialize solely in shared hosting
. The company is one of the few providers that offer a
price lock guarantee
, ensuring that their customers won't get a shock upon renewal. With their two shared hosting plans, their mission is to be
a reliable hosting provider
for individuals and small to mid-sized businesses. In addition to the United States, they have a considerable presence in Bulgaria, the United Kingdom, India, and Taiwan.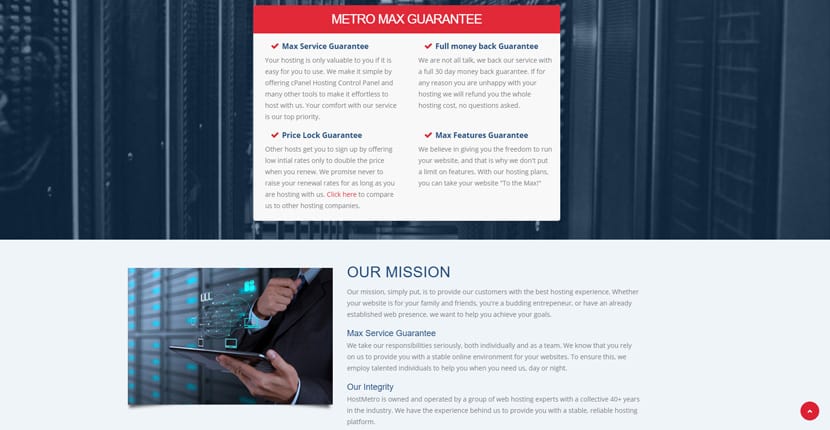 Features and Ease of Use
HostMetro doesn't have many hosting plans for users to choose from. This isn't always a bad thing; in fact, because HostMetro specializes in shared hosting, it makes it relatively easy for potential customers to choose an appropriate hosting plan.
The standard features included in HostMetro's plans include:
Unlimited add-on and parked domains
Unlimited subdomains
Unlimited email accounts and forwarders
Advanced firewall
Password-protected directories
Website analytics
Free website builder
Free script installer
Free domain registration
As you can see, you won't have an issue hosting multiple domains and opening lots of email accounts with HostMetro. They also give you what they call "maximum disk space and bandwidth," with the ability to request more at any time if you reach your limits (according to them, 95% of their customers won't ever hit the maximum). However, the caveat is that your use of this storage and bandwidth must be reasonable and within their Terms of Use. For instance, you can't use the storage or bandwidth for file sharing purposes, nor are these intended to be backup storage for you.
The main variation between their two plans are the provision of a GeoTrust SSL certificate and the SiteLock Security Seal. This essentially means that if you're running a business or an e-commerce website, go for their Super Max Plan; otherwise, the Mega Max Plan will do just fine.
One aspect I didn't quite like about HostMetro, however: their uptime can be rather spotty. They've only got a 99% uptime guarantee, which is lower than the industry-standard 99.9%. They're also not great about providing details on the type of hardware and software they use, so you don't know what kind of infrastructure your website is being housed in. Plus, backup-wise, you're largely on your own: while HostMetro does take weekly backups of your data, this generally isn't adequate for most users (particularly if you're using a WordPress installation).
HostMetro offers a convenient and free website migration service for users moving over from another hosting provider.
Pricing and Support
The prices listed on HostMetro's website shows the company's commitment to providing affordable hosting plans. The biennial and annual payments will cost you less than paying on a monthly basis. Plus, unlike many other vendors, HostMetro does not double their hosting prices after the introductory period: their price lock guarantee assures you that the low initial rates you're paying are the same prices you will pay even after the promotional period is over.
HostMetro has a 30-day money back guarantee, though this isn't automatic: you'll have to write in to request it. Moreover, if they suspend your account at any time within the first 30 days after creating it, the policy becomes void, even if they later unsuspend your account.
HostMetro claims to offer 24/7 U.S.-based support. You can contact their customer support by opening a ticket, through the vendor's live chat, or by phone. The company also has a comprehensive knowledge base that includes over 100 video tutorials. That said, while the company claims to have a support team with a combined experience of over 50 years, the ever-growing list of customers dissatisfied with their support implies that HostMetro might be somewhat problematic in that area. However, my experience with them wasn't bad at all. The tech support team responded fairly quickly when I submitted a ticket, and the information they sent me adequately addressed the queries I had.
How much does HostMetro cost?
HostMetro offers plans from $2 to $7. The price depends on which type of hosting plan you choose. You can see the updated pricing table (updated weekly) below.

Which HostMetro plan should I get?
My recommendation is to start with a cheaper plan. You can always upgrade later on. HostMetro can help you with the migration to a more expensive plan. The increase in visitors many times takes longer than expected and you shouldn't pay a lot of money until the need arises. Of course, your needs may vary, and you can consult with a hosting expert from HostMetro here.

How good is HostMetro's customer support?
HostMetro is not ranked as one of our top web hosts. But that can also be a result of HostMetro being a small, under the radar, hosting provider. There are advantages to a small hosting company – as a customer, you are more important to them. You can also check out our comparison of the most popular web hosting services here.