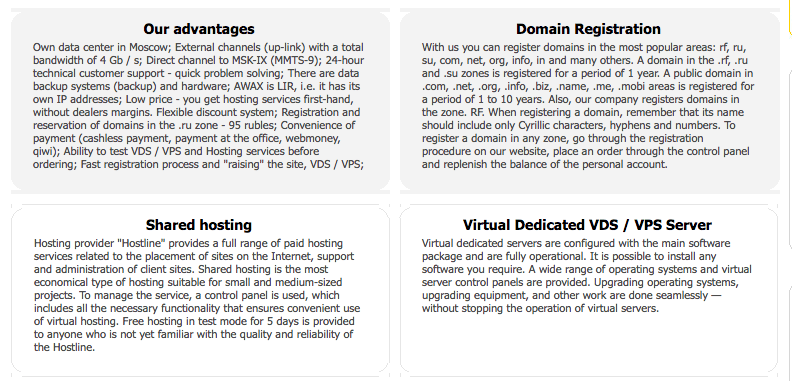 Hostline was founded in 2005 and by 2008 it had set up its own data center. It's a full-service host, employing system administrators and programmers, and offering a Russian language website.
Features and Ease of Use
Hostline offers a range of hosting services, including shared hosting and domain registration. The shared hosting plans come with the following core features:
99.9% uptime guarantee

Automatic data backup system

Domain registration available

Up to 30 add-on domains

SSL certificates available

Up to 30GB disk space
Hostline owns and operates its own data center, so it's able to offer a 99.9% uptime guarantee. The hardware used is branded Cisco, Intel, and IBM. The website doesn't clearly state where the data center is located, but after confirming with support, I can tell you, as you'd expect, it's in Russia.
If you're looking for support for PHP, it is included, up to version 7.1 – 7.2. Other standard features include MySQL databases, phpMyAdmin, and FTP accounts. However, it's not clear if other more advanced coding languages are included.
The situation is also unclear regarding beginner-friendly features. The website doesn't advertise a one-click installer or a website building tool, so I can't say for sure whether or not these features are included.
Pricing and Support
The prices are cheap, however, that's fair given the presumed low level of value-added features, particularly for beginners. You can opt for a long term purchase and benefit from a discount on your monthly rate.
SSL certificates and domain names are always added costs, so that's certainly something to consider when looking at the base price of the plans. If you're unsure about the service, there's a small offer of five days free to get you started.
Like other Russian companies, there's a long and rather daunting online form to complete before you make a purchase, so it's not the smoothest of checkout flows, but it can be 100% online.
Customer service is available from 9:00 AM to 9:00 PM by phone and email. There are some helpful documents on the website, but nothing too substantial. So far, so good, in terms of customer service.
However, "advanced technical support," if required, is billed at a raft of different rates for specific services. For instance, there's a fee to restore from backup, a fee to migrate your website, a fee to change permissions to directories and files, and so on. I suppose it's good that the prices are clearly displayed, but it's a frustration of mine when companies charge for support and customer service.
However, I had a positive experience with the support team. I emailed them during regular business hours on a weekday and was pleasantly surprised to receive a response on the same day. It's worth mentioning that the reply to my email in English was in Russian, which might not be a problem for Russians, but could be worth noting for others.