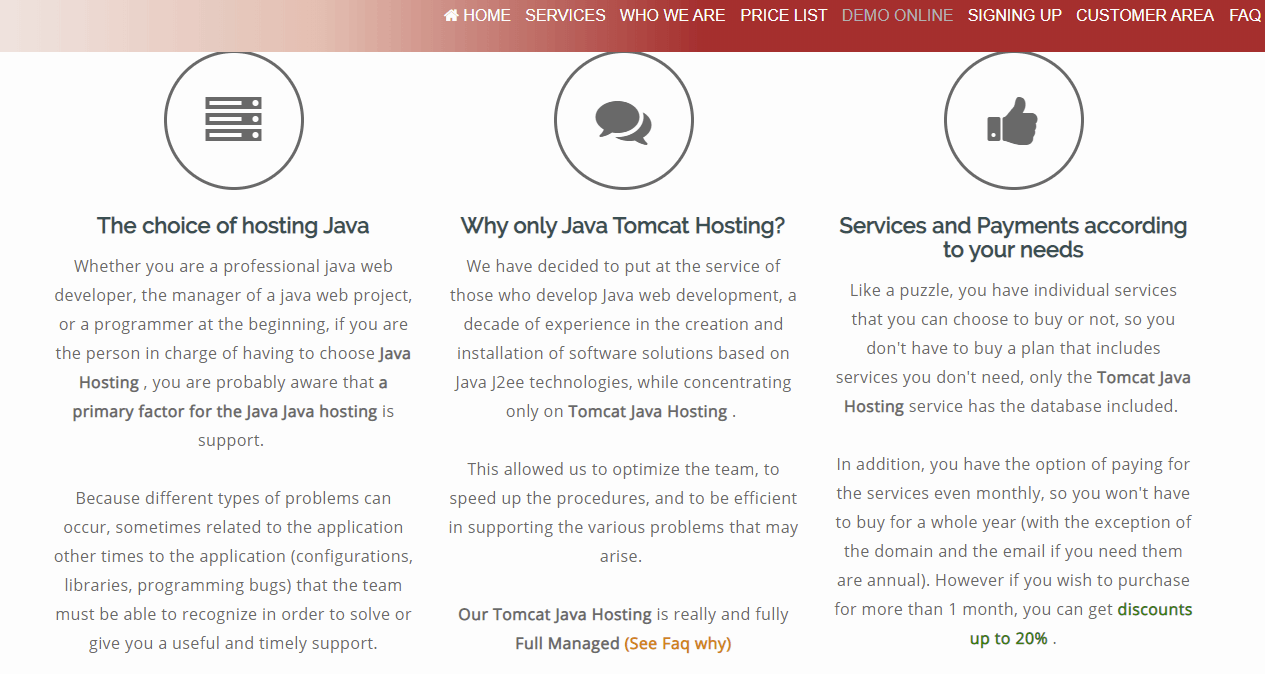 With decades of experience in the creation and installation of Java-based software, Unitsoft felt equipped to provide Java hosting under the umbrella of HostJava. HostJava specializes in Java hosting solutions only, so it's not your typical shared hosting provider. The company is based in Rome, Italy with data centers in its base country. Its website is offered in Italian only.
Features and Ease of Use
Developers that work on Java know that when it comes to hosting Java applications, it's not that straightforward. You might end up opting for regular hosting but having to install Tomcat on your server without a guarantee of great performance. HostJava has seen this happen over the years and provides primary Java hosting.
These are some of the features that it provides through its five hosting plans:
99.95% uptime guarantee
Unlimited bandwidth
Up to 1GB JVM RAM
Unlimited disk space
Java hosting with this company comes with ready to use stacks – Tomcat and MySQL. It allows you to create up to four databases at most. You get FTP access to upload and access files.
One great thing about HostJava is the flexibility that you get. You can run your custom java libraries, classes, and framework. Also, you can start and stop the container instantly and at any time via the command line.
This company gives customers their own private instance of Tomcat so that they don't have to worry about other applications dragging the container and slowing it down. All you'll have on it is the applications that you install. Also, it gives Tomcat manager access for full administrative and managerial functions over individual applications.
If you need more RAM than what's provided, you can easily upgrade to be able to run as many processes as you want.
Despite how great it is for fantastic customization and control, there are a few features that are lacking. One of them is the lack of email accounts with the hosting. HostJava expects that you spend extra on buying email hosting from it but even when you do, it will delete your emails when they last up to 180 days.
Pricing and Support
You'll be surprised by HostJava's high java hosting prices. Compared to what you'd find from other Java hosting companies, this is on the high side. On the plus side, though, it's dedicated to hosting java only, so the expertise and experience might be better. HostJava offers a seven-day trial to anyone looking to test its server. All you need to do is get through to checkout, and choose PayPal but don't pay. Click cancel and send the sales team an email requesting activation of the free trial with your registered user ID.
You can subscribe for a minimum of one month at a time. If you decide to commit to a one-year term, you'll save 20% at the time of writing this review. Keep in mind that there may be a waiting period of around 24 hours for setup/activation after payment.
HostJava's support team is made up of Java professionals and system engineers that commit to identifying problems quickly. You can reach them through email. I did and received my answers less than an hour later.