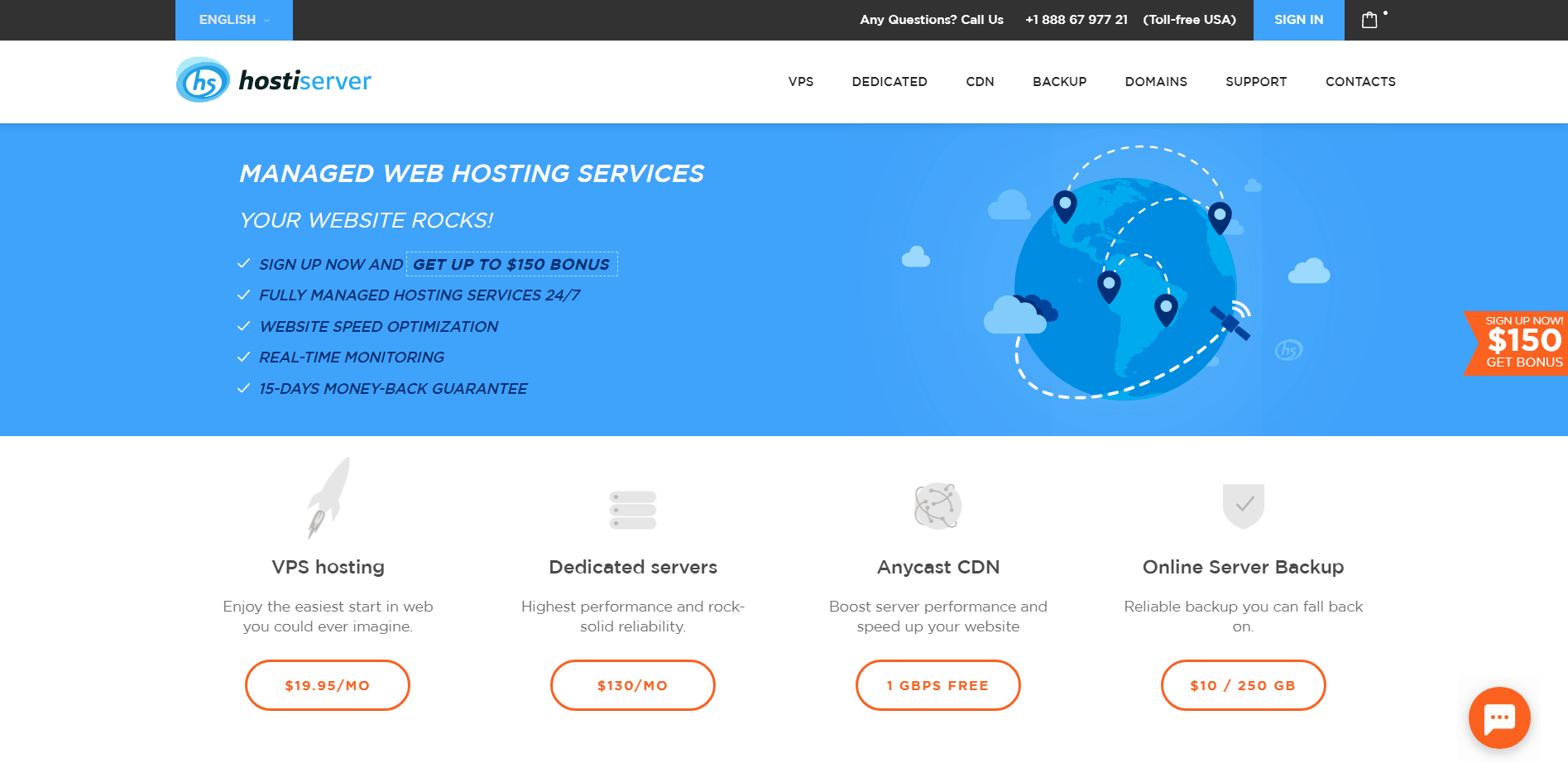 Hostiserver has been offering web hosting services since 2012 and focuses on providing managed dedicated server and VPS hosting. If you're a webmaster looking to graduate from shared hosting, then check out Hostiserver's selection of managed VPS products that include assisted migrations and server setup.

Features and Ease of Use
If you're ready to graduate from shared hosting but don't want to foot the bill for a dedicated server, then a managed VPS solution is a great option. Hostiserver offers multiple VPS solutions, including customizable solutions that are great for all types of websites.
When you choose a VPS, you get the following options as a standard part of the package:
10 Mbps CDN included
Unlimited backup storage
True KVM virtualization
Easily upgrade or downgrade plans anytime
Assisted migration
Server setup services available
Real-time monitoring
One thing I like about this provider is their assisted migration and server setup. While you're typically expected to know how to handle a VPS yourself, Hostiserver understands that we all need a little help sometimes and helps you set up software and migrate your websites to their VPS.
As such, this makes Hostiserver an excellent option for intermediate and expert webmasters. It's still not recommended for beginners as once things are set up, you're expected to take care of most things by yourself. Beginners need to stick with a shared hosting provider until they learn the skills necessary to run a VPS.
Pricing and Support
Hostiserver offers seven different VPS configurations that are perfect for almost any online endeavor. They offer all the same features with the main difference being in the number of cores, ram, storage, and bandwidth.
| | | | | | | | |
| --- | --- | --- | --- | --- | --- | --- | --- |
| | SSD-20 | SSD-40 | SSD-80 | SSD-160 | SSD-320 | SSD-480 | SSD-640 |
| RAM | 2GB | 4GB | 8GB | 16GB | 32GB | 64GB | 128GB |
| CPU | 2 Core | 2 Core | 4 Core | 8 Core | 12 Core | 16 Core | 20 Core |
| SSD Storage | 50GB | 80GB | 120GB | 240GB | 480GB | 720GB | 960GB |
| Bandwidth | 3TB | 4TB | 6TB | 8TB | 10TB | 10TB | 10TB |
What I like best about these plans is that they are priced accordingly. If you're looking for an entry-level VPS, the SSD-20 and SSD-40 are great starter plans. As you grow, you can upgrade. Also, larger companies have plenty of options to pick their perfect VPS.
If these configurations don't meet your needs, you can speak with a hosting expert directly and set up a custom plan to fit your requirements. For example, if you like the SSD-20 plan but want more storage, you can upgrade that portion alone for an additional fee.
Hostiserver offers reasonably priced VPS options that are in line with the industry average. As you move up to their larger plans, like the SSD-480 and SSD-640, you'll notice that they start to approach the lower end of dedicated server pricing. However, it's important to consider that these plans come with massive storage and powerful machines boasting 16 to 20 cores. It's all about finding the right balance between price and performance for your specific needs.
Note that Hostiserver's managed VPS tech support is a paid service, which is typical of most VPS providers. If you choose to do support on a "per request" basis, they charge per 15-minute blocks. However, they do offer a 12-hour block that may be worth pre-paying for. I'd contact sales support before signing up to see if you can work out a better support deal.

Note that all contact numbers and live chat listed on the website are for sales support only. Also, keep in mind that VPS is not for beginners and are best suited for experienced webmasters that need more than shared hosting but don't want to pay the insane fees associated with dedicated servers. While you can definitely tap on their tech support for assistance, it's best if you have some technical knowledge and experience with VPS to get the most out of your package.