HostIran provides web hosting and a range of solutions including web design and development, SMS, backup storage, and domain registration services. They're one of the top hosting companies in Iran with their own dedicated data center.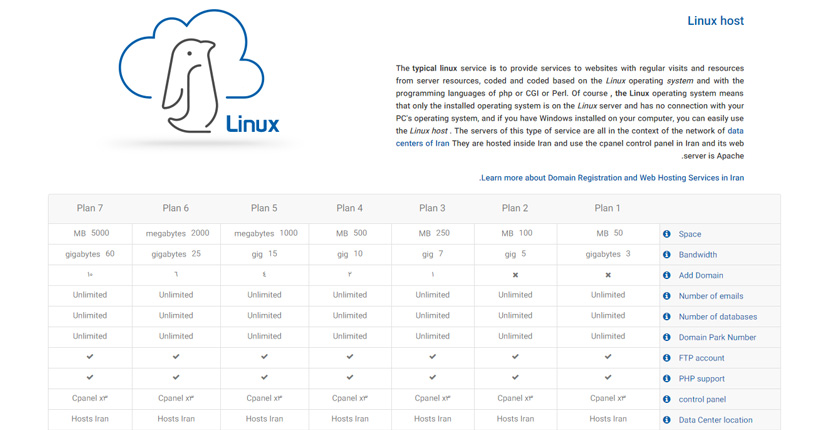 Features and Ease of Use
HostIran offers a range of packages from Linux shared hosting to eco-friendly dedicated server solutions.  To help you develop a web presence, HostIran gives you access to a range of features and tools such as:
The latest version of cPanel
High-speed 9Gbps fiber connection
Unlimited databases
Unlimited email accounts
Unlimited parked domains
Unfortunately, while they're one of the few Iranian web hosts that owns and operates their own data center and can therefore offer better services and reliability than most other Iranian providers, their packages are rather lean on features.
For instance, while they do support PHP and MySQL, they don't appear to support more advanced scripting languages such as Ruby on Rails and Python. Also, none of their packages include free SSL certificates, one-click app installers, or a website builder — and it's unclear whether or not they offer any backups beyond the manual backup system you can access via cPanel. On top of that, most of their packages come with extremely limited storage and bandwidth, and they don't include a free domain registration with their packages.
On the upside, HostIran offers green dedicated servers for personal or business use, so if environmental impact is something that you're concerned about, consider this a plus on your checklist.
Pricing and Support
With an extensive range of packages priced in Iranian Rial, HostIran gives you multiple options that might fit whatever budget you have. They don't charge setup fees, though their packages include a 9% VAT charge. That said, while their packages are reasonably priced, given their overall lack of features and functionality, I'd consider HostIran rather poor value for money. There are many things you'll have to purchase separately on top of your hosting package to build a decent online presence, such as a top-level domain and SSL certificates.
Support is in Persian only as most of their customer base is Iranian. This isn't available 24/7, but they've got extended office hours: you can reach their technical support team via support tickets or telephone every day from 9am to midnight. If you have any sales-related questions, you can also utilize their live chat feature during those hours to communicate with one of their operators. In general, I consider their support to be average due to their limited support channels. However, I do appreciate that they are available every day rather than just on weekdays.