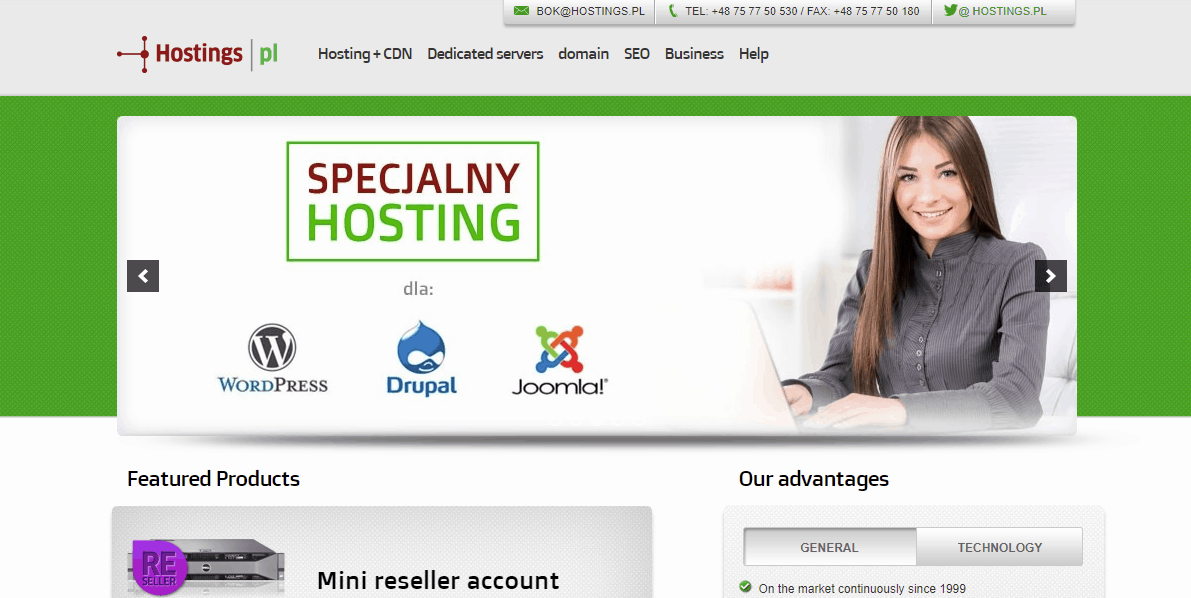 Founded in 1999, Hostings.pl offers web hosting, dedicated servers, domain registration, and SEO services to a wide range of clients. The company also provides Content Delivery Network (CDN) services. Its website is available in Polish only and its servers are housed in a data center in Lower Silesia, Poland.
Features and Ease of Use
Hostings.pl has two categories of shared hosting – Hosting 2F / Business account and Private Hosting. The former has only one plan while the latter has five plans with two of them offering more storage space than the Business account. The shared hosting plans offer the following features:
99.5% uptime
Daily automatic backups
Anywhere from 4GB to unlimited monthly transfer
Up to 100GB storage space
If your needs increase, you can't easily upgrade from your control panel. You'll have to contact customer support to migrate your account to higher resources.
Hostings.pl offers a free domain, but the caveat is that you're linked with the Hostings.pl brand. Your website is a subdomain on hostings.pl and when potential customers go to your site, they'll assume that you're part of the hostings.pl web brand.
Also, most visitors won't take your business seriously because you decided not to spend on a domain. If you just want a hobby blog without spending much, it's fine, but for serious business, the free subdomain is not worth it.
Each account is provided with the DirectAdmin control panel. For a first time user, it's organized and intuitive. Customers shouldn't have a steep learning curve with the management tool. Through it, you can manage your MySQL databases, FTP accounts, domains, emails, and hosting settings.
Hostings.pl supports PHP programming, but not much else. Beginners who can't write code can use its provided auto-installer extension – Installatron – to install a content management system or E-commerce application to set up their website. Hostings.pl doesn't provide a website builder tool.
Aside from the shared hosting plans, Hostings.pl also offers hosting + CDN. However, if your customers are not in Poland, you won't enjoy the value of the CDN because its connections are in Wroclaw, Poznan, and Gdansk; all of which are locations in Poland.
Pricing and Support
Hostings.pl offers (in total) six shared hosting plans; all are low-priced for the features on offer. The CDN plans are low-cost as well. The lowest subscription period of the Business plan is one month, and I noticed at checkout that I could pay for one month for the Private plans as well.
The company doesn't offer a money-back guarantee, but if you decide to end the hosting service before your plan expires, you can get a refund for the unused months based on the amount you paid.
Hostings.pl doesn't provide a knowledge base. To discuss issues with a technical customer support agent, there are two options available: email and phone. I sent an email and received a response about three days later.