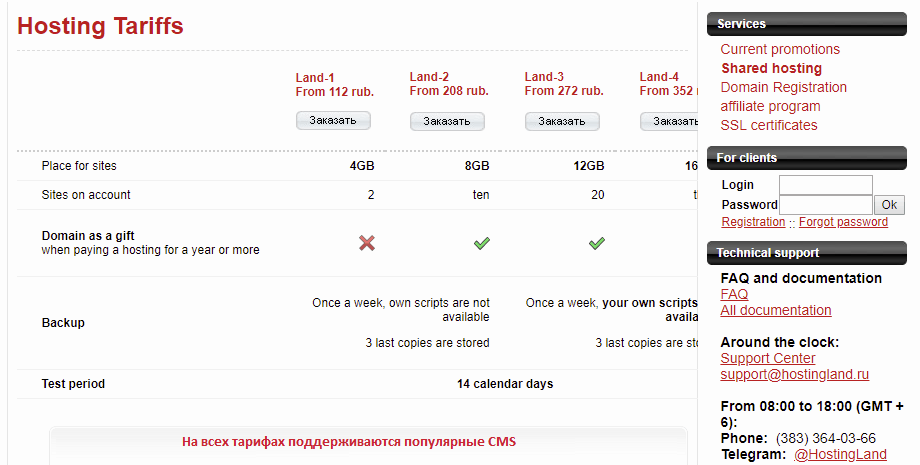 Founded in 2009, HostingLand is an actively developing hosting provider that's focused on shared servers. Its other services are SSL certificates and domain registration. HostingLand is a Russian web hosting company with servers that are located in Novosibirsk, Russia. Its website is available in Russian only.
Features and Ease of Use
HostingLand offers four web hosting plans that provide features suitable for small to medium websites. It provides both advanced and beginner friendly tools. These are some of the features:
99.87% uptime according to third-party tests
Weekly automatic backups
Free domain, on all but base plan
Two, ten, 20, or 30 websites allowed on one account
4GB, 8GB, 12GB, or 16 GB storage
Unlimited traffic
HostingLand provides the necessary tools needed on shared hosting servers. There are MySQL databases and PHPMyAdmin for database management. If you know PHP programming, you can use the language to configure your website. It also supports Perl and CGI.
If you need to run commands on remote computers securely through secure shell protocol (SSH), you will most likely want to use a host that supports SSH access. HostingLand does, but only on the top two plans.
If you want more frequent backups or have a continuous task that you want to automate, you can set cron jobs to do them automatically and run your scripts and commands on schedule.
HostingLand isn't only for advanced or experienced users. It understands that beginners to web hosting will take hosting plans and want to save costs by building their websites by themselves. This company provides Web Scripts (APS) for installing a plethora of CMSes and other web applications including WordPress, HostCMS, Joomla!, and Drupal.
For hosting management, it provides ISPmanager. Although the interface isn't as nice as cPanel, you can do most of the same things that you can on cPanel, such as managing files, databases, emails, domains, etc.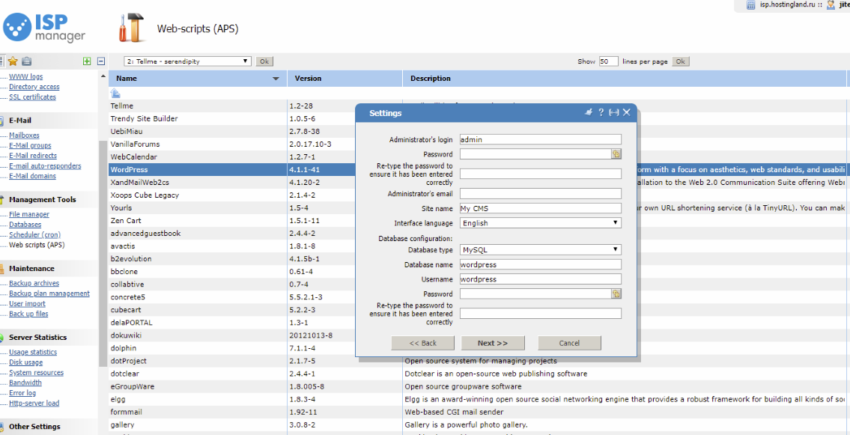 Pricing and Support
HostingLand's shared hosting plan prices are reasonable for the resources on offer. Plus, this company provides a free domain when you pay for a year, thus, removing that as an additional cost.
Its subscription periods are one month, one year, and three years. The first prices you see on the website are for a three-year subscription. The longer durations will give you either 10% or 20% off, as displayed on the website at the time that this review was written.
There's a free 14-day trial which I advise you to take advantage of, because there's no money-back guarantee. Take that trial, check out if its service works for you, and test your uptime and server speed – then decide if it's worth spending money on.
HostingLand offers round-the-clock ticket and email support to assist you with any questions or issues you may have. They have a helpful FAQ section where you can find guidance on setting up CMSes, changing nameservers, and more. Additionally, their support center provides video tutorials that you can use to familiarize yourself with the control panel and its functionalities.
Its supports agents can also be contacted through phone, live chat, Telegram, and Skype from 8:00 AM to 6:00 PM GMT +6. Although I had already read the FAQ, I used the live chat to get directions on connecting my domain to its servers to see if I'll get links only. The support agent provided step-by-step instructions.