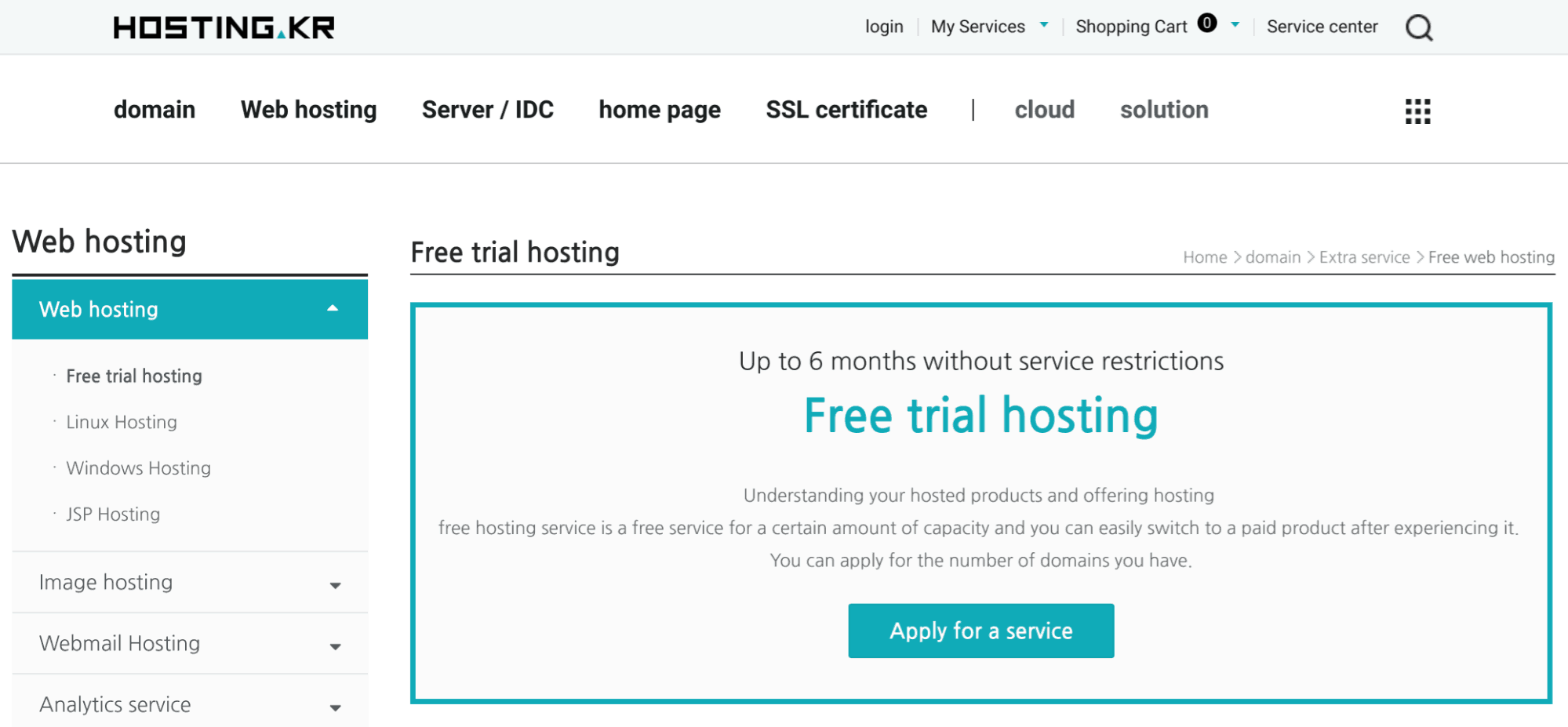 Hosting.kr is a web hosting brand of South Korean company Megazone. It offers a wide range of hosting services out of two IDC data centers, and its website is in Korean.
Features and Ease of Use
This company provides shared hosting, server rental, cloud services, domain registration, and SSL certificates. The shared hosting plans come with the following core features:
Domain registration available
Choice of Linux or Windows operating systems
SSL certificates available
Up to 10 GB HDD capacity
Up to 10 GB daily traffic
Hosting.kr co-locates its servers in two Korean data centers, both with 24/7 monitoring and N + 1 systems and power supply lines to minimize power loss. There is no mention of any uptime guarantee on the vendor's website, and I couldn't confirm this with customer support, so it's unclear what downtime you can expect.
There are three types of shared hosting plans: Linux, Windows, and Java Server Pages (JSP):
Linux hosting comes with FTP accounts and SSH access plus support for Perl, PHP, SSI, and CGI. There is a one-click installer for only three programs; XpressEngine, GNUBOARD, and WordPress.
Windows hosting supports ASP, CGI, Flash, JavaScript, Perl, and ASP.NET.
JSP hosting includes FTP, SSH, JSP, PHP, CGI, Flash, JavaScript, and Perl.
The Hosting.kr website advertises "home page" mobile-responsive WordPress themes for e-commerce and other business and professional websites. In the absence of any other website builder, this provides a way for novice webmasters to get started.
Pricing and Support
Plans prices range from extremely cheap to overly expensive. Since all the plans come with essentially the same features (just more or fewer resources), it's hard to justify the price plan differentials. All plans also suffer a relatively high setup fee.
You do get a generous six-month free trial (which is probably the longest I've seen) so you can get started with minimal risk, and you can purchase the plans on one, six, twelve, or twenty-four-month terms. A longer term means a larger discount.
The Hosting.kr website includes a substantial "Service Center" that combines numerous help documents, FAQs, manuals, and contact information into a nice little hub for all support-related information.
You can contact the company by email or telephone, or by logging in as an existing customer. Non-emergency issues are dealt with from 9 am to 8 pm on weekdays, and urgent technical issues are handled 24/7/365. Unfortunately, I received no reply for two business days (and counting) when I emailed this company's customer services.
How much does Hosting.kr cost?
Hosting.kr offers plans from $0 to $27. The price depends on which type of hosting plan you choose. You can see the updated pricing table (updated weekly) below.

Which Hosting.kr plan should I get?
My recommendation is to start with a cheaper plan. You can always upgrade later on. Hosting.kr can help you with the migration to a more expensive plan. The increase in visitors many times takes longer than expected and you shouldn't pay a lot of money until the need arises. Of course, your needs may vary, and you can consult with a hosting expert from Hosting.kr here.

How good is Hosting.kr's customer support?
Hosting.kr is not ranked as one of our top web hosts. But that can also be a result of Hosting.kr being a small, under the radar, hosting provider. There are advantages to a small hosting company – as a customer, you are more important to them. You can also check out our comparison of the most popular web hosting services here.