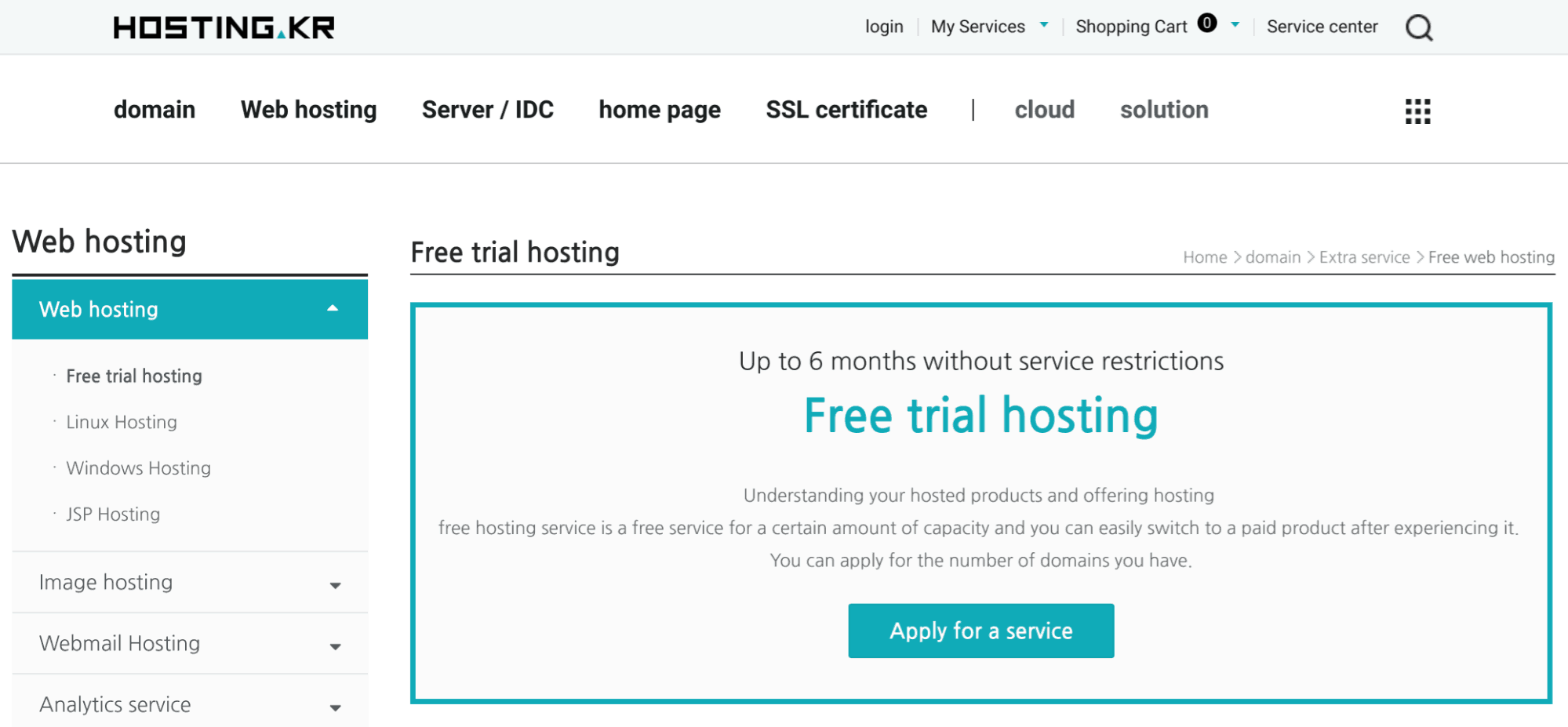 Hosting.kr is a web hosting brand of Korean company Megazone, which provides various hosting services and Korean website based on two IDC data centers.
Function and usability
The company offers shared hosting, server rentals, cloud services, domain registration, and SSL certificates. Shared hosting plans include the following key features:
Domain registration

Linux and Windows operating system support

SSL certificate available

HDD capacity up to 10GB

Up to 10 GB of traffic per day
Hosting.kr minimizes power loss with 24-hour monitoring, N+1 system, two data centers with all power supplies, and server co-installation. There is a message that the vendor's website does not mention the uptime guarantee . However, it is not clear what downtime to expect, as this fact cannot be confirmed by customer support.
There are three types of shared hosting plans : Linux, Windows, and Java Server Pages (JSP) .
Linux Hosting

provides FTP account, SSH access, Perl, PHP, SSI, CGI support.

One-click installer for

only 3 programs of XpressEngine, GNUBOARD, and WordPress

, support the

.

Windows hosting

supports ASP, CGI, Flash, JavaScript, Perl, and ASP.NET.

JSP hosting

includes FTP, SSH, JSP, PHP, CGI, Flash, JavaScript, Perl.
The Hosting.kr website offers "home page" and mobile responsive WordPress themes dedicated to e-commerce, other business, and professional websites. If you don't have any other website builders, here's a guide for beginner webmasters.
Pricing and customer support
Plans range from very cheap basic plans to very expensive premium plans. All plans offer the same features (more or less resources), so the price difference is a bit hard to understand. All plans incur relatively high installation costs .
With a free trial for at least 6 months, you can reduce your risk and choose from a 1, 6, 12 or 24 month plan. Greater discounts apply when using a long-term plan .
The Hosting.kr website provides a support page with a variety of help articles , FAQs , guides , and contact information .</p>
You can contact us by email or phone at work, or by logging in as an existing user. General inquiries are handled from 9 am to 8 pm on weekdays, and urgent technical issues are handled 24 hours a day. However, we sent an email to customer service, but we didn't receive a proper reply in 2 business days.