Although Hosting Centar's website doesn't say when this host was established, the copyright notice runs from 2004, and its Facebook page states that it was founded in 2001. This Croatian company offers a diverse range of services that include shared hosting, cloud hosting, VPS, dedicated servers, reseller hosting, domain services, SSL certificates, and associated services.
Hosting Centar's website is in Croatian.
Features and Ease of Use

According to its product pages, Hosting Centar provides seven shared hosting packages (three for Linux and four for Windows), five cloud hosting packages, six VPS packages, nine dedicated server packages, and three reseller hosting packages. The shopping cart page shows additional VPS, dedicated server, and reseller hosting packages.
Linux shared hosting packages come with these features:
2,000 MB to 12,000 MB disk space
Unlimited traffic
5 to unlimited parked domains
Unlimited email addresses
Unlimited email filters
5 to unlimited FTP users
5 to unlimited MySQL databases
All these packages provide R1Soft CDP, which is known to be one of the most effective and efficient solutions available on the market for dramatically reducing your risk of losing data. You also get the SpamAssassin intelligent email filter to filter out undesirable emails before they reach the inbox.
For productivity, Hosting Centar offers the Office 365 suite for collaboration across and within teams. And if you're not comfortable about creating your own web presence, this company can create your website for you. The website design service promises to provide you with a professional, responsive, search engine optimized site.
Although Hosting Centar's Terms and Guarantees page alludes to a 99.95% availability guarantee, some other pages suggest it's only 99.9%.  Unfortunately, I couldn't get this clarified.
Pricing and Support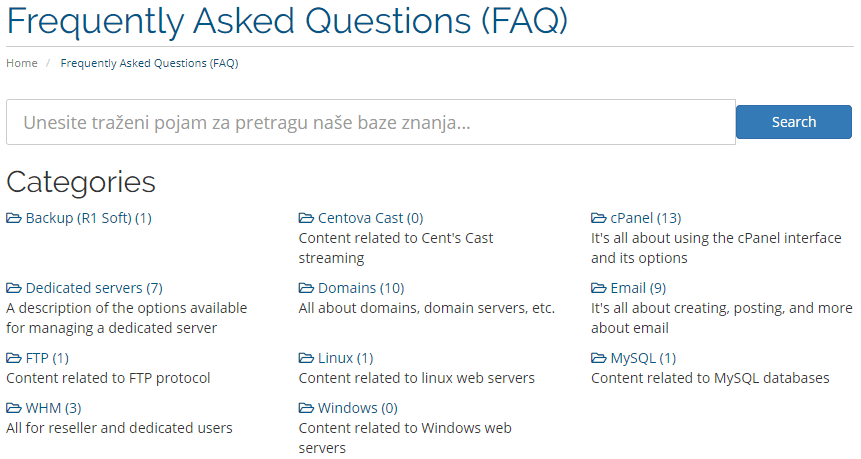 Hosting Centar's Linux shared hosting prices are slightly higher than the average, but you might be pleased to see that you pay the same prices for Windows and Linux plans.
You can pay for them in U.S. dollars, euros, or Croatian kuna on a monthly, annual, biennial, or triennial basis. There are a couple of caveats, such as the fact that the monthly billing option only appears for Croatian kuna payments, and the advertised prices are based on annual payments. Payment methods include internet banking, PayPal, credit cards, and customer loans.
Annual commitments come with a 30-day money-back guarantee, and monthly commitments come with a 7-day money-back guarantee. In both cases, you have some time to get out early if anything goes wrong.
Technical support is available 24/7, and remote support is available via Team Viewer. The customer support team can be contacted by telephone, support ticket, or online contact form, but my queries went unanswered. If you have to resort to self-support, you will find that the knowledge base contains a good number of tutorial-style posts.