Hostico specializes in web hosting, VPS, and dedicated servers, although they also offer domain registration, SSL certificates,  backups, and content delivery networks (CDN). Their servers are located in an ISO 9001 certified data center in Bucharest that has redundant network connections. With a range of flexible plans, Hostico provides full support for English and Romanian customers, and their mobile-friendly website is easy to navigate.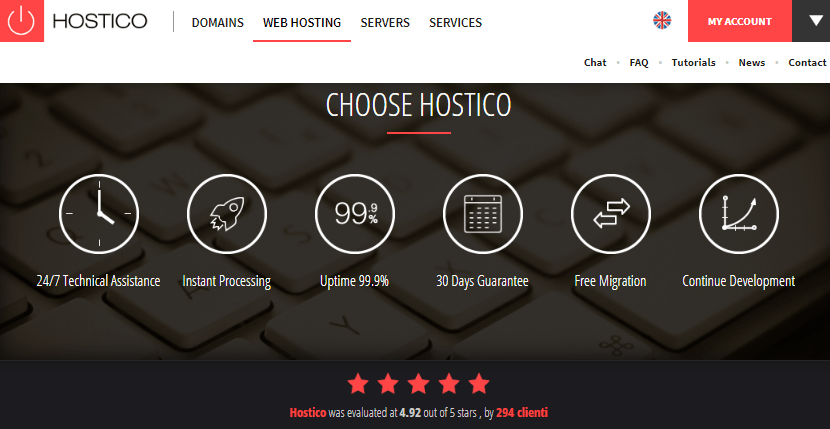 Features and Ease of Use
Unlike some hosting companies in Romania, Hostico operates powerful servers with fast network connections. Secure and optimized for speed, their servers are accessible from multiple locations around the world. The best part is that via R1Soft CDP they provide automatic and incremental backups for customers with shared hosting plans or VPS OpenVZ servers. This is accessible from the cPanel.
You can easily create a website using their SiteBuilder tool, or deploy a CMS website with MySQL databases using the Softaculous app installer with over 100 free scripts. The scripts help you build personal blogs, forums, photo galleries, and e-stores within minutes. And you don't need to have any programming knowledge or experience to get started.
With shared hosting, you can sign up for the personal, business, or SEO hosting plan with up to 25GB SSD storage. Their hosting accounts come with SSL certificates, automatic backups, a number of dedicated IPv4 & IPV6 addresses, and web-based emails. If you sign up for their annual plans, you will get a free .com domain and free website transfer.
Some of the other notable features include:
cPanel control panel
Cloud Linux
Cloud Flare
SiteBuilder
Softaculous app installer
FTP accounts
Automatic backups
WebMail (SMTP, POP3, IMAP)
FileManager
AWStats web statistics
SEO Tools
DNS Editor
Root access
PHP 5.X
MySql 5.X
Google Apps
VirusTotal
Moving up from the shared hosting, you will find customizable SSD virtual servers with full support for OpenVZ and XEN virtualization technologies. You can choose any of their virtualized machines that have Intel Xeon or Westmere CPUs with up to 1.600MHz DDR III RAM. When you scale to the Midi SS servers, you get more storage space and processing power including unlimited monthly traffic and a dedicated IPv4 address. With the OpenVZ VPS Midi server, you will get a machine WHM/cPanel, a lot more storage space, unmetered bandwidth, and high read/write speeds. Oh, and free technical support.
Website availability can mean the difference between profit and loss for any business. With a 99.9% network uptime guarantee, Hostico ensures that your websites and apps are fully accessible 24/7. So you can rest easy.
Migrating to Hostico is oh-so-simple. As soon as you sign up, just ask the technical support team to assist you with migration to cPanel. They will carry out full migration of your website, databases, and emails, so you won't have to start from scratch.
All hosting accounts run on cPanel, which is the world's most popular administration interface. With cPanel, you can easily set up emails, create databases, monitor website statistics, and even obtain SSL certificates and additional storage space.
Pricing and support
Hostico's price plans compare favorably with other hosting providers, and you can pay via your Visa card, MasterCard, bank transfer, or PayPal. I like the fact that they offer free website transfers, a free.com domain, and free SSL certificates. And the best bit is that all web hosting and VPS packages come with a 30-day money-back guarantee.
With a reliable technical support team that speaks English and Romanian, Hostico provides round-the-clock professional assistance on a myriad of hosting issues. Onsite data managers are on standby to reboot servers, replace faulty hardware, and change backup tapes. But that's not all, because they also monitor the performance of your servers to ensure they're running smoothly. You can access all this support via live chat, email, ticket, or a phone call between the hours of  8.00 am and 10 pm.
How much does Hostico cost?
Hostico offers plans from $1 to $23. The price depends on which type of hosting plan you choose. You can see the updated pricing table (updated weekly) below.

Which Hostico plan should I get?
My recommendation is to start with a cheaper plan. You can always upgrade later on. Hostico can help you with the migration to a more expensive plan. The increase in visitors many times takes longer than expected and you shouldn't pay a lot of money until the need arises. Of course, your needs may vary, and you can consult with a hosting expert from Hostico here.

How good is Hostico's customer support?
Hostico is not ranked as one of our top web hosts. But that can also be a result of Hostico being a small, under the radar, hosting provider. There are advantages to a small hosting company – as a customer, you are more important to them. You can also check out our comparison of the most popular web hosting services here.