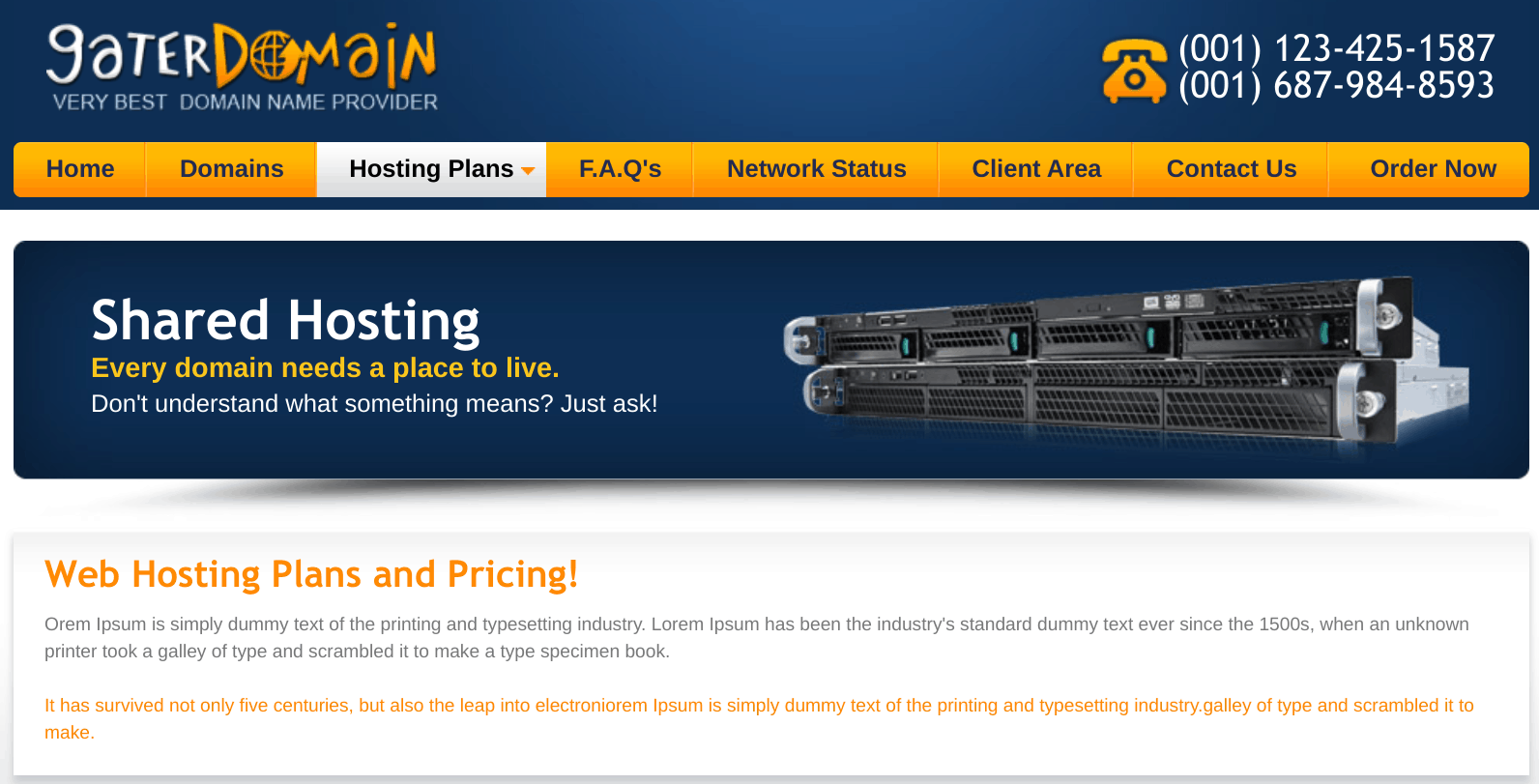 Host My Ireland's website worries me. The "GaterDomain" logo doesn't match the name of the host. The social media links lead to Facebook and Twitter feeds for the website of the "WHMCSThemes" company that provided the theme on which this website is based. The website contains lots of Latin placeholder text where informative content should be.
I could go on, but for this sake of this review, I'll present the advertised plans as though this host is the "going concern" that I'm not convinced it actually is.
Features and Ease of Use
The website of Host My Ireland (or is it GaterDomain?) includes menu links for different kinds of hosting: Shared Hosting, Cloud Hosting, Reseller Hosting, and so on. Whichever option you choose, you see the same details page that describes three hosting levels at different price points but with exactly the same characteristics:
Unlimited free domain for life
Unlimited uptime guarantee (whatever this means)
200 GB disk space
200 GB bandwidth
Five email accounts
Unlimited "no ads/hidden fees" (huh?)
MySQL databases and FTP accounts
Free domain privacy
Technical support
This is one of the most bizarre features lists I've ever seen, with several "unlimited" things that I don't understand at all. When you pick a plan, you'll end up on the same WHMCS-powered cart page that hints at various additional features, including the cPanel control panel and Fantastico installer. This might seem "fantastic" to newcomers—and to me as well—if I had any confidence in the information being presented.
Pricing and Support
Host My Ireland's plan page — which is the same for all the hosting options — displays prices in U.S. dollars but then switches to euros when you get to the cart. Although you can pay by PayPal, the website encourages you to use a credit/debit card (please use a credit card for extra protection!) because it's apparently easier for the company to process the payment.
While the terms-of-service page alludes to annual and monthly billing cycles, it looks like you can only purchase on annual terms, if at all. There is a 30-day money-back guarantee, but I can't be sure that it's worth the paper (or screen) it's written on.
Contact this company, if you can, by telephone or online contact form. This supposedly Irish host seems to have an American telephone number, and its contact form leads to an error page. Although there is a "Live Support" link, it takes you to the same pre-sales contact form.
For self-support purposes, you won't be at all surprised to learn that this provider's knowledge base is empty: