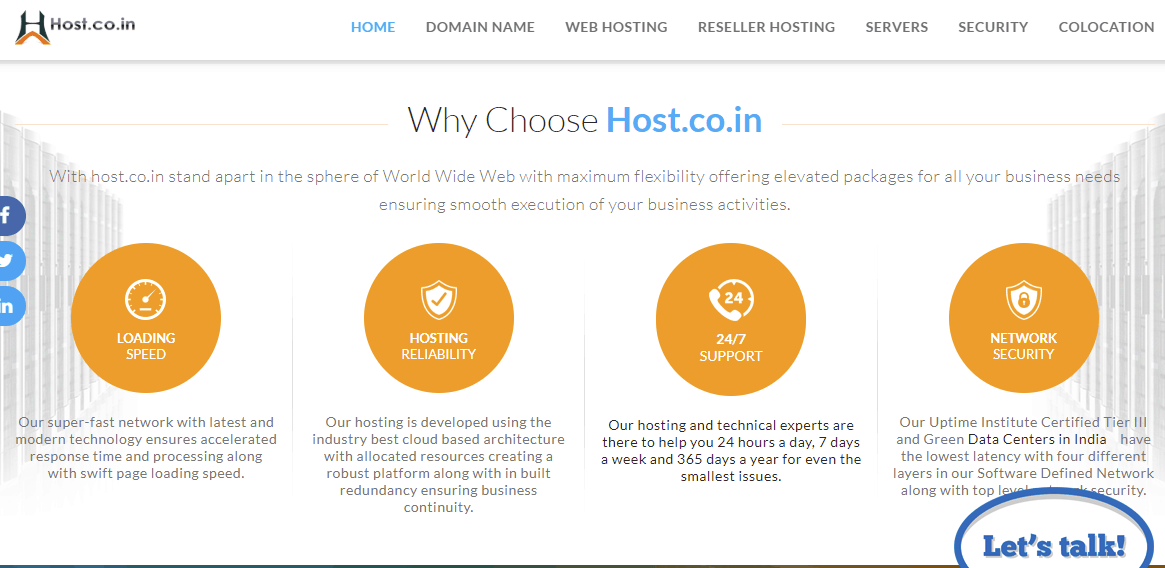 Host.co.in was established in 2005 to provide web hosting services to customers in India and other countries. Its servers are located in Nasik and Mumbai, Maharashtra in India. The company offers domain registration, web hosting, reseller hosting, VPS, cloud servers, and dedicated servers. Its website is available in English only.
Features and Ease of Use
Host.co.in offers three shared hosting plans for small to medium-sized businesses. Customers on these plans enjoy the following features:
99.95% uptime guarantee
Daily automatic backups
Host two, five, or fifteen websites
Free domain registration/transfer
Unlimited bandwidth
10GB, 20GB, and 40GB storage
The company's data center is tier III certified, meaning that it has numerous redundant components. All sensitive components get dual power sources, and it provides better uptime than tier one and two data centers.
For Host.co.in, shared hosting customers are assured of a 99.95% uptime guarantee. For every 30 minutes of downtime, Host.co.in will refund the affected customers with 5% of the monthly hosting fee. You can get up to a 100% refund if the downtime lasts for an extended period of time. Be aware, though, that the company measures the downtime from the time a ticket is opened by a customer to when the server is up again.
Each backup is kept for seven days in which they can be restored. After that period, the oldest backup in the system is replaced with the newest one. Aside from protection against data loss, Host.co.in also protects customers against viruses with a server-wide anti-virus.
Host.co.in offers email accounts to customers with POP2 and IMAP support that you can access from Webmail or connect to your other email applications.
You can set up email accounts and manage them through cPanel. Through cPanel, you can also manage your FTP accounts, databases, see statistics, manage domains, and more. The vendor also offers Windows hosting with Plesk as a control panel and it can do all of the above, as well.
In addition, customers are provided with a one-click installer (on both control panels) to set up applications, including WordPress, Magento, Joomla!, and Drupal in one click.
Pricing and Support
Host.co.in offers low cost shared hosting, and its prices are in line with competitors that offer similar features. It also provides a free domain for a year, whether you're registering it for the first time or transferring from another provider.
The company doesn't offer a month-to-month subscription for shared hosting. The lowest subscription duration is six months, but if you take it, you'll forfeit the free domain.
There are cheaper plans that allow a month-to-month payment option, for WordPress hosting. If you need more resources, there are VPS and dedicated server plans, as well.
Host.co.in provides a 100% risk-free 30-day money-back guarantee, covering shared hosting, reseller hosting, semi-dedicated hosting, and VPS solutions. While no free trial or plan is available, you have the assurance of a full refund within the first 30 days. Afterward, refunds will be prorated for any unused time.
Customer support is available 24/7 through email, knowledge base, phone, live chat, and ticketing system. I tried the live chat; the wait time was about five minutes and the agent didn't seem so knowledgeable about an issue as simple as connecting my domain to hosting.