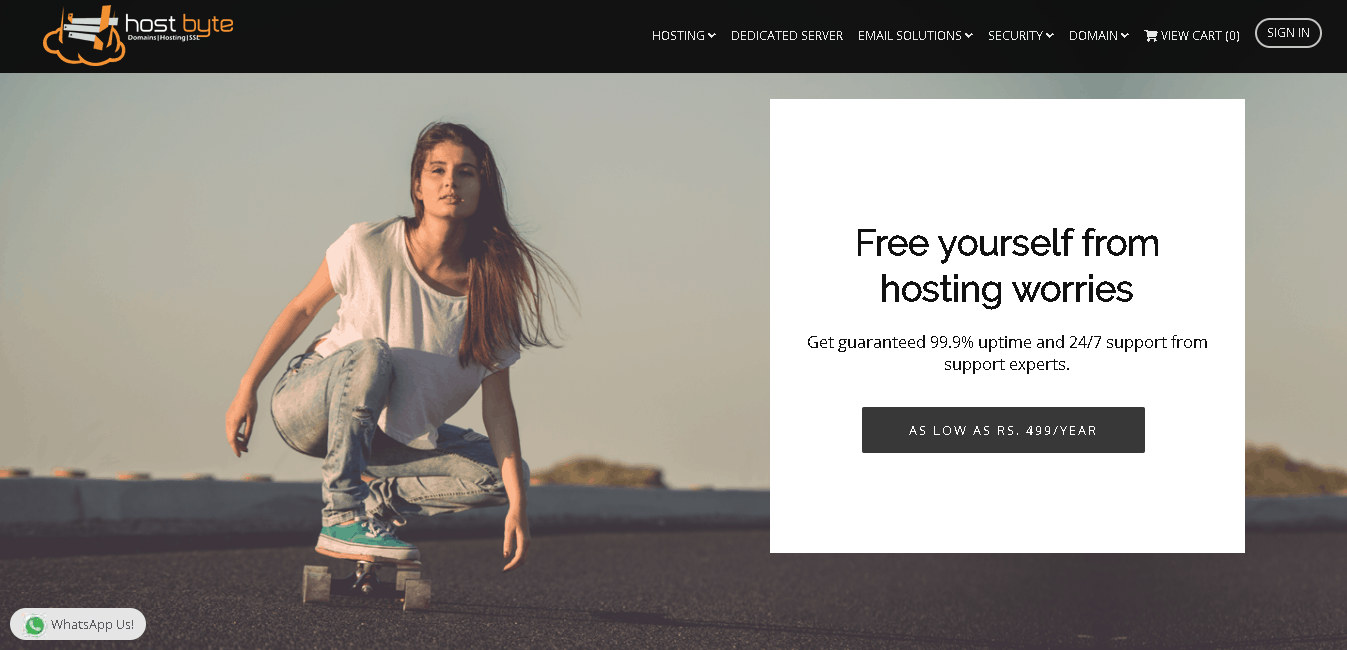 Founded under Byte Technologies in 2010, Host Byte offers hosting, servers, web security tools, and a host of other web presence products and services. Its client base includes more than 500 customers, including small businesses and large enterprises that are located in different countries.
Host Byte hosts its servers in data centers that are located in the United States and Mumbai, India. Its website is available in English only.
Features and Ease of Use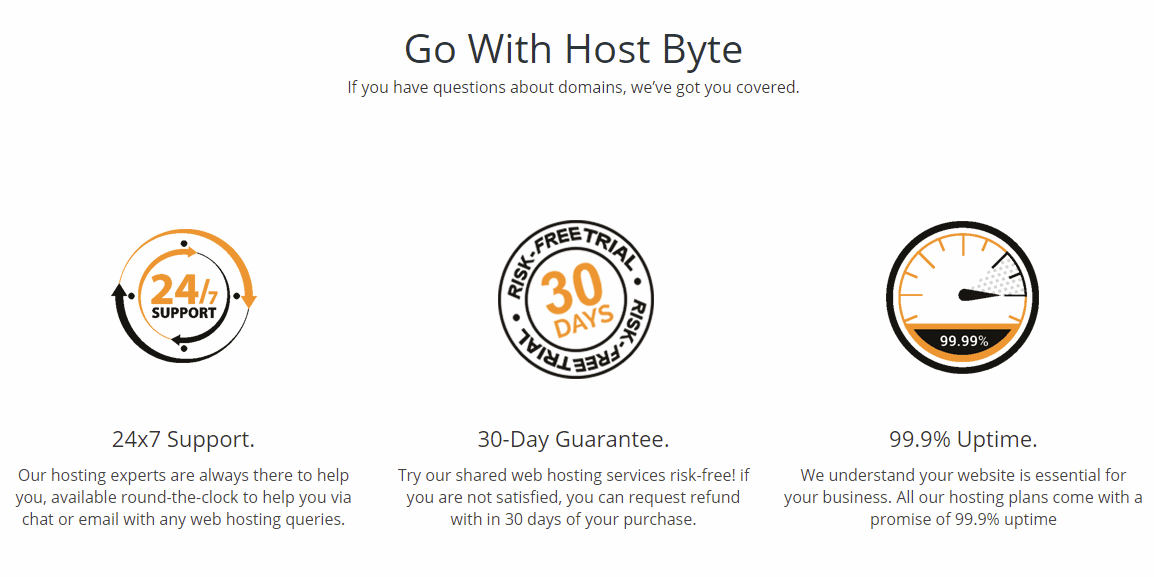 Host Byte offers shared hosting, cloud hosting, and VPS. If you want to host a simple website, the shared hosting plan is sufficient. Cloud Hosting is better for resource-intensive websites – it's also great for uptime because of the use of a cluster of servers. VPS works if you want something higher than shared hosting, but don't want to handle a dedicated server.
Shared hosting customers get the following:
99.9% uptime
Free lifetime domain
Anywhere from 1GB to unlimited space
Five, ten, or unlimited add-on domains
10GB, 50GB, 100GB, or unlimited bandwidth
I like that its uptime guarantee isn't a trick. Many hosting companies assure customers but have no warranty in place for when it fails; not Host Byte. This vendor offers a warranty of up to 100% of the monthly service fee depending on the percentage of uptime you record. However, to get it, you'll have to request by using the ticket system from within your control panel within seven business days of website unavailability. Your message must also contain specific details.
All servers are protected from DDoS attacks and there's 24/7 monitoring. If you're concerned about security, you can purchase Sitelock to prevent bots and hackers from infecting your files with malware and threats. Aside from that, it also offers SSL certificates, however, there are no free certificates on offer. You'll have to pay, but that's not necessarily a bad thing as you get a dedicated SSL to your website.
Host Byte offers both Linux and Windows hosting. Opt for Linux if you want to run PHP or Python-based applications or applications on your server such as WordPress, but choose Windows hosting if you need ASP.Net and MsSQL. This vendor offers cPanel for hosting management which you can use to set repetitive tasks like cron jobs, manage your files, etc.
Don't worry, though, it's not only developer-friendly. Beginners will find that using Host Byte isn't as hard as many other web hosting companies. One of the beginner-friendly tools it offers is a one-click installer that works for more than 200 applications including Joomla! And WordPress.
Pricing and Support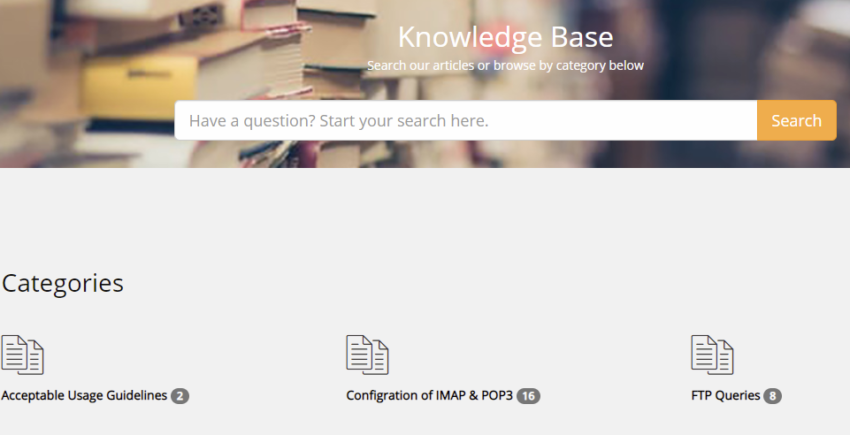 Host Byte offers great value for money. Compared to other web hosts, it offers reasonable yet affordable prices for the features that it provides on shared hosting. Subscription periods differ depending on the plan you go for – the unlimited plans allow three months, six months, and 12 months, while other plans allow for only 12 months or longer.
If you want a domain, pay for a year of hosting, and Host Byte will give you a domain name for free. The sweeter part of this deal is that as long as you continue service with the vendor, your domain name remains free.
The prices for VPS are practically a steal, while cloud hosting is more in line with what the competition offers. The company accepts payments via Visa, MasterCard, American Express, PayPal, Bitcoin, Ethereum, and Litecoin.
You can try out Host Byte's service, get a website working, and see how well its performance matches up to what you need. If it doesn't, you can get your money back within 30 days after making your initial payment.
Host Byte's support agents are available 24/7 through phone, ticket, and email. It also has live chat and WhatsApp chat, but after numerous attempts, they don't seem to be online through these mediums 24/7. I ended up resorting to email but still didn't get any reply.
Even though its support agents work 24/7, it still has a working knowledge base with lots of relevant tutorials ,especially relating to WordPress and FTP.