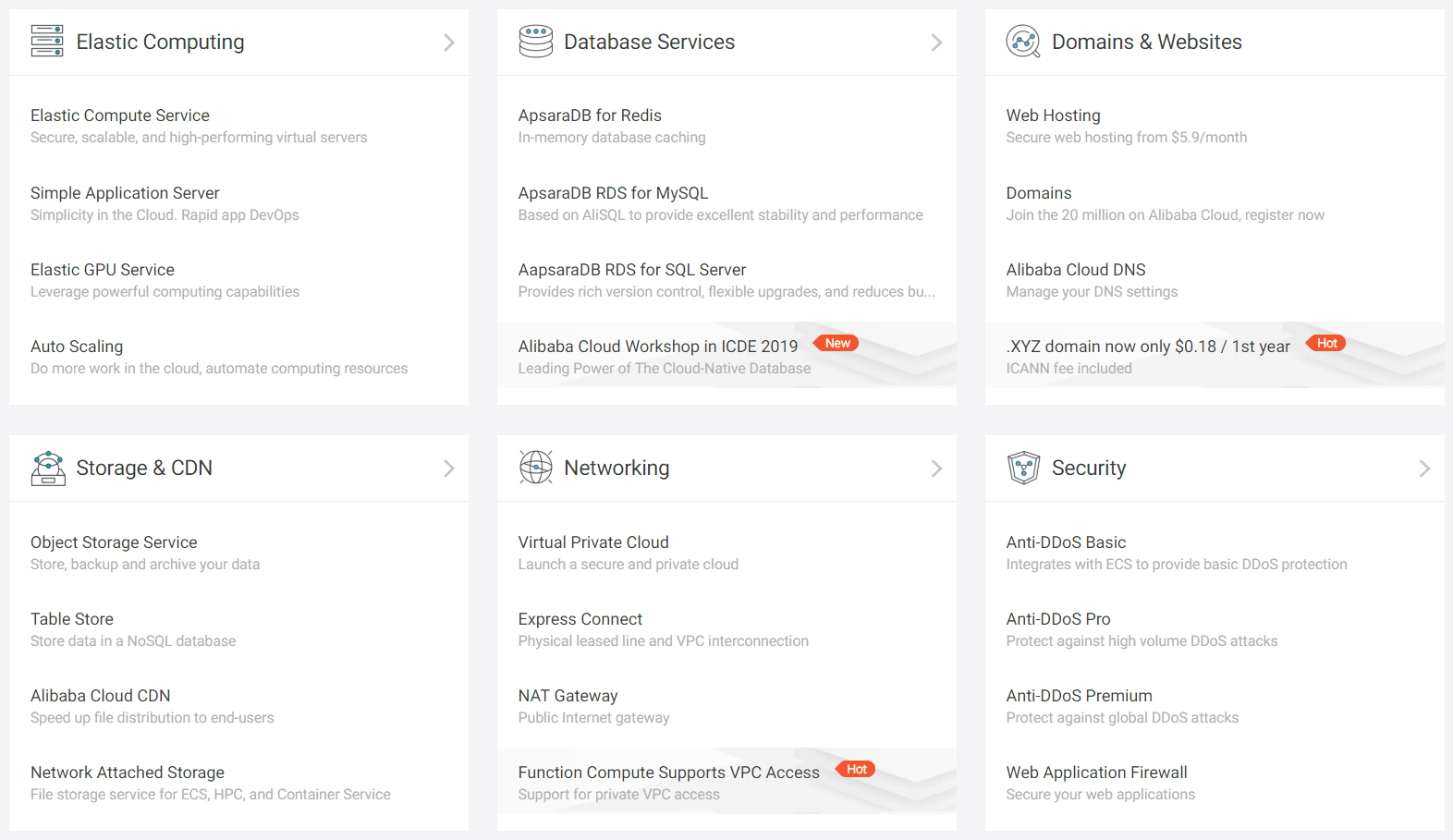 HiChina was once known as "the GoDaddy" of China and is one of it's first and largest ICANN certified domain registrars and hosting providers. It has since been bought by Alibaba cloud in 2009 and almost completely assimilated into its parent company. As such, most of its functions like hosting and support are now provided via Alibaba Cloud. While the lines between them have become blurred, HiChina has always been a reputable hosting provider that served as the gateway to China for many foreign businesses.
Features and Ease of Use
Through parent company Alibaba, HiChina is not only one of China's biggest ICANN registered domain registrars, but also hosting providers offering:
Discounted domain registration

Alibaba Cloud DNS management

Alibaba Cloud CDN with 1,500 nodes globally

Multisite, multi-tier web, and WordPress hosting

Enterprise-grade email hosting solutions

Cloud backup and recovery

Scalable and configurable cloud storage with SSD options
It would take up less time listing what hosting and cloud infrastructure solutions Alibaba doesn't offer. It doesn't quite have the same exhaustive catalog as its U.S. based competitor AWS, but it's an impressive platform that's almost as flexible and scalable.
It has also invested greatly in its infrastructure with data centers in over 19 global locations, 56 global availability zones, and 1,500 network nodes in over 70 countries across six continents. That should give your online presence a global reach. It has invested a lot in the U.S. with over 200 nodes and two data centers there as well.
Resources are usually generously distributed. Even students can get one CPU core, 2GB memory, 40GB storage, and 1,000GB traffic for a fraction of the price of what similar cloud-based application hosting would cost.
Pricing and Support
As a direct competitor to AWS from within China, Alibaba follows many of the same billing practices. You can choose to either pay a set amount each month for one of its pre-configured packages or pay-as-you-go, where you will be billed at hourly intervals. However, you will be paying discounted rates if you pay for a subscription on a prepaid basis.
It also has a unique free trial option where you can use almost any of the products for free, for the duration in which it would cost you up to $300. That means the length of the trial depends on which product you pick (as well as what configuration). It could be anywhere from a month to six months, or even a year.
A thoughtful gesture from them is the "Cloud Wing" project that offers heavily discounted (over 90%) hosting to "students". Actually, anyone under the age of 25 automatically qualifies. This applies to application servers and elastic cloud servers.
Other than that, you can find almost any type of hosting solution at any scale and at almost any price. Surprisingly, many of AWS' products work out cheaper, but Alibaba is still incredibly competitive.
No matter where in the world you are, you can also feel safe entrusting them with your money as a wide range of popular international payment methods are accepted along with billing support for over 169 countries, and billing in USD.
HiChina's support has also been completely been taken over by Alibaba. It offers support packages with the Basic package providing email support as well as response times of under 36 hours within business hours. Enterprise support unlocks ticket, instant messaging, and phone support at all hours and guaranteed response times of under 15 minutes for critical issues at 24/7 availability. There is also a massive help center with documentation, FAQ's, and a community forum.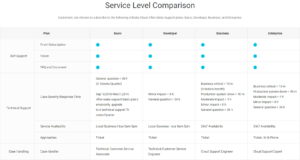 How much does HiChina cost?
HiChina offers multiple plans priced highest to lowest. The price depends on which type of hosting plan you choose. You can see the updated pricing table (updated weekly) below.

Which HiChina plan should I get?
My recommendation is to start with a cheaper plan. You can always upgrade later on. HiChina can help you with the migration to a more expensive plan. The increase in visitors many times takes longer than expected and you shouldn't pay a lot of money until the need arises. Of course, your needs may vary, and you can consult with a hosting expert from HiChina here.

How good is HiChina's customer support?
HiChina is not ranked as one of our top web hosts. But that can also be a result of HiChina being a small, under the radar, hosting provider. There are advantages to a small hosting company – as a customer, you are more important to them. You can also check out our comparison of the most popular web hosting services here.