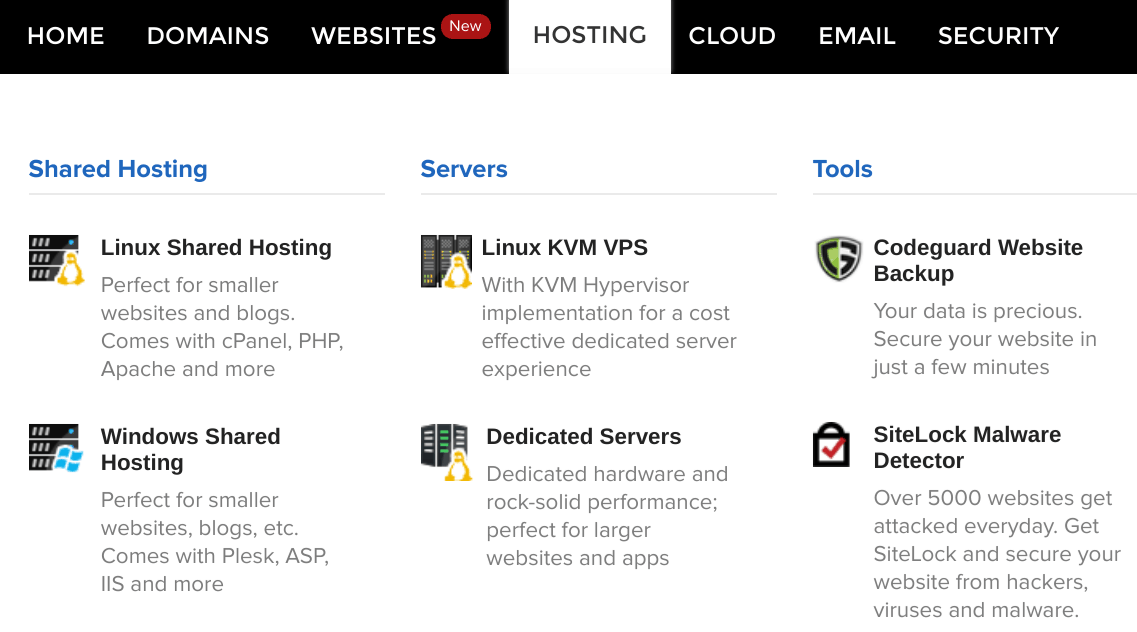 Moscow-based Gubinsoft was set up by I.T. specialist Mikhail Gubin, hence its name. His main website suggests that this guy is currently working as a technical support specialist in the field of electronic signature services, and at first glance, it looks like he (or his company) offers no hosting services at all.
However, an easy-to-miss web link takes you to a subdomain on another website that details Gubinsoft's web hosting plans and other services. While Gubinsoft's main website is in Russian, the second website (which describes the shared hosting) is in English. It's a little bit confusing, and it doesn't inspire confidence initially.
Features and Ease of Use
Gubinsoft's second site advertises four Linux hosting plans (two each in the U.K. and the U.S.A.), two Windows hosting plans (in the U.S.A), four Linux KVM VPS (with no details given), three cloud hosting plans, and four dedicated server solutions.
The Windows shared hosting plans provide you with:
5 to 10 domains
Unmetered disk space
Unlimited traffic
Unlimited email accounts
MySQL 5, MS SQL 2012, and phpMyAdmin
Secure FTP access
Support for PHP 5.2.x to 7.1.x, ASP.NET 4.5, GD, cURL, CGI, and Mcrypt
Cron jobs
Password-protected directories
Spam protection and ClamAV antivirus
IP blocking
Hotlink and leech protection
Customized error pages
The hosting plans include a user-friendly control panel and the Softaculous one-click installer for more than 50 programs.
You can improve your website's performance thanks to the extended statistics, and performance is enhanced in the first place thanks to Varnish Caching, a distributed CDN, and SSD storage (which is also more reliable than traditional HDD storage).
Reliability is enhanced even more thanks to RAID 1 which replicates your data to help guard against potential disk data disasters. In the unlikely event of such a data disaster, you'll be pleased to hear that this company creates backups every five days.
Since Gubinsoft uses state-of-the-art data centers and reliable SAN devices, it can guarantee 99.99% uptime (according to its website). However, a support agent alluded to a lower 99.9% uptime guarantee.
Pricing and Support
Gubinsoft's Windows shared hosting plans are competitively priced, but its Linux plans are expensive. You can pay in Russian rubles by PayPal or credit card on billing cycles from monthly to triennial. You get a 100% money-back guarantee for the first 30 days, which gives you a month to change your mind.
You can contact Gubinsoft's 24/7 customer support team via telephone, email, or online contact form. I received a rapid reply to my form submission:

For self-support, you've got the frequently asked questions and the knowledge base, both accessible through Gubinsoft's second website.