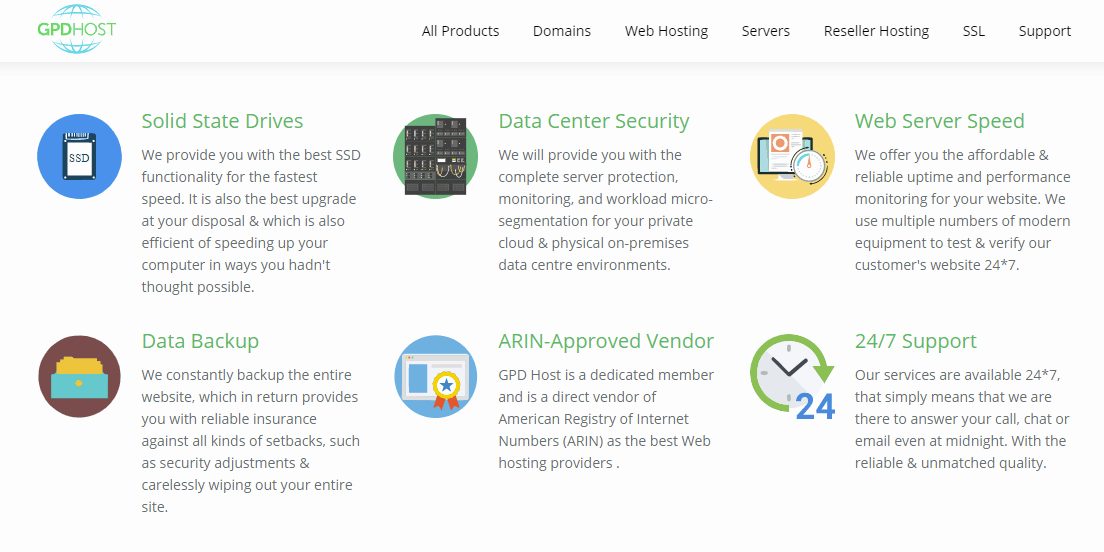 GPD Host is a hosting company located in New York City. It offers a range of web hosting services, including shared hosting, Virtual Private Server (VPS), dedicated server, reseller hosting, and SSL certificates. Its servers are located in a data center in downtown New York City, and the webpage is available in English only.
Features and Ease of Use
GPD Host offers web hosting through three categories. There's WordPress hosting for WordPress website owners looking for ease with automatic upgrades and backups. There's also cPanel hosting and Plesk hosting. Both categories run on Linux, so the only difference is the control panel you use.
These are some of the features of shared hosting with GPD Host:
99.9% uptime guarantee
Weekly automatic backups
Free domain (.club, .pro, and .party)
Anywhere from one to unlimited websites per plan
Up to 70GB SSD
Solid State Disks (SSD) are known for how fast they operate. You get to enjoy the faster read and write speeds over web hosts that use hard disk drives. Also, if for any reason it needs to reboot your server, it will start up much faster than an HDD.
GPD Host couples the SSDs on RAID 1 monitoring. Although that doesn't increase performance, it does create a failover solution if one hard drive fails. It can quickly build a new one while your website remains online with the other set of disks.
The company supports PHP, Perl, and Python for programming. If you'd rather use a drag-and-drop tool, you're covered with the website builder tool that comes in each hosting account. For lovers of CMSes and web applications, GPD Host provides a one-click installer for more than 400 scripts.
For security, it provides anti-spam and virus protection, HotLink and Leech protection, you can set up password-protected directories and deny malicious IP addresses access to your website.
Pricing and Support
One thing that I noticed at first with this provider was the same prices on WordPress and the regular shared hosting plans. Few providers offer more features than just automatic updates on WordPress like cloud system, but the many that don't offer more than updates still charge higher for something that you can get for free with many application installers.
It's shared hosting plans are low-cost. It offers different levels of prices to cater to those who have very little to spend and those that have a bit more. It allows monthly payments from the third and fourth WordPress and shared hosting plans respectively but beware that the listed prices on those only apply with 36-months payment.
Its VPS and dedicated server plans are offered for reasonable prices that are in line with what the competition offers. You can pay with Visa, MasterCard, Discover, American Express, PayPal, Bitcoin, and Yandex money.
If your website is already hosted with another web host, but you're looking for a new one, GPD Host will handle all of the tasks involved in migrating your website content and database to its servers.
GPD Host has a knowledge base, and its support agents work round the clock and can be reached through email, ticket, and live chat. I used the live chat to speak with an agent that responded clearly to all of my questions.