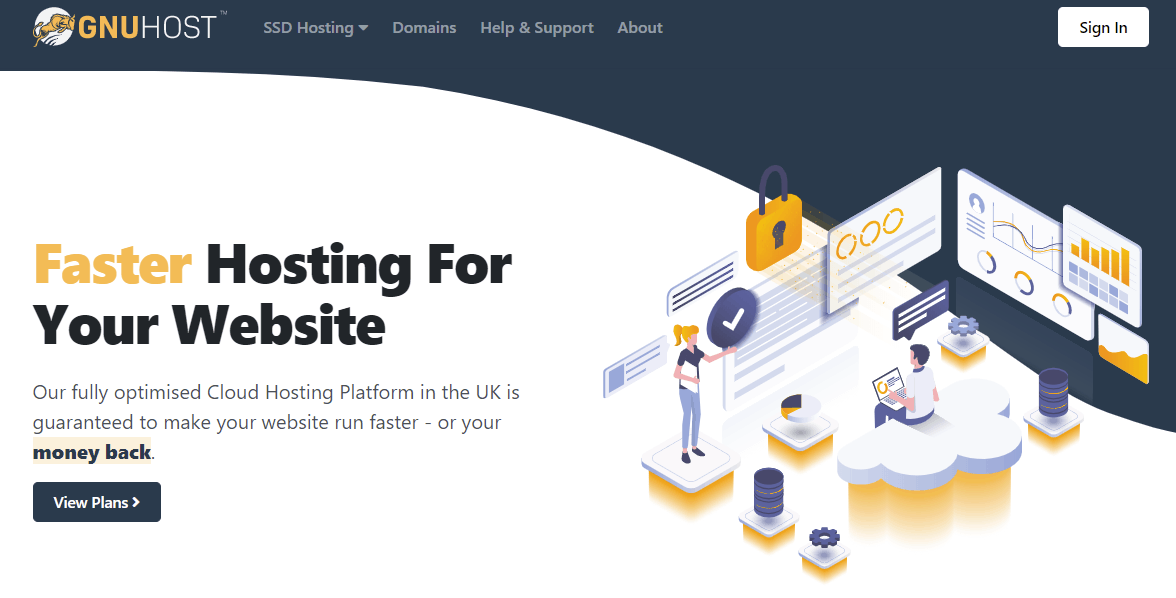 Gnu Host has been in the hosting business for over two years. A relatively new hosting company with over five servers, its based in Manchester, United Kingdom. It offers web hosting, reseller hosting, and domains. Its servers are located in London, and its website is available is English.
Features and Ease of Use
Gnu Host offers three shared hosting plans: Lively, Active, and Hyper. Lively comes with 10GB storage, Active comes with 25GB, and Hyper comes with 50GB storage. These are some of the other features:
99.9% uptime
Automatic backups
Either ten or unlimited websites
Free unlimited SSL
Ten or unlimited email accounts, depending on plan
Gnu Host uses NVMe SSDs that are about 400% faster than traditional HDDs to provide optimal performance to its customers. That, paired with the LiteSpeed web server, which is proven to be faster than Apache, does a lot for the server performance.
Along with LiteSpeed there's LSCache for WordPress, which provides a layer of caching that speeds up websites.
Gnu Host protects its customers from distributed denial of service attacks of up to 480 Gbps. Also, it provides daily automatic backups of files, while databases backups are created every six hours. The backups are uploaded to a remote server daily and stored for seven days, and you can fully restore them in one click from the control panel.
The control panel provided is cPanel. In it, there's a one-click application installer for WordPress, Joomla!, and many other applications. There's also a website builder with a drag-and-drop interface, an easy to use editor, and over 345 templates.
Pricing and Support
Gnu Host offers prices slightly higher than those found on some popular web hosting companies, but great hosting doesn't always come at a very cheap cost. However, its prices are not overly expensive. Additionally, we provide NVMe SSDs, LiteSpeed, and more to enhance your hosting experience.
There's no free domain, but there's free SSL forever. You never have to renew them because they do that automatically. This will help your SEO rankings, and as long as you are not hosting an E-commerce store, the free SSLs might be sufficient without the need to get a paid one.
It has one-month, three-month, six-month, and one-year subscription periods on offer. You can pay with your card using the Stripe or PayPal gateways, or do a bank transfer. Although there's no free trial or free plan, Gnu Host provides a 14-day money-back guarantee.
For support, there's a knowledge base, live chat, email, phone, and ticketing system. The promised response time on tickets is one hour and it claims to have a 43 minutes average ticket response time. I opened a ticket and got a reply in less than two minutes.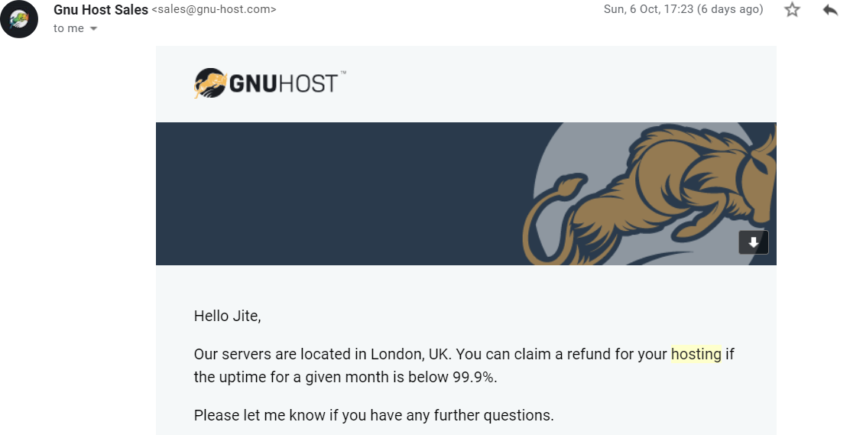 How much does Gnu Host cost?
Gnu Host offers plans from $5 to $11. The price depends on which type of hosting plan you choose. You can see the updated pricing table (updated weekly) below.

Which Gnu Host plan should I get?
My recommendation is to start with a cheaper plan. You can always upgrade later on. Gnu Host can help you with the migration to a more expensive plan. The increase in visitors many times takes longer than expected and you shouldn't pay a lot of money until the need arises. Of course, your needs may vary, and you can consult with a hosting expert from Gnu Host here.

How good is Gnu Host's customer support?
Gnu Host is not ranked as one of our top web hosts. But that can also be a result of Gnu Host being a small, under the radar, hosting provider. There are advantages to a small hosting company – as a customer, you are more important to them. You can also check out our comparison of the most popular web hosting services here.