Founded in 2001, GNS is an Israeli IT company that's been providing Infrastructure as a Service (IaaS) since their inception. Their current portfolio of services includes public cloud, private cloud, virtual dedicated servers, cloud backups, and managed services including website maintenance. Their servers are located in secure facilities in 11 locations around the world.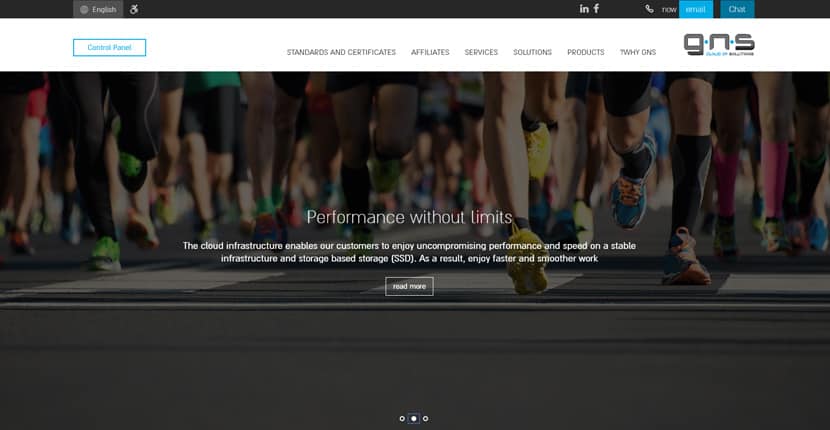 Features and Ease of Use
GNS boasts state-of-the-art cloud infrastructure with global deployment. You can choose to set up servers in different locations based on your target market. They have data centers in the United States, Israel, Hong Kong, Germany, Amsterdam, and London.
With their external server management services, you can save money and time that would have otherwise been spent on maintaining or upgrading their servers. On-site technicians carry out regular server, driver, and security updates on the software. They also perform daily backups, with data restore points kept for a maximum of 14 days.
GNS offers cost-effective virtual dedicated servers that come with greater operational freedom. You can order a server with your desired number of processors and amount of RAM and disk space in a data center of your choice. The good thing about their virtual dedicated servers is that they run on separate operating systems, which limit external access to the system core: essentially, you're getting a dedicated server at around the price range of a VPS. Based on platforms such as VMware ESX and KVM virtualization, their servers can also scale to match your resource needs.
If you're looking for fast and reliable hosting for your WordPress website, you should consider their dedicated WordPress hosting service, which is designed for performance and stability. With the combination of Nginx and XCache, your WordPress website will load fast and not be affected by the resource consumption of other customers.
Public, hybrid, and private clouds are also available to customers who want flexible infrastructure without the expense associated with buying, installing hardware, and managing a dedicated server. Their public cloud is suitable for businesses that are concerned about costs, while their private cloud is ideal for enterprises that are more concerned about information security and dedicated connections. Deployment is lightning fast and the best part is that you can scale up resources within the cloud whenever you need to.
With GNS, you also get comprehensive monthly reports on traffic and server performance. This way, you not only get to see how your resources are being used, but also get insights into how best to maximize resource usage. You can also order anti-DDoS protection, server hardening, intrusion testing, and archive-based storage solutions along with your server.
Pricing and Support
Note that there aren't any prices listed on their website. However, GNS has a reputation for offering risk-free and transparent dedicated server packages. The prices you get depend on the resources and features you've selected. With no surprise charges or expensive setup costs, you can order and deploy your server within minutes.  They will show you in advance how much you're going to pay for a particular server.
GNS offers 24/7 support through live chat and telephone, ensuring that they promptly resolve any hosting issues you may encounter. Their team consists of friendly and responsive technicians and server management experts who have extensive experience in the industry. If you have any inquiries about their hosting packages, you can also reach out to their sales team. Based on my experience, their average response time is 15 minutes. Please note that the live chat service is only available in Hebrew.