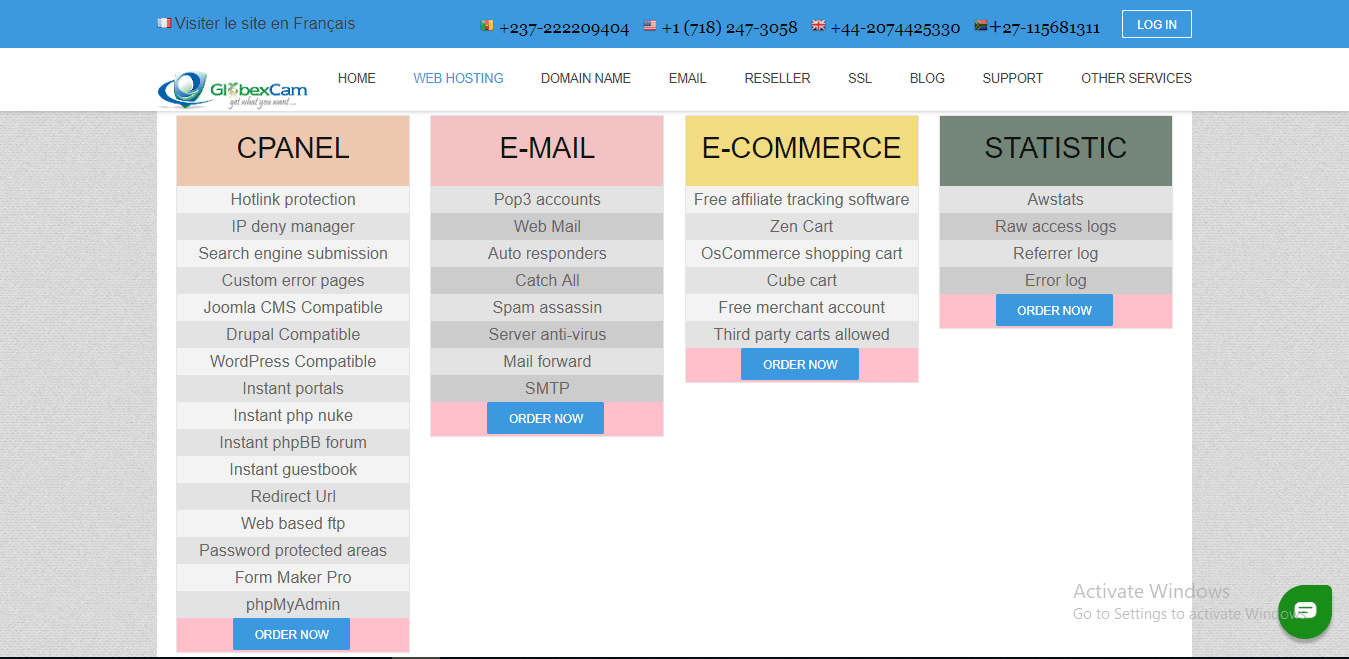 GlobexCamHost is based in Cameroon. It's not clear when they were founded or how many customers they have, however, they are targeting countries in Africa, which suggests a large African customer base. Their website is available in English and French.
Features and Ease of Use
GlobexCamHost offers a comprehensive range of packages including hosting, domain management, and reseller services. Their standard shared hosting packages come with the following features:
99.9% server uptime guarantee
Free domain registration for the life of the hosting plan
Unlimited bandwidth, subdomains, mail accounts, and MySQL databases
From 100GB to unlimited disk space
GlobexCamHost's servers are located in U.S. data centers with 24/7 monitoring, redundant high bandwidth connectivity, and 99.9% uptime. This is great for an African customers looking to host their website in the U.S. They offer support for PHP (although it's not clear what version) and Perl, as well as website traffic statistics, and some e-commerce features such as zen cart, cube cart, and affiliate tracking software. Their plans, at face value, appear to be pretty substantial, offering unlimited bandwidth, subdomains, mail accounts and MySQL databases, free domain registration, and, for the "Ultimate" package, unlimited disk space.
However, there is some bad news. A deeper dive into their terms and conditions leaves cause for concern. Firstly, the 99.9% uptime guarantee is not backed up in the terms and conditions at all and secondly, whilst they advertise unlimited bandwidth, their terms and conditions state "you are allocated a specified monthly bandwidth allowance per hosting package", and finally, resource usage is capped at 5% of system resources including CPU and memory. They also do not allow shell, SSH, or root access to the servers.
Pricing and Support
Their prices are okay – they're not the cheapest on the market, but for someone located in Africa, needing U.S. based servers, it's a good deal. Also, they do include a free domain registration for life with all plans, as well as unlimited emails accounts and MySQL databases. SSL certificates are a small added cost.
You can buy their hosting for one, two, or three years. However, oddly enough, the price goes up if you choose a longer term! They also enforce very strict cancellation policies – no money-back guarantee, no refunds, and no free trial.
Their customer service offering is quite good. They have multiple international telephone numbers (U.K., South Africa, U.S., and Cameroon) and several email addresses. They also have live chat, and I've been impressed by their speed to answer and help with my questions. They have a small help center with some how-to guides for customers that want to do it themselves, as well.