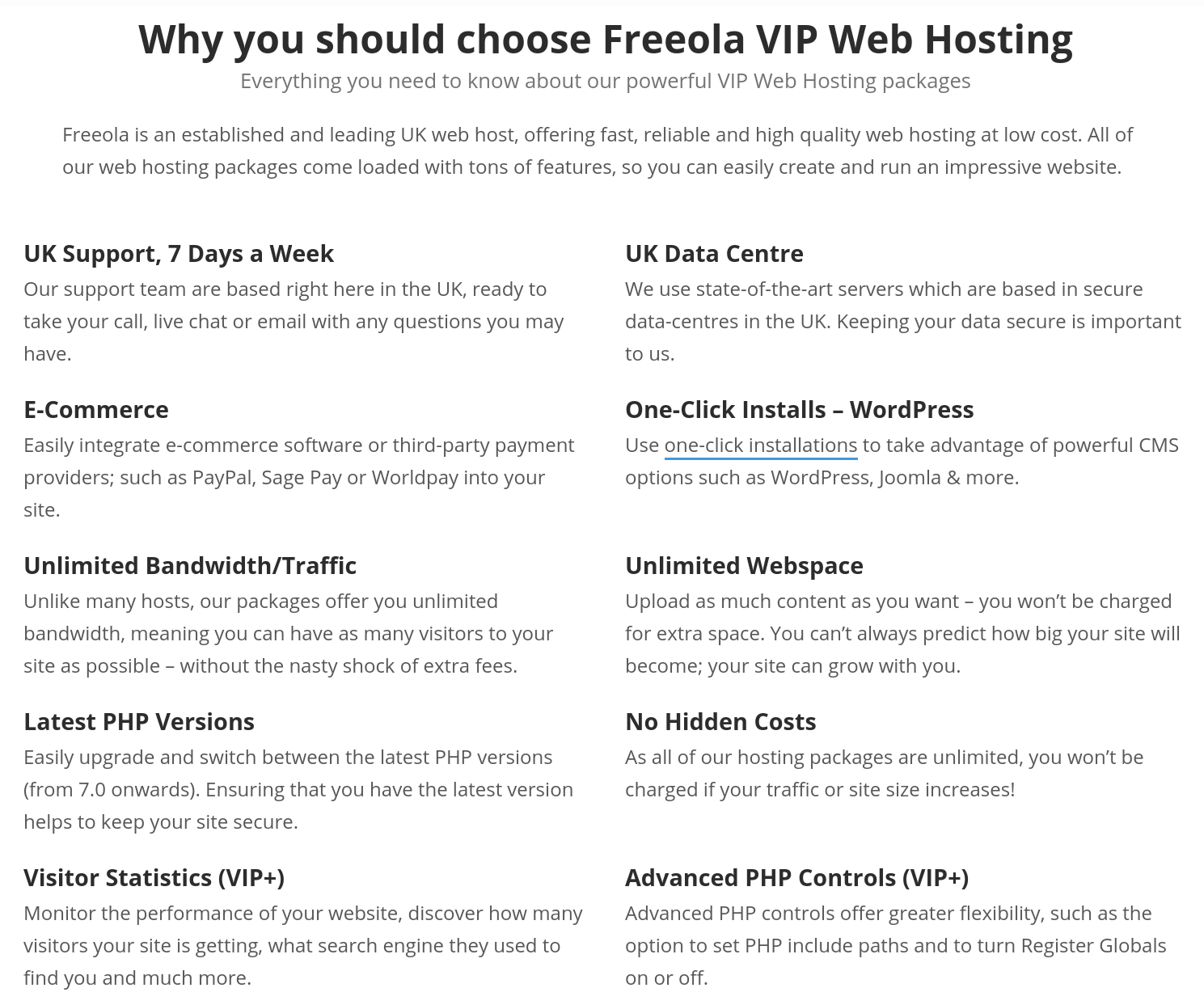 Freeola is a U.K. company that offers high quality, reliable internet-based services to its widespread customer base. Its also offers excellent domain services through sister site GetDotted.com.
Freeola's servers are located in the U.K., and its website is in English.
Features and Ease of Use
Freeola offers high-quality, low-priced reliable hosting services for business or personal online projects. Its web hosting packages generally feature:
Super-fast loading speeds
Unlimited disk space and bandwidth
99.9% uptime guarantee
Multiple PHP support
DDoS protection
Gzip compression
Worldwide FTP access
Free image library
Free website promotion
Freeola provides the user-friendly MyFreeola control panel to help you manage your hosting resources. This also allows you to control and integrate your other Freeola subscriptions such as broadband or line rental services (if you have them).
It's good to see that Freeola also features one-click application installations so that you can easily run a script to set up a blog, an online shop, or a database. You can also easily install and manage your CMS.
The separately listed InstantPro website builder allows you to create fully responsive, multipage, mobile-friendly websites using a drag-and-drop interface, high-quality stock images, and customizable templates. The best bit is that you don't need any coding skills to create your website.
Pricing and Support
Freeola's three web hosting plans are flexible but slightly high priced. But you might consider them to be worth the cost when you factor in all the features and unlimited resources (disk space and bandwidth).
Sadly, Freeola doesn't give you SSL certificates for free, but SSL can be purchased as a separate package. Freeola also doesn't do discounts, but there are offers on various combinations of services.
You can pay for plans using PayPal or credit cards, and although only annual billing is available, a 14-day money-back guarantee at least gives you two weeks to reconsider your commitment to the website builder.
Freeola provides a very extensive set of support guides to complement the self-support FAQ page. For personalized support, you can contact the helpdesk via telephone, ticket, email, or live chat. Since the live chat was offline on a Sunday when I wanted to test it, I sent an email instead. I was pleased to receive a response to my exploratory email the following day: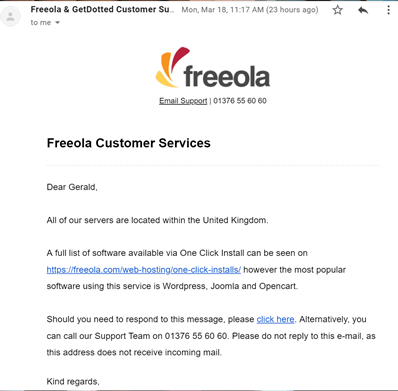 How much does Freeola cost?Freeola offers plans from $5 to $7. The price depends on which type of hosting plan you choose. You can see the updated pricing table (updated weekly) below.
Which Freeola plan should I get?My recommendation is to start with a cheaper plan. You can always upgrade later on. Freeola can help you with the migration to a more expensive plan. The increase in visitors many times takes longer than expected and you shouldn't pay a lot of money until the need arises. Of course, your needs may vary, and you can consult with a hosting expert from Freeola here.
How good is Freeola's customer support?Freeola is not ranked as one of our top web hosts. But that can also be a result of Freeola being a small, under the radar, hosting provider. There are advantages to a small hosting company – as a customer, you are more important to them. You can also check out our comparison of the most popular web hosting services here.