Forex Cheap VPS has been offering hosting services from its Canadian (Montreal) office since its inception in 2013. Focusing on the foreign exchange (forex) trading space, its ultra-fast servers come with a 100% uptime guarantee so that customers never miss a money-making opportunity.
As well as catering to forex clients, Forex Cheap VPS offers VPS and dedicated servers to other kinds of customers. Its website is in English, but its client area supports 25 additional languages.
Features and Ease of Use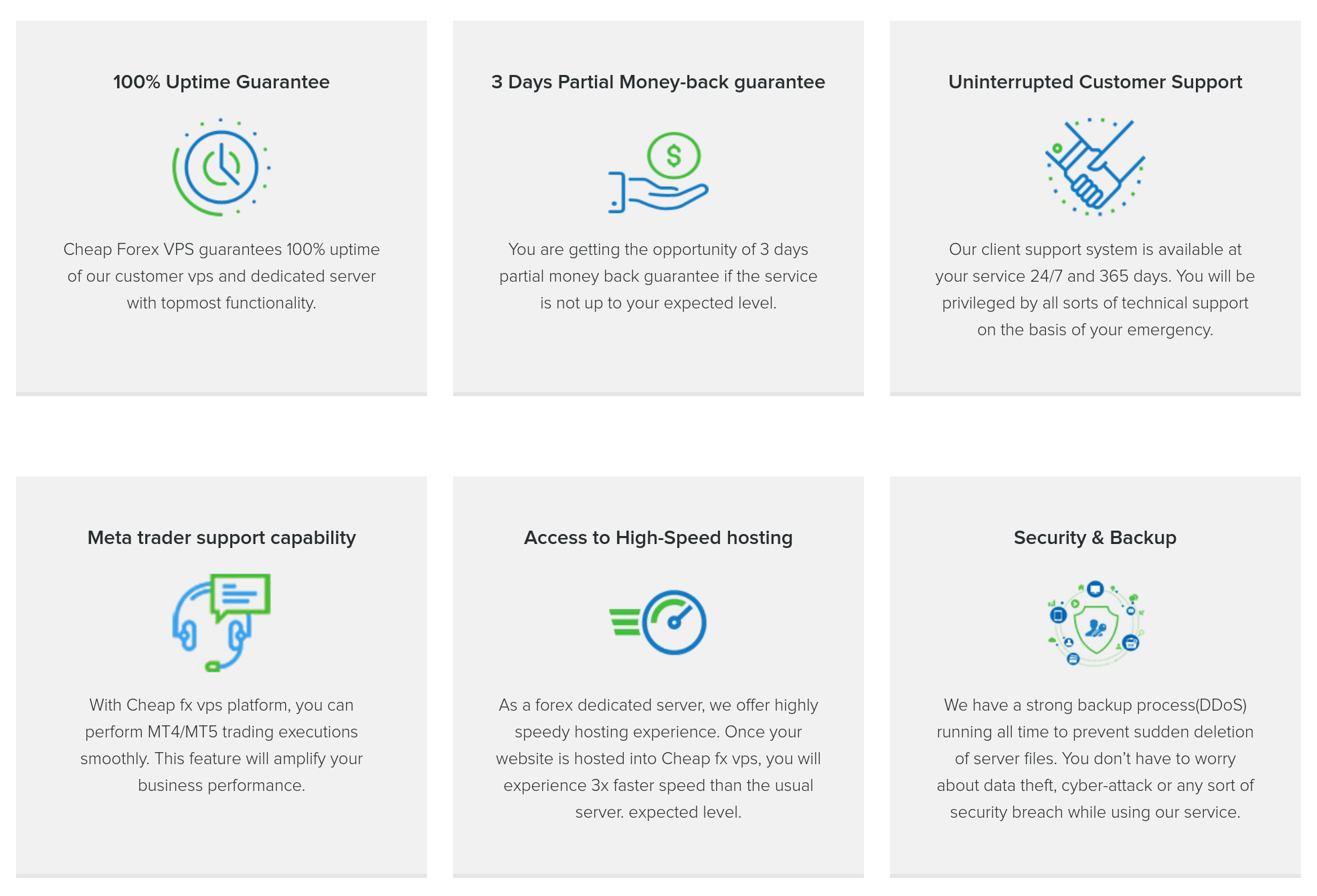 This provider offers twelve VPS plans (in Regular, Latency Optimized, and Business Class categories) and four dedicated server plans. The free Forex VPS trials (in eight different packages with differing resources) are not entirely free since you have to deposit a sum of money with a forex broker of your choice from a provided list of partners.
The "Regular" VPS plans provide you with:
Windows 2012 R2 / 2016 operating system
1 GB to 8 GB RAM
SSD storage
1 TB to unlimited bandwidth
Virtual servers are equipped with superfast (and more reliable) SSD storage with RAID 10 that duplicates your data in case of a disk disaster. Additional protection is provided in the form of DDoS protection against a range of cyberattacks.
You get full administrator access to your server, thus giving you complete control over your hosting environment. If managing your VPS or dedicated server is too big a burden, you can instead take advantage of the fully managed services that allow you to concentrate on your core business.
Although Forex Cheap VPS has a 100% uptime guarantee (which is pretty important in this "high stakes" environment), its SLA states that approval of any credit is at the discretion of Forex Cheap VPS and dependent upon the justification provided. It also says that third-party monitoring service reports may not be used to justify claims, due to a range of factors. Put simply, the uptime guarantee is not unconditional, and the provider will decide whether it wants to pay up for any downtime.
Pricing and Support
The "Regular" VPS plans are offered at pretty economical prices. You can pay for them via a range of methods, including PayPal, Neteller, Mastercard, Skrill, Perfect Money, Bitcoin, Payza, and WebMoney.
Although there is a three-day partial money-back guarantee, I think that three days isn't very long to test the services, and "partial" money back doesn't sound too promising. Nevertheless, something is better than nothing, but note that only first-time accounts are eligible for a refund, and it may well be provided as an account credit because some payment methods don't allow refunds.
24/7 customer support can be accessed via live chat, email, telephone, or support ticket. Live chat wasn't available when I wanted to try it, but I received satisfactory support responses via Facebook Messenger.
If you want to try supporting yourself, you can find answers to common questions on the FAQ page.