FirstByte is a Russian-based web hosting company that provides
virtual servers, dedicated hosting, domain registration, and DNS hosting
. The vendor also has a noteworthy presence in the Netherlands, Vietnam, Ukraine, and China. The FirstByte website is only available in Russian.
Features and Ease of Use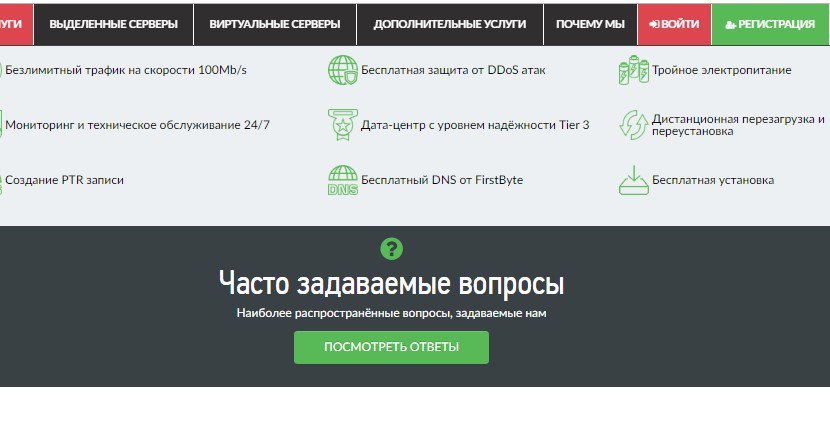 FirstByte offers VPS hosting, domain registration, and dedicated server solutions. The standard features included in its hosting packages are:
Free DDoS protection
Unlimited traffic at 100Mbps
Free DNS hosting
Free IPMI + KVM
Free installation
SSL certificates
Cloud storage with more than 500,000 IOPS
FirstByte hosting solutions are powered by a fully redundant Cisco backbone network. Unfortunately, FirstByte virtual servers are known to fail quite often and sometimes develop overloading related errors even when using KVM virtualization resources. This often results in many hours of client website unavailability.
FirstByte data centers are highly monitored by their security team and have a 24/7 CCTV surveillance system of up to 350 cameras recording all activities in these locations. The hosting provider also offers DNS hosting as an additional package, though it does not work quite as advertised. Customers report inexplicably losing access to the DNS control panel and their domains being removed from the system. The manual process of adding them is tedious and can result in the loss of website data.
Pricing and Support
FirstByte offers hosting plans in Russia that are priced competitively compared to other hosting vendors. They provide budget-friendly plans with quality hosting features. The pricing of their hosting plans is in Russian rubles, and you have the flexibility to choose payment periods of one, three, six, and twelve months.
FirstByte offers a 99% uptime network guarantee for their virtual servers, falling short of many customers' expectations of an uptime of at least 99.99%. That said, in case of downtime, they do have a compensation plan in place.
FirstByte has a refund policy of 30 days, but for users who want to test their services, the vendor encourages them to use the hosting plans that allow for daily payments. It's also important to note that customers have reported the vendor resetting their VPS servers because of delay in payment of as short a time as 48 hours, resulting in the loss of all website data.
Clients can contact the FirstByte technical support team via their telephone number, email address, and ticketing system, but there is no live chat option. Nevertheless, the FirstByte technical support team is available 24/7. Although they have set a maximum response time of 24 hours, their technical team responds to most support requests in less than one hour.
And, while FirstByte's technical support team is relatively fast in responding to queries from customers, their attitude is unbecoming and sometimes, they are impolite. What's more, this technical support team does not seem to have very advanced knowledge of hosting and how to address emerging issues from customers, making some of their responses unhelpful. For many customers, they'd do better finding answers on their own using the vendor's fairly detailed knowledge base that includes an FAQ section and tutorials.