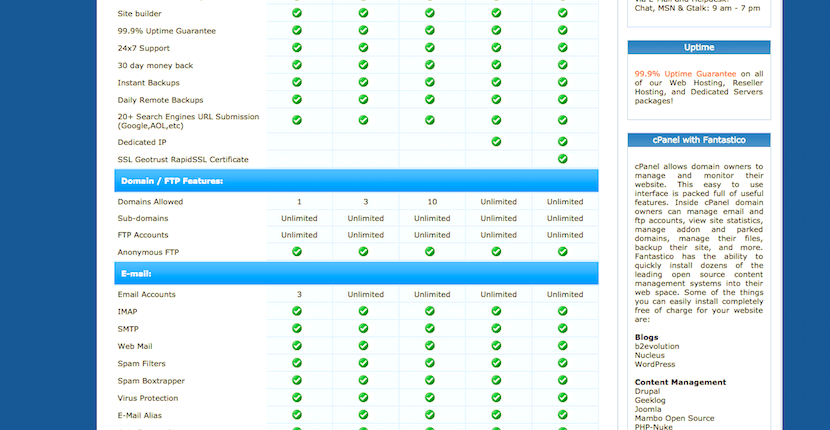 FelWeb is a Colombian-based website hosting provider. They don't advertise how long they've been in business or how many customers they have, however their business page has been
live on Twitter since 2010
. Their
website is available in over twenty-five languages
, including Spanish and English.
Features and Ease of Use
FelWeb offers a selection of website hosting services including shared hosting, reseller hosting, virtual servers, and dedicated servers, as well as domain registration, SSL certificates, and web development.
The shared website hosting packages provided by FelWeb include:
99.9% uptime guarantee
Automatic daily backups
Free domain registration for one year, except for base package
From one to unlimited add-on domains
SSL certificate available at additional cost
From 500MB to 100GB disk space
From 5GB to 1000GB bandwidth
FelWeb offers a lot of great value add-ons. Starting with beginners, they provide a website building tool, many programs which can be installed with one-click, a cPanel demo, and functionality for e-commerce stores including shopping cart integration.
What's really impressive is that FelWeb also caters really well to experts. They include a lot of advanced scripting languages such as Ruby on Rails, Python, and Javascript, as well as unlimited FTP access. That said, they only offer support for PHP 4 & 5, which are far slower than PHP 7.2, which is offered by other website hosting companies.
One thing I did find a little concerning is the lack of information about their infrastructure. Their website doesn't tell me if they own their own servers or data center, how they're managed or what hardware they use. They do state a 99.9% uptime guarantee but I can't find it detailed in their terms and conditions, so it may be little more than a marketing strategy.
While I really like the inclusions in the shared hosting plans and I think they are sufficient for most website owners, they also have dedicated servers and virtual private servers for when you're ready to scale up your online business.
Pricing and Support
The first two packages offer competitive pricing, but the three top packages become quite expensive. However, it's worth noting that the lowest two packages include generous features that should be sufficient for most everyday website owners.
One important consideration are the add-ons. Domain registration is not free in the base package and SSL certificates are an added extra in all but the most expensive package. What's nice about their packages is that whichever you choose, you can configure the amount of web space, bandwidth, or dedicated IPs to customize the base plan. As long as you're conscious of the additional monthly fee, it's a neat opportunity to configure your own perfect plan!
If you purchase one year, you get two months free hosting, whereas if you purchase two years, you get five months free. The only payment terms are annually or biannually, which means that there is no obligation-free monthly plan available. However, they do offer a 30-day money-back guarantee, which is sufficient to trial the product.
They website advertises 24/7 customer support via email, help desk, MSN, and Gtalk available from 9 a.m. to 7 p.m. That being said, I've contacted them via their Facebook page and received a prompt, friendly response to send them an email to get the quickest response. They do have a detailed knowledge base with lots of English and Spanish help documents available.