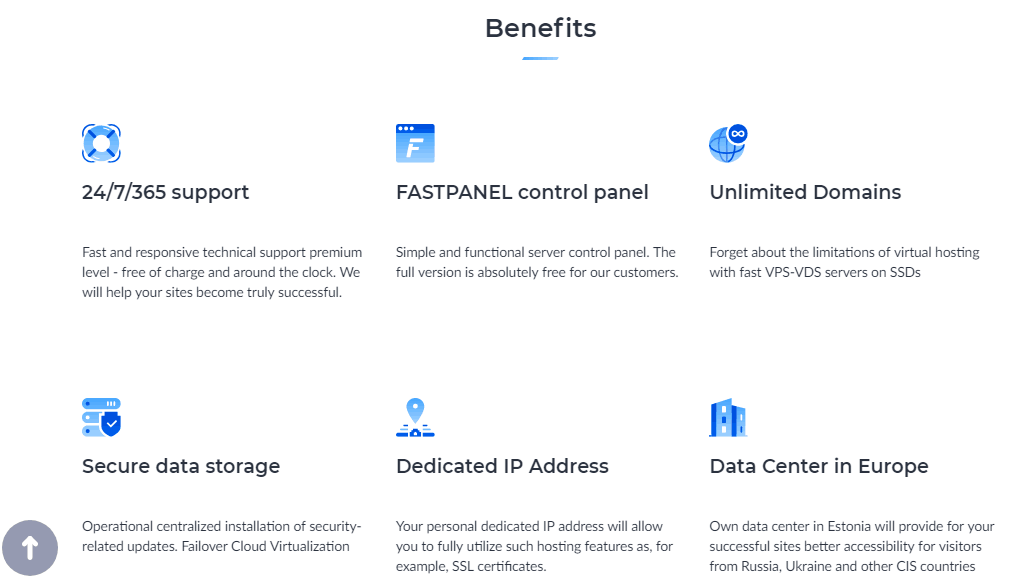 FASTVPS is a hosting provider with offices in Russia, Estonia, and Ukraine. Since 2006, it has provided both VPS and dedicated servers and has to date hosted more than 270,000 websites.
Its data center in Estonia and partner centers in Russia, Germany, Finland, and the United States contain over 16,360 of its servers. FASTVPS' website can be viewed in English, Russian, Estonian, and Ukrainian.
Features and Ease of Use
FASTVPS doesn't offer shared hosting packages. As its name implies, its primary product is VPS. Its VPS is based on OpenVZ, KVM, and Hyper-V technologies, with plans for each of them. Customers get the following:
99% uptime
Daily automated backups
Unlimited domains on each account
From 1TB to 10TB monthly bandwidth
FASTVPS doesn't provide a free domain registration. It does offer the service, so you could purchase your domain name separately. It doesn't provide a free SSL either.
Although it takes automated daily backups of all its servers which customers can restore from the control panel, it expects customers to take their own. As such, it offers backup space for a fee which you can add to your cart before you checkout.
FASTVPS is not exactly a beginner-friendly web host and given the nature of its products, that should not be surprising. You don't get a one-click installer or a website builder here. Instead, you have full root access and can install any software you want from there. So, you'll need to get someone with programming experience to help you set up your website.
Another point to note is that FASTVPS doesn't offer a popular control panel like ISPmanager or cPanel to its customers. It uses its custom control panel – FASTPANEL. I checked it out and found it to be very stripped down and simple. It took a few seconds to get used to the general outlook and find my way around.
Each account is provided with a dedicated IP address. For security, it uses failover cloud virtualization, so if your server fails for any reason or needs to be down for maintenance or security updates, the functions of that server such as the processor, database, and network are assumed by another server to ensure that your website stays online.
Pricing and Support
FASTVPS prices are pocket-friendly. It offers quality at a low-cost, but as I wrote above, there's no free SSL or domain name registration, so expect to pay for those out of your own pocket from the first year.
There's no free trial either, so to see if this vendor works for you, you'll have to invest your money to pay for a month or if you feel more confident, go for a year. Beware though, there's also no money-back guarantee. However, you can get a refund based on your unused VPS resources.
You can reach FASTVPS technical customer support from 7:00 AM to 11:00 PM. The time zone differs depending on the country you call. It has offices in Estonia, Russia, U.S., Latvia, and Ukraine. You can call, send an email, submit a ticket, or use the live chat.
I engaged in a live chat conversation with a member of the technical department at [Company Name]. They provided answers to my inquiries about the control panel and failover cloud virtualization.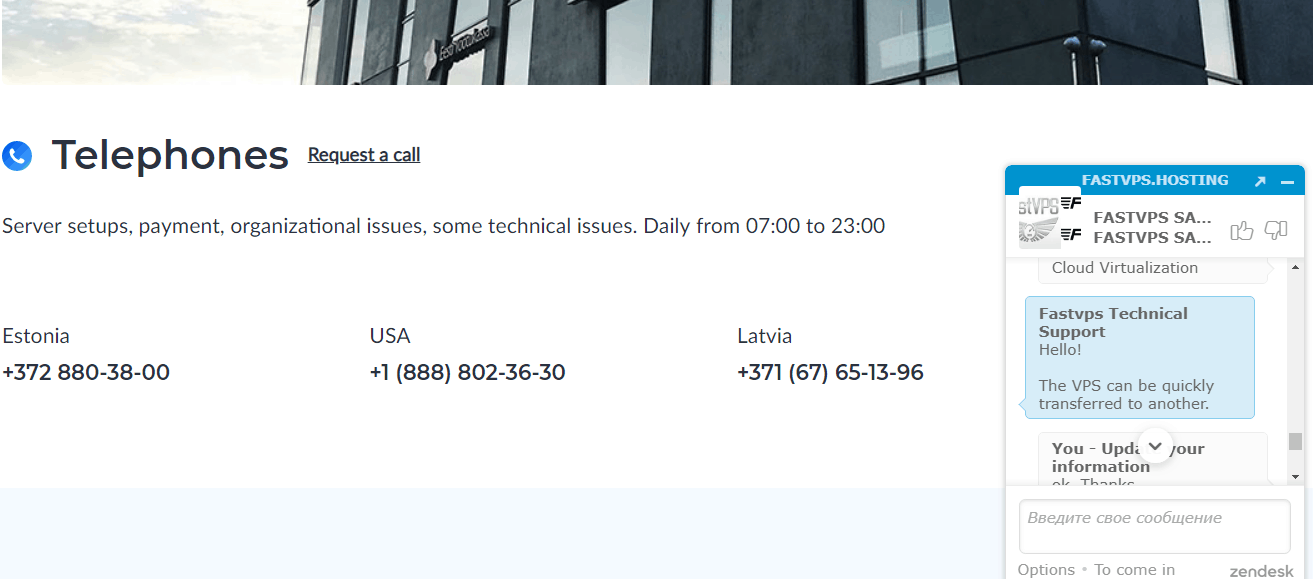 There's a knowledge base with a few tutorials as well