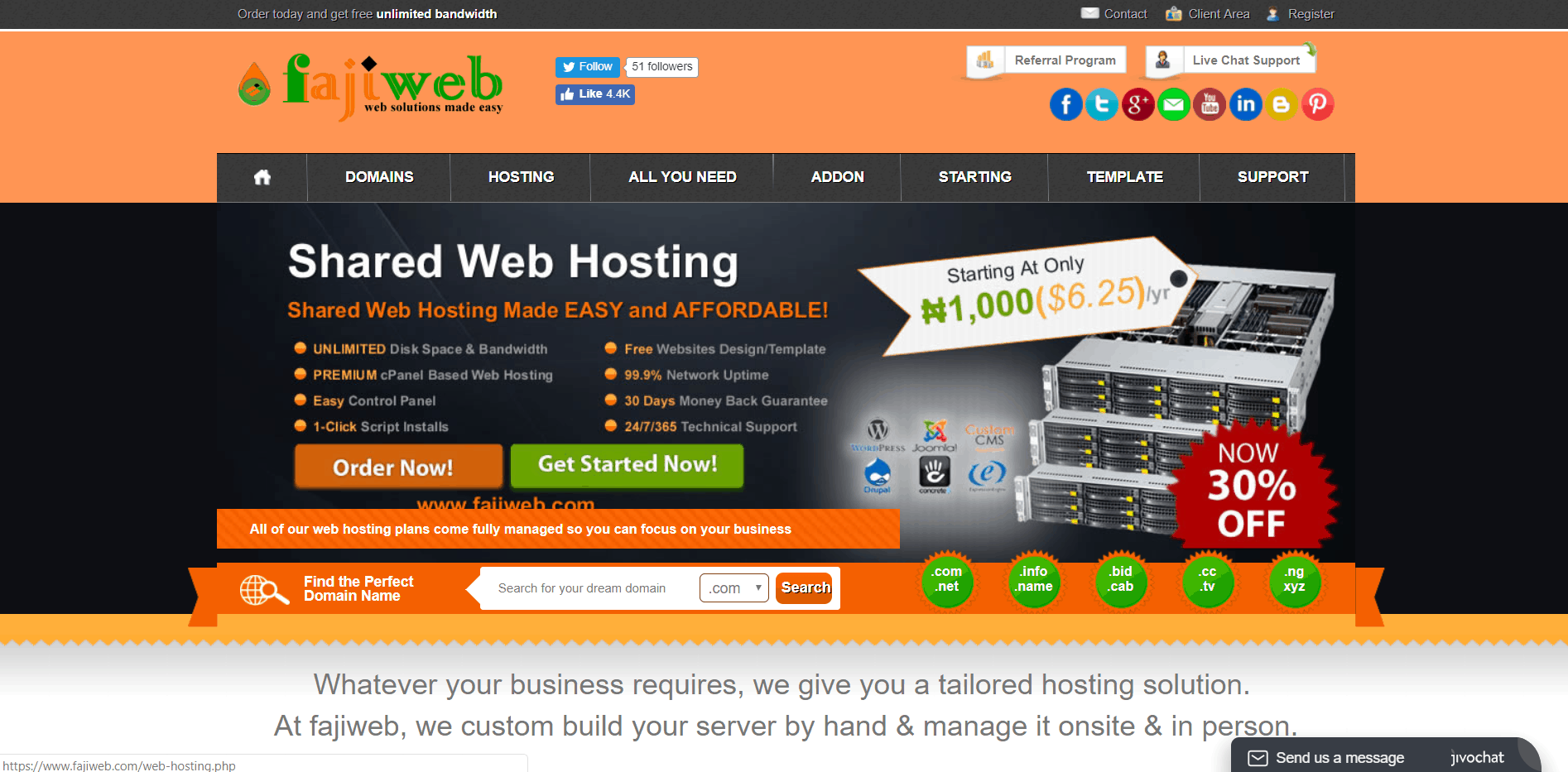 Founded in 2014, Fajiweb is a Nigerian website hosting provider with offices in Nigeria and Johannesburg, South Africa. Their servers are housed in America, the United Kingdom, and India. Their website and support services are available in English only.
Features and Ease of Use
Fajiweb offers a full suite of hosting services that includes shared hosting, virtual private servers, dedicated servers, e-commerce hosting, and reseller packages. But that's not all: they also offer add-on services such as domain registration, SSL certificates, search engine optimization, web design, and more.
Here are some of the standard features included in their web hosting packages:
99.9% uptime guarantee
Free one-year domain registration with most packages
Free SSL certificates with all packages
Website builder and design
Auto installer with over 340 applications

Fajiweb offers a lot of great features for beginners. This includes a free website builder and ready-made templates — or perhaps a custom web design service at an additional cost. They also offer e-commerce hosting, which includes a selection of free e-commerce tools such as AbanteCart, PrestaShop, osCommerce, WooCommerce, and many more.
A nice added extra for international customers is a cPanel that supports multiple languages: English, Portuguese, French, Dutch, Norwegian, Spanish, German, Russian, Ukrainian and Bulgarian.
Pricing and Support
At first glance, their prices seem very low. However, the inclusions are extremely limited in the two base packages. For example, the first package includes only 100MB disk space and 1GB bandwidth, while the second includes 1GB disk space and 4GB bandwidth. These are suitable for those who mainly want a simple and mostly-static website, but not much good for anything bigger than that. To get enough bandwidth and disk space for most websites, the third-tier package is likely your best option. This package is competitively priced compared to similar offerings from both local and international providers.
Fajiweb does not offer monthly pricing. They offer prices for one, two, and three years, all paid upfront. However, unlike most other web hosting providers, they don't offer any discount or incentive to purchase a plan for a longer term.
Instead, they offer various promotions, including a free one-year domain registration with most website hosting plans. They also offer an incentive to switch from a different provider: they'll buy you out of your existing contract with the other web hosting provider if you choose to migrate to Fajiweb. Fajiweb also offers a 30-day money back guarantee.
In terms of customer service, they have lots of options. They have 24/7 customer service via live chat and WhatsApp. They also have a call center in Nigeria and South Africa, as well as different email options depending on your requirements. I found this really helpful and could always get a quick response from an operator.
That said, the few times that I've contacted Fajiweb, their live chat was usually offline. But when I send them emails, they're usually very quick to respond and when I ask them to, they'll hop on live chat with me right away. Unfortunately, the operator has, at times, been a little abrupt with me. That said, he was quick to answer my concerns and resolved my support issues promptly.