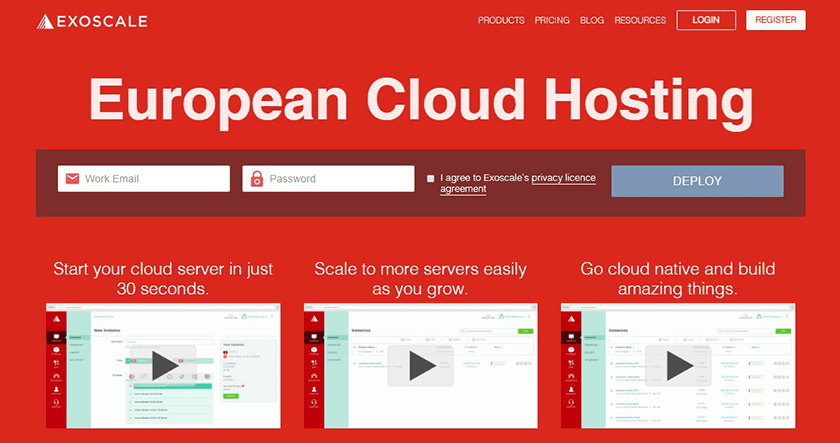 Exoscale is a website hosting vendor based in Switzerland. This vendor also has a significant presence in the U.S., Germany, India, and the U.K. Founded in 2011, Exoscale is run by cloud enthusiasts and individuals with many years of experience in IT operations. They're focused on building powerful cloud platforms that users find enjoyable and easy to use. The vendor markets itself to European companies as a noteworthy alternative to the big cloud solutions providers based in America.
Features and Ease of Use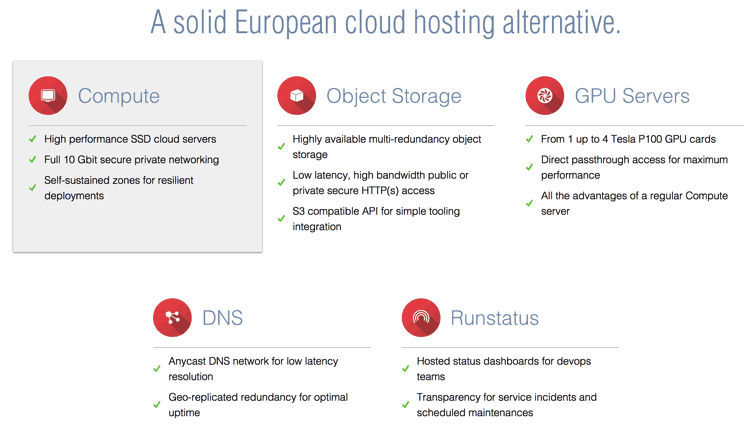 Over the years, Exoscale has built a reputation as a trusted hosting provider across Europe for running mission critical workloads in the cloud. This vendor's hosting solutions are feature-rich. Some of the standard features you can expect to get include:
High-performance KVM-powered virtual machines
100 percent local SSD storage
Virtual machine snapshots for data and configuration backups
A simple, intuitive user interface
Instant virtual server deployment
Cluster-friendly traffic
Live migrations
A closer look at Exoscale indicates that this vendor has invested quite heavily in security and is committed to abiding by the strict Swiss privacy laws as a way to guarantee its customers that their data is safe.
Furthermore, Exoscale has built powerful data centers in several locations across Europe, including Geneva, Zurich, Vienna, and Frankfurt. All of these data centers run with SSD-powered servers to provide scalable and high-performance cloud solutions to companies in European countries. These solutions are designed to be user-friendly and scalable, enabling users to resize their clusters within seconds.
Pricing and Support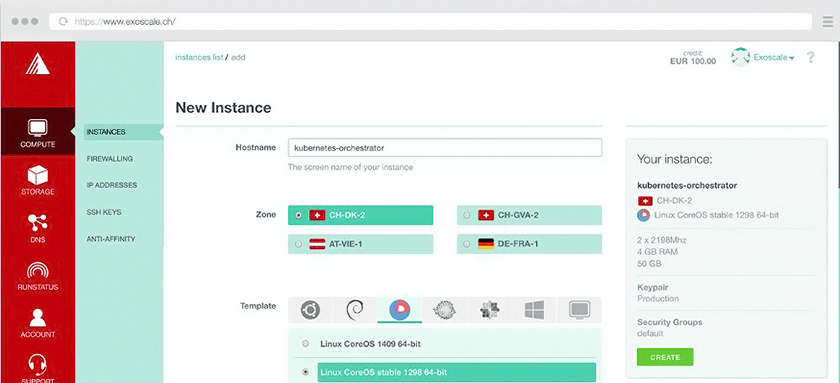 Compared to other cloud hosting providers, Exoscale's plans are reasonably priced. They've got what they call "no surprises pricing," which essentially means that they're transparent about everything you get upfront while also being clear about what kind of prices you'll be expected to pay if you scale your plan up in future.
As with most cloud hosting platforms, Exoscale's solutions are easy to scale: you can start with small clusters and can easily grow to powerful big data nodes from the convenience of your admin panel. Exoscale has an hourly pricing scheme that is prorated per minute, creating one of the leading price-to-performance ratios in the industry. This ensures that Exoscale customers only pay for the resources they use.
To get in touch with the Exoscale support team, there are two main options for non-customers: email and phone. If you're a customer, your best bet is to login to your client portal and send in a support ticket. There's no live chat or social media platforms through which to contact support, but most of Exoscale's customers seem satisfied with the available options. When I contacted their customer support by phone, it took only two rings before someone picked up my call. The representative I spoke with was polite and came across as experienced and well-informed, which seems consistent with Exoscale's claim that they've "baked support into their service and interface from the get-go."
How much does Exoscale cost?
Exoscale offers plans from $7 to $306. The price depends on which type of hosting plan you choose. You can see the updated pricing table (updated weekly) below.

Which Exoscale plan should I get?
My recommendation is to start with a cheaper plan. You can always upgrade later on. Exoscale can help you with the migration to a more expensive plan. The increase in visitors many times takes longer than expected and you shouldn't pay a lot of money until the need arises. Of course, your needs may vary, and you can consult with a hosting expert from Exoscale here.

How good is Exoscale's customer support?
Exoscale is not ranked as one of our top web hosts. But that can also be a result of Exoscale being a small, under the radar, hosting provider. There are advantages to a small hosting company – as a customer, you are more important to them. You can also check out our comparison of the most popular web hosting services here.