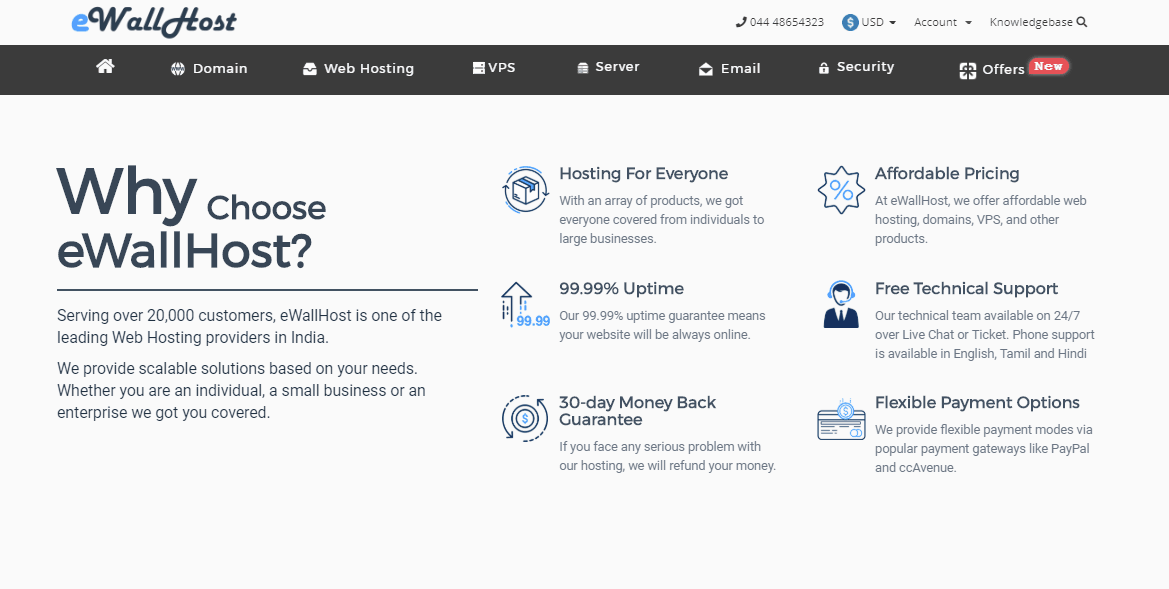 Founded in 2007 under the name Ellviz Consulting Services, eWallHost started with server management services. After eight years, it expanded and registered as eWallHost to provide domain registration, web hosting, and dedicated servers.
Like many web hosting companies, its advertised aim is great features, flexibility, security, and low cost. Its servers are located in the United States, Switzerland, Netherlands, Lithuania, and India. Although its website is in English only, it provides support in English, Tamil, and Hindi.
Features and Ease of Use
eWallHost offers two categories of hosting that are based on the control panel you prefer – cPanel or DirectAdmin. Under both, there are four plans each. Customers that purchase any of these plans will get the following resources:
99.99% uptime guarantee
Weekly automatic backups
One, five, or unlimited domains on one account
Free SSL certificate
From 1GB to 100GB storage space
Unlimited bandwidth
eWallHost offers Softaculous script installer on Linux hosting and Parallels script on Windows hosting which help you easily install more than 300 web applications. This is great because most people use software like WordPress and Magento to set up websites these days.
This vendor also goes further to provide a drag-and-drop website builder that you can use to set up a responsive website.
It supports PHP, Python, ASP.Net, and a host of other programming scripts. You can also automate tasks with cron jobs.
If you take the cPanel plan, you'll enjoy the benefits of CloudLinux, which provides a more efficient and secure space for shared hosting customers. CloudLinux separates every shared server user into its own cage ensuring that you can make full use of your resources and not be affected by what other users do.
eWallHost offers SEO tools, as well. This is great if you are a beginner to the search engine optimization world, and will help you get started on the basics of search ranking.
If you need more resources, its VPS plans offer greater speed and faster disk and read/write performance. It is run on SSD with a few HDD plans available as well. The SSDs are on RAID 6 which is an enhancement that ensures that data loss is kept at the bare minimum because data loss only comes in when at least two disks fail.
Pricing and Support
eWallHost's shared hosting plans vary in pricing; some of them are low cost, some are reasonably priced, and a few others are slightly expensive. Nevertheless, given its robust features, the price should be worthwhile for what you enjoy with it.
Also, it offers a free SSL certificate which can lower your overhead cost if you choose to not buy an extra paid one. However, be aware that there's no free domain. If you're currently on another provider and believe that eWallHost is worth your money, it will migrate your website free to its servers.
You can only make monthly payments on the top-tier plan, but for other plans, you can choose longer-term durations like one year, two years, and three years. Luckily, there's a 30-day money-back guarantee to reduce your risk.
If you encounter issues while managing your website, you can use its knowledge base to solve them. However, if you prefer to discuss with a support agent, you can send a message through live chat, ticket, or email, or just pick up the phone and give them a call.
I used the live chat to discuss with an agent and got satisfactory responses to my questions.