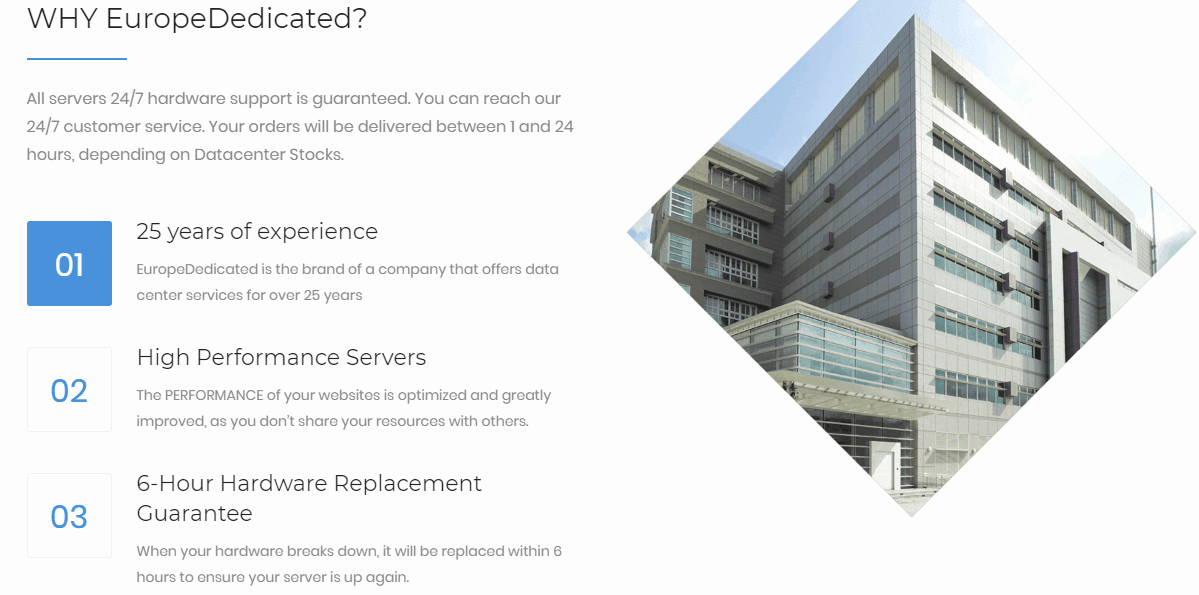 According to its website. EuropeDedicated has been in business for over 25 years offering data center services. It serves both businesses and individuals with Virtual Private Servers (VPS), cloud servers, and dedicated servers.
The company's servers are located in Turkey, France, the Netherlands, Germany, Ukraine, Spain, the U.K., Italy, and Bulgaria. Its website is available in English only.
Features and Ease of Use
Personal blogs and small business websites will have to look elsewhere for lower-range hosting solutions like shared servers because EuropeDedicated doesn't offer those. Its hosting is optimized for larger websites and customers don't share resources the way they do with shared hosting.
For VPS, there are ten plans. If they don't fit your requirements, EuropeDedicated is open to providing custom built servers; you'll just have to contact them. It offers the following features:
Anywhere from 25GB to 300GB SSD
Up to six core CPU
Anywhere from 1GB to 64GB RAM
EuropeDedicated provides the same 100Mbps bandwidth port for concurrent connections. As long as you aren't hosting very large files with large traffic (both together), that should work. For the monthly transfer, it's between 1TB to 10TB, depending on your plan.
The company provides one dedicated IP address to all VPS customers. You can also purchase additional IP addresses at any time. Although you can live without it, dedicated IP are great to have if you frequently use FTP, want to view your website through your IP address, need to install an SSL, or run a high traffic website.
If you want a dedicated server, you have the option to choose a server in any of its nine locations. Those who want cloud can choose either Turkey or Germany. For VPS, only Turkey is offered.
EuropeDedicated promises a fast hardware replacement. If your hardware breaks down, its six-hour guarantee is supposed to ensure that you get a replacement within six hours.
Pricing and Support
VPS are not usually priced as low as shared hosting, but some providers do well to offer a fee that's not exorbitant. EuopeDedicated is a company that offers reasonable prices on VPS. Some of the plans are affordable.
The dedicated plans are more in line with what competitors offer for dedicated servers, and so are the cloud servers.
EuropeDedicated gives you the option to subscribe for one month, three months, six months, or twelve months. They use PayPal's payment processor, so you can pay with funds in your wallet or card.
Customer support is available through email, ticket, and live chat. I opened a ticket but didn't get a response, even after waiting for two weeks. There's also a Skype id that you can send a message to, and a knowledge base with a few tutorials.