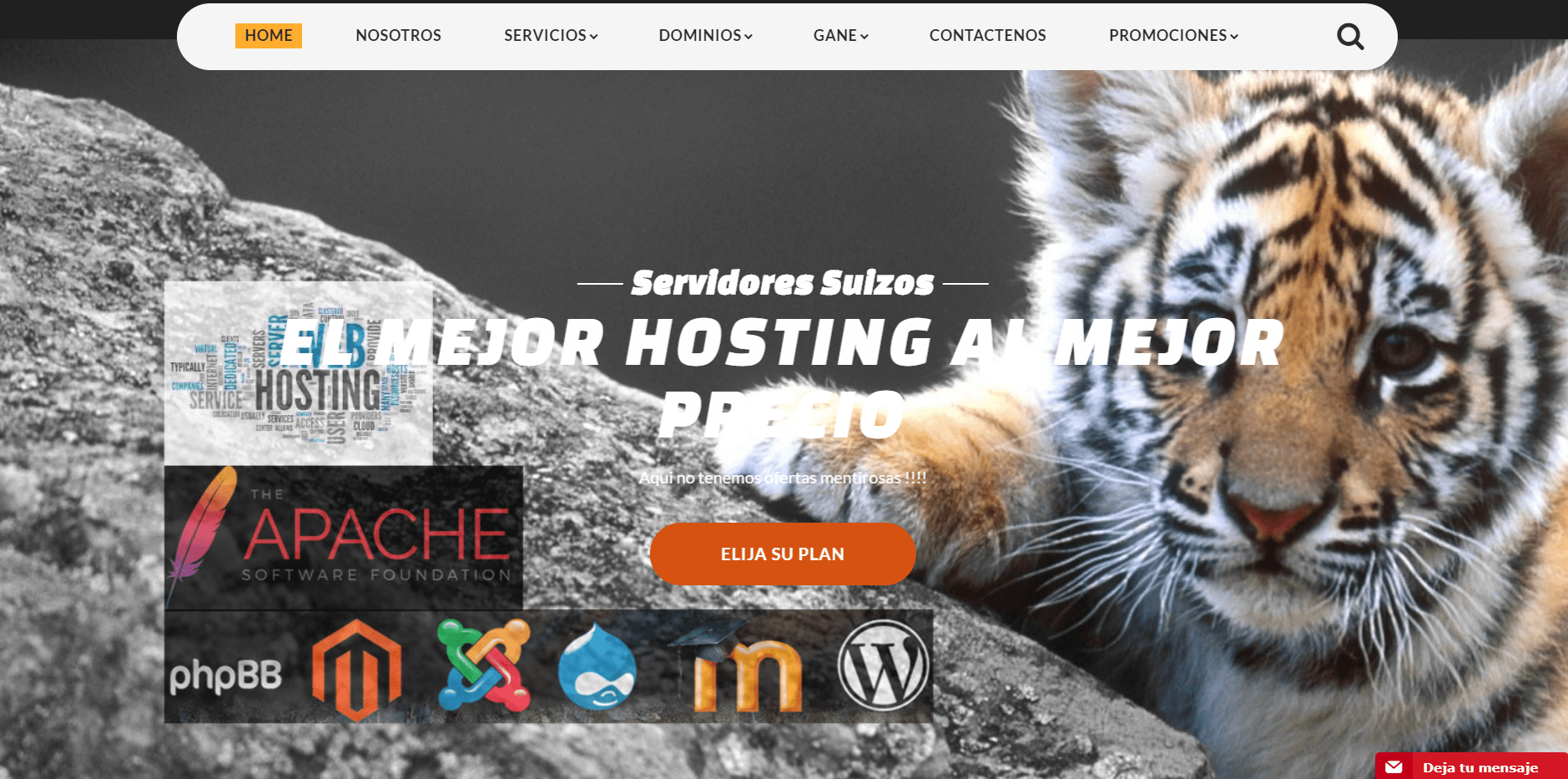 EcuatorianaWeb was founded in 2009 after the founder returned home from Switzerland and, inspired by Swiss efficiency and quality, wanted to provide a hosting service with the same qualities in Ecuador. Despite being an Ecuadorian company with headquarters in Guayaquil, all of its servers are located in Switzerland. Its offering mostly revolves around standard web hosting products as well as website design services and hosting combos.
Features and Ease of Use
Although it provides the following essentials, you shouldn't expect any groundbreaking features or limitless scalability at EcuatorianaWeb:
Free Let's Encrypt SSL certificates
Up to 3000MB of storage
Up to 8GB of traffic
The biggest problem when it comes to EcuatorianaWeb is its storage and bandwidth limits. If you can look beyond that, things look much better. Personal hosting plans start with an extremely low 200MB of storage and 1,200MB of bandwidth. This means that you won't be able to host much (if any) media. Designer hosting is a bit better with only 400MB to 3,000MB of storage and 1,000MB to 4,000MB of bandwidth. However, business hosting is too restrictive for sites with a lot of media and visitors with only 1,000MB to 3,000MB of storage and 2GB to 8GB of bandwidth.
Beyond that, there is a good range of features. Email hosting is included with spam filtering, broadcast lists, POP3 support, auto-responders, and up to unlimited accounts with the top business plan. You can also choose your PHP version and use their control panel and script installer to install over 50 web applications. Lastly, DDoS protection is provided and your website will be submitted to Google Search.
Websites designed by EcuatorianaWeb include mobile optimization, typical website pages, three to twelve sections per page depending on your plan, photo galleries, social networks, contact forms and Google maps, email accounts, and submission of your sitemap to Google search.
Pricing and Support
The first thing you'll notice when you look at the available plans is that they're among the cheapest. This might make you wonder if there's a catch, and I regret to inform you that there is.
Even among the business plans, the most bandwidth and storage you can get is very little, less even than some of the resource limits provided for personal plans at some other hosts.
This is too bad as the rest of the features make it almost seem like good value-for-money. For example, you get a free Let's Encrypt SSL certificate, webmail, support, unlimited databases, and a 30-day money-back guarantee, which are all pretty generous. Another shortcoming is that only annual billing is provided.
For the web design plans, you pay a once-off fee which includes the development of your website as well as one year of hosting, a domain, and support from EcuatorianaWeb. Aside from the corporate plan, the pricing is quite reasonable, considering you get a website and hosting. After this period, you'll need to host on one of their hosting products.
Support at EcuatorianaWeb is available via live chat, email/tickets, and phone lines 24/7. The technical support offered is superb and the representatives are always very knowledgeable when it comes to their field. Unfortunately, there is no help center or tutorials for self-help resources. I also, on occasion, haven't received any replies via ticket support, which is concerning.