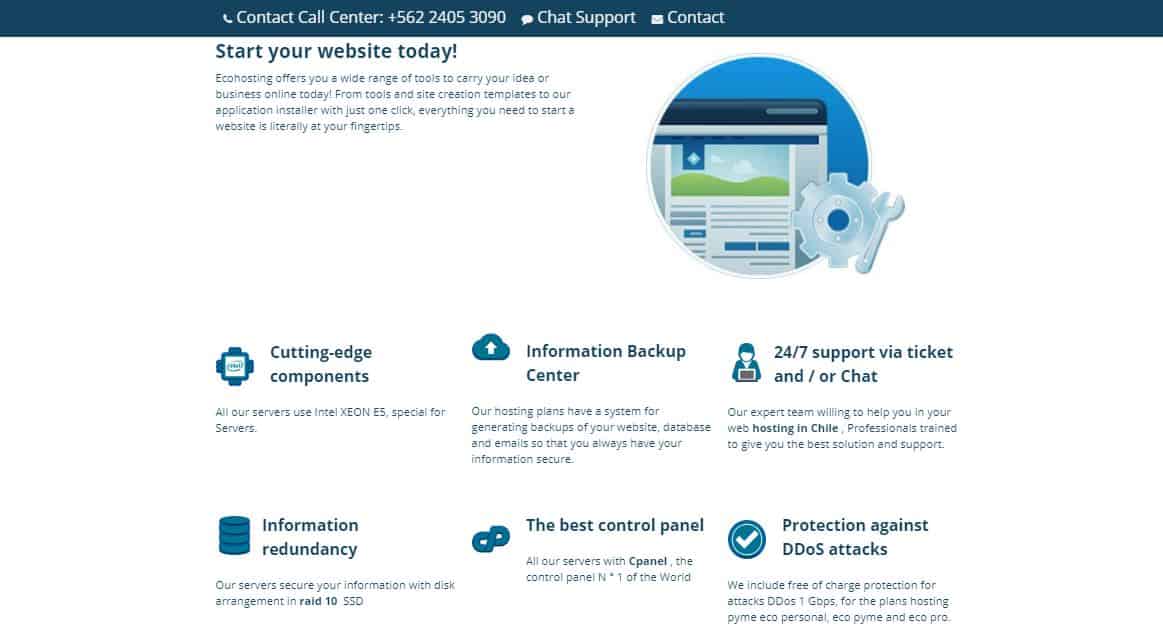 Chile-based EcoHosting Internet (or simply 'EcoHosting') provides shared hosting, VPS, and dedicated servers to more than 10,000 local Chilean and other Latin American customers. Powered by solid state drives (SSDs), their servers are fast and reliable, while their control panel is easy to use.
Features and Ease of Use
EcoHosting offers reliable hosting packages for websites of all shapes and sizes. When you sign up for one of their premium hosting plans, you'll get full access to the following features:
cPanel and DirectAdmin control panels
99.9% uptime guarantee
Domain name registration and management
Free daily backups
Webmail, IMAP, and POP3 support
RVsitebuilder with 200+ templates
MySQL / MariaDB databases
Softaculous one-click app installer
PHP 7.2
Fast and secure LiteSpeed web server (on cloud plans)
EcoHosting offers high availability hosting services across all their hosting plans by leveraging high-quality SSD servers with RAID 10 controllers. Shared hosting is pretty fast, while their VPS and dedicated servers are four times faster because users don't share resources. And for your peace of mind, EcoHosting carries out free daily backups (local and external) of all websites and data.
Thanks to the RVsitebuilder website builder with 200+ templates, anyone can build and deploy a functional website within minutes. For a database-driven website or a CMS website or store, you can use the Softaculous app installer that comes with more than 400 scripts.
Their choice control panel for shared hosting, VPS, and dedicated servers is the popular cPanel. Simple and easy to use, this web-based tool lets you administer your hosting account remotely. You can create emails, add and assign rights to users, monitor resource usage, upload files, and create and manage MySQL databases, subdomains, and SSL certificates.
Very few hosting companies offer free hosting for NGOs and non-profits, but EcoHosting does so as long as you have a certificate of registration and verified SII registration number. Hundreds of NGOs already rely on Ecohosting's cloud services.
Pricing and Support
EcoHosting offers a range of flexible and fairly-priced hosting packages with some nice features. VPS activation is instant while dedicated cPanel servers take about 1 hour. It's easy to upgrade as they don't tie down customers with contracts. All their plans are also risk-free because they come with a 30-day money-back guarantee.
Spanish-speaking customer care and technical support specialists are available 24/7 to answer your questions and resolve your hosting issues via email, live chat, or telephone. From what I've seen of online reviews, more than 90% of EcoHosting's customers seem to be satisfied with the level of support that they receive.