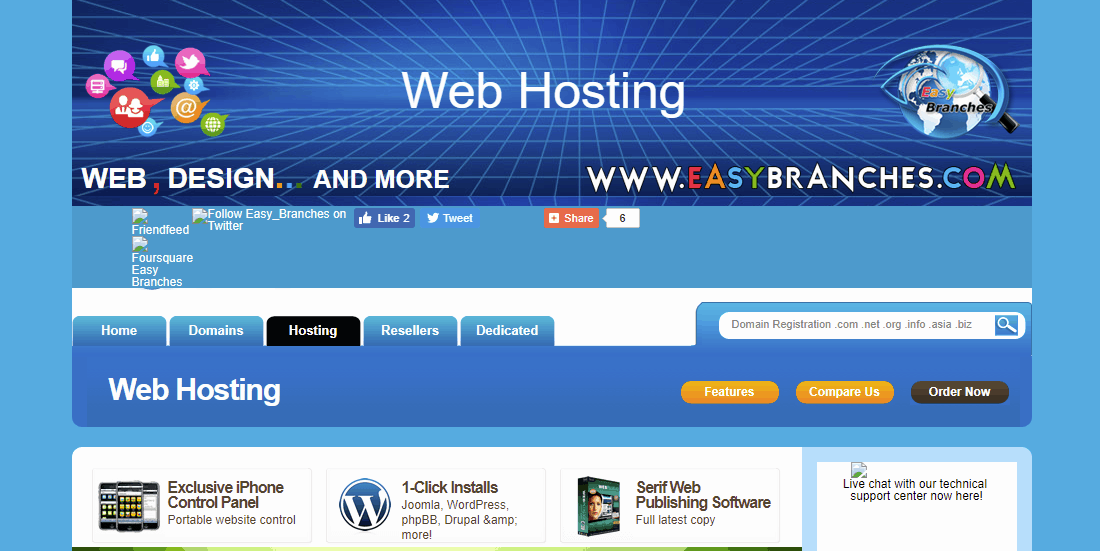 Founded in 2007, Easy Branches is a company with services for entertainment and internet marketing. It provides online video ads, games, forums, a search engine, an E-commerce marketplace, news website, yellow pages, SEO, and more than 15 other services that include domain registration and hosting. It offers shared hosting and dedicated servers. Its servers are housed in San Francisco, United States. You can view the website in English, Dutch, Thai, and Chinese.
Features and Ease of Use
Easy Branches offers three shared hosting plans that are suitable for simple websites like a personal blog or a local business web page. If the resources offered on them are too little for your business, it has dedicated server plans and for hosting entrepreneurs, reseller hosting. These are some of the shared hosting features:
99.9% uptime guarantee
Nightly automatic backups
Free domain registration
Anywhere from 1GB to 5GB storage
Up to 80GB bandwidth
Easy Branches' system is on RAID 5 striping and parity that ensures that one disk failure doesn't cause total data loss. Each disk array is backed up on a nightly basis to a separate cluster and also stored offsite.
Many web hosts that don't use popular management panels like cPanel and Plesk all claim that theirs is the best. I haven't used all of them, so I can't say if that's true. From what I've seen on the eXtend Control Panel, the custom management tool that this company provides to customers, it isn't the best of the best. It seems to be built under cPanel but is a more stripped down and less design-friendly version.
Fortunately, customers can do the basics – upload and manage files, databases, install scripts, and manage email accounts. You can also access SSH from it as well as set up cron jobs. Also, the panel has a mobile iOS app, so you can manage it on the go. You can program with PHP or Python as this company supports both languages. For beginners, there are two great tools; you can either install a web application/CMS like WordPress or use the custom website builder of the company.
Having a website online is one thing, but actually getting visitors is another. Easy Branches provides free Google and Bing ad credit so that you can get to driving sales online. It also provides one free year of advertising online in its global yellow pages.
Pricing and Support
Easy Branches offers really high prices for the features that it provides. For some of its prices on shared hosting, you can comfortably get a VPS server elsewhere. There's one-month subscription billing on offer, which reduces your risk to an extent as you can easily pull out if they don't do well. You can also pay for three months, or one to ten years. Payment is via Visa, MasterCard, and PayPal.
The company also provides a 30-day free hosting trial. If you have already made a payment, you can get your money back. For one month of hosting, there is a seven-day money-back guarantee. Three months of hosting are fully refundable within 14 days of purchase. Subscriptions ranging from one to ten years come with a 30-day money-back guarantee.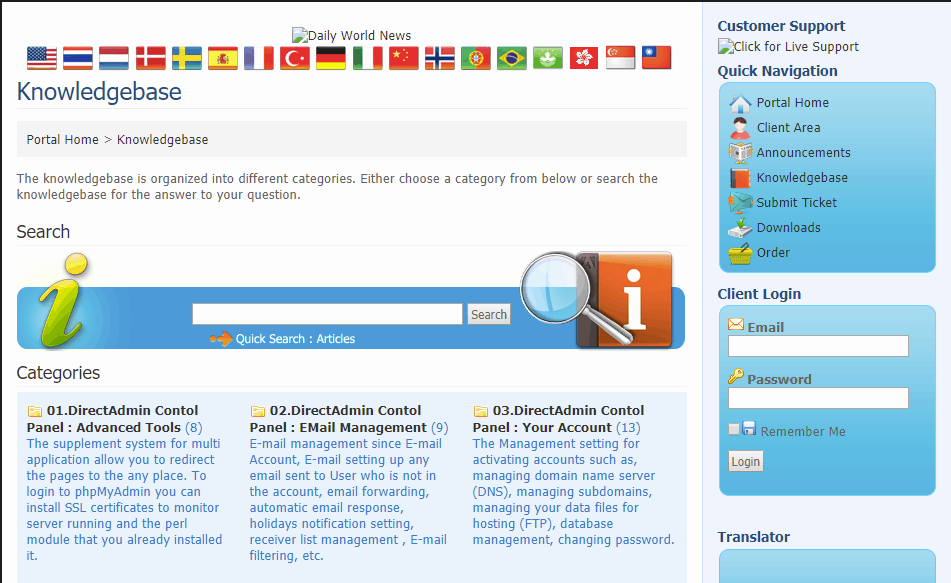 You can contact customer support via email, ticket, fax, and phone. There's a live chat link that doesn't seem to ever work. The support agents are available from Monday to Saturday from 9:00 AM to 6:00 PM. I sent an email but didn't get a reply, despite waiting for about a week.
There is a knowledge base section, as well.