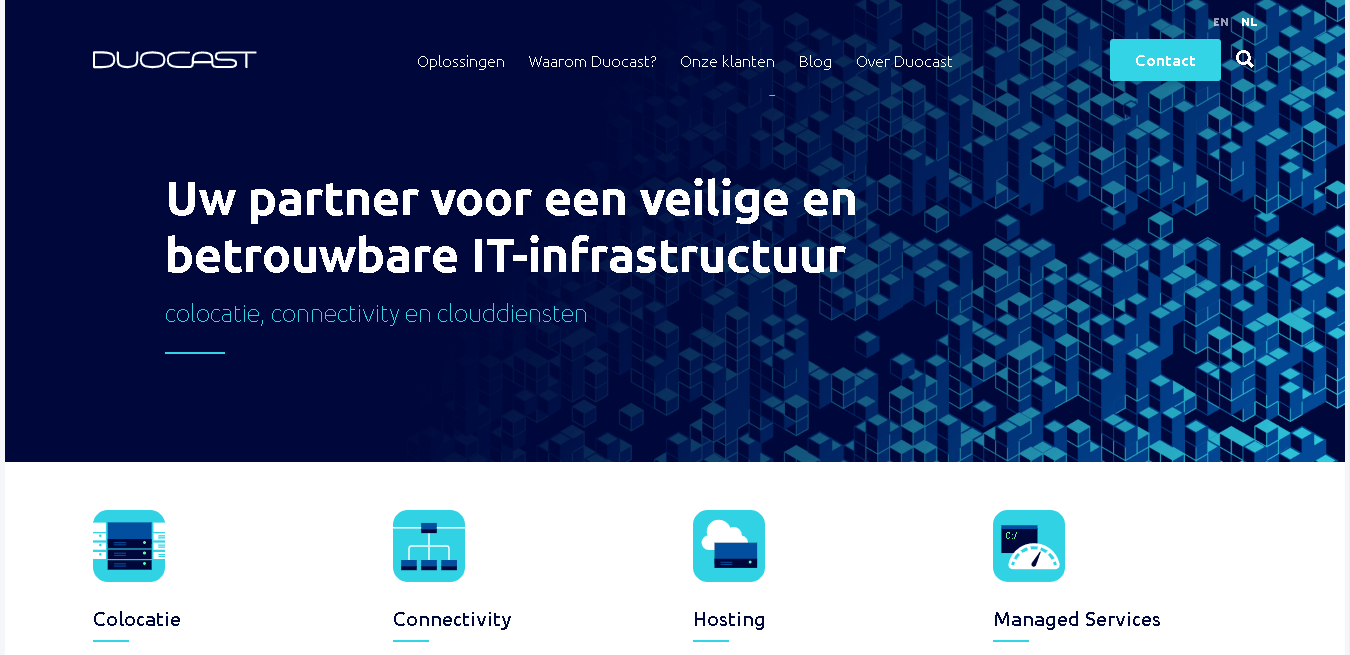 With data centers located in Amsterdam, Duocast provides specialized services to private clients and businesses with Dutch as its primary language of operation.
Features and Ease of Use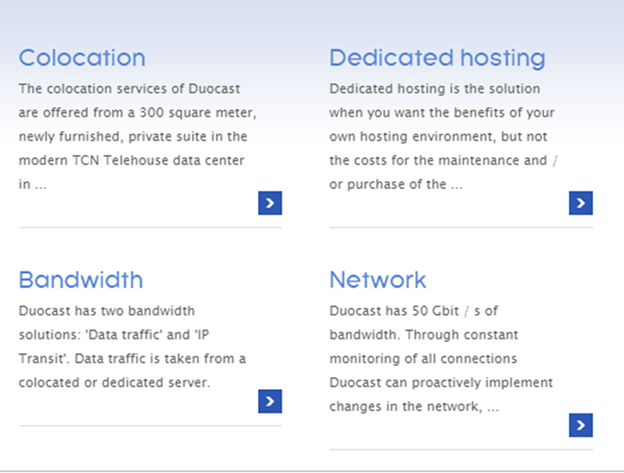 Duocast specializes in the provisioning of colocation, bandwidth, dedicated hosting, and network services with a number of value-added features.
For colocation services, it features:
500GB of data traffic
10/100Mbit FD uplink
APC Masterswitch connection
Redundant power supply
One U Rackspace
Required IP addresses
Colocation services are provided from a TCN Telehouse which is 300 square meters and has 24/7 monitoring with risk/disaster management strategies in place. This is located in Groningen and a user can take spaces per server, either half or whole rack depending on your requirements.
Those who opt for the benefit of a personal hosting environment without any maintenance costs or actually buying the equipment, should go for the dedicated hosting option. With it, you'll get a huge range of options from single servers that feature the interactive, user-friendly, and innovative Plesk control panel to an entire high-availability hosting environment that features:
Multiple load balancers
Web server
Database server
The bandwidth services are divided into IP Transit which can be bought per Mbit on the different network connections and Data traffic from either dedicated or colocation servers.
Duocast is not the ordinary shared web hosting vendor that provides website builders, instant app installers, and domains, therefore, it's not the ideal service for most beginners.
Pricing and Support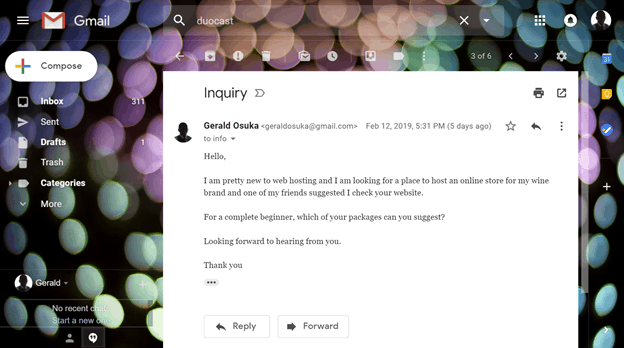 Unlike other web hosting vendors providing shared hosting, Duocast offers primarily specialized colocation to its customers. Its prices, however, are not cheap, even for its specialized services in the market. I attribute this to the specifically targeted market niche of private customers and business people that are willing to pay for specialized services.
The quoted billing cycle for all packages on the website is on a monthly basis with prices excluding 21% VAT and setup fees. There's no offer for any free trials or money-back guarantees, but the company allows for customized deals for its dedicated hosting.
To receive a customized offer, you need to reach out to the sales department by email first. If you're interested in colocation, simply fill out and submit a straightforward contact form to place your order.
Customer support is currently handled through phone, ticket, and remote support via the downloadable Teamviewer software for both Mac and Windows. I tried to initiate a conversation via email but have yet to receive a response.