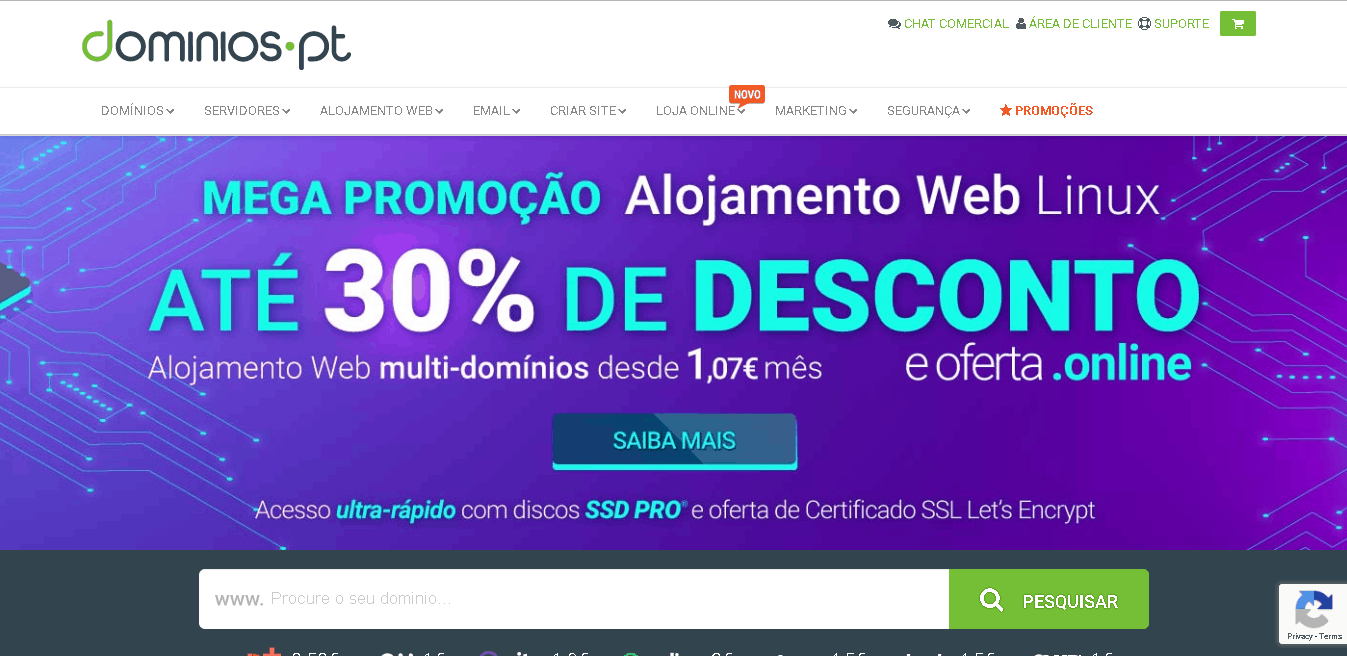 With more than 80,000 active clients, Dominios is one of the largest web hosting providers in Portugal. It offers a number of hosting solutions for Linux and Windows, including shared hosting, cloud hosting, reseller hosting, and dedicated servers. Since its initial launch in 2001, Dominios has expanded to also provide web design and digital marketing services. Dominios primarily offers its services and support in Portuguese, but English support is also available upon request.
Features and Ease of Use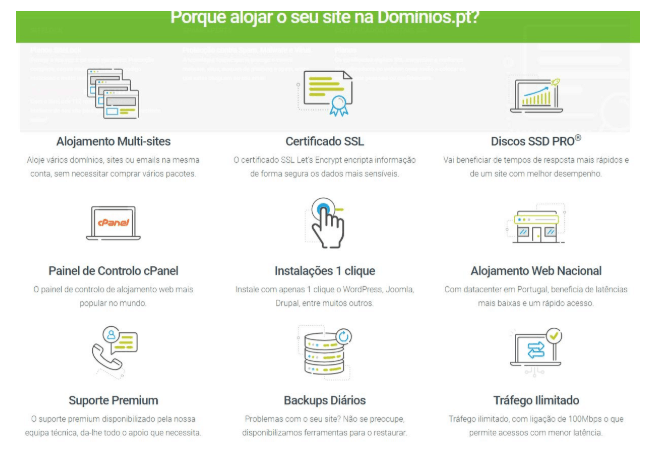 Dominios has a data center in Faro, Portugal and boasts a rich catalog of features for its products. Let's look at a few of the features offered with its Linux shared hosting plans:
Free SSL certificates
SSD storage
Website builder
Application auto-installer
Daily backups, retained for 30 days
Unlimited traffic with a 100Mbps connection
If you're a beginner, you'll have access to both an application auto-installer with 125+ integrations and a website building tool. You'll even have the SiteLock Security Suite in your shared hosting packages, so you can focus more on building your website instead of worrying about hackers and server performance.
If you've got an existing website hosted with another provider, Dominios will also migrate your website to its platform for free.
One value-added service you may particularly appreciate as a beginner is the Dominios web design and digital marketing service. Whether it's a blog, a website, an app, or an online store, Dominios has a team of experts who can help you get your project ready.
Pricing and Support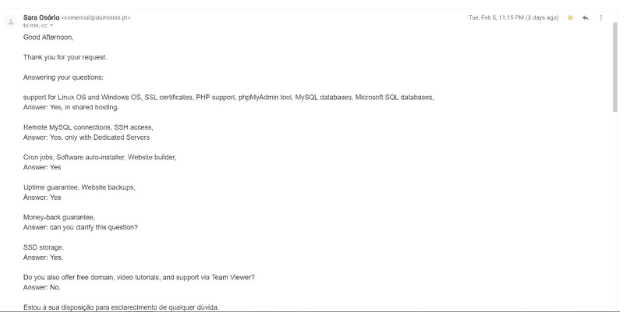 When you take into account the features and resources included in the shared hosting plans, Dominios offers a reasonably priced service. What's even better is that you gain access to Southern Europe through their data center located in Portugal, adding even more value to these plans for the money you invest.
Dominios doesn't seem to indicate this on its website, but when you purchase a plan, you'll be covered by a 14-day money back guarantee. You'll have to sign up for at least an annual plan, however; there aren't any shorter billing cycles offered.
SSL certificates are included for free, but domain registration is an additional charge. Keep that in mind as you're tallying your total costs.
Support is available via live chat, phone, or the ticket system. They reply promptly during business hours: whenever I contacted them via email, I got a response in less than half an hour. There's also a decent knowledge base, dozens of tutorials, and a FAQ section to easily troubleshoot problems and find an answer to your questions.