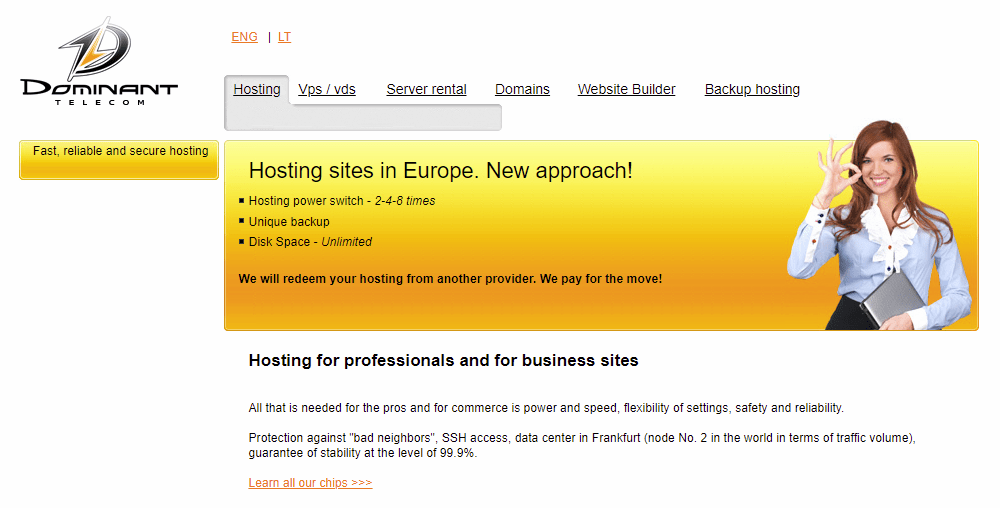 Dominant Telecom has been in business for over 15 years and has gained much knowledge and experience on what it takes to provide reliable hosting. Its website is available in Russian and Lithuanian, but the Lithuanian version lists fewer services.
Its servers are positioned in data centers that are located in the United States, Germany, and France.
Features and Ease of Use
If you go through the Russian version of the website, you get to see all its offers – hosting, VPS/VDS, dedicated servers, domain registration, and website builder. If you go through the Lithuanian version, you only see the hosting, website builder, and domain offers.
Dominant Telecom offers resources that are suitable for businesses of all sizes. Small businesses can take the website builder plans while medium to large businesses are better matched to the web hosting and server plans.
For the sake of this review, I'll focus on the shared hosting offers. Shared hosting customers enjoy these:
99.9% uptime
Daily automatic backups
Free domain, on a 12-month subscription
Unlimited add-on domains, except on the base plan
Either 100GB or unlimited disk space
Unlimited traffic
One thing I like about Dominant Telecom is its flexibility when it comes to using resources. For some other providers, if you record a spike in traffic, you would have to upgrade your plan. Not here, though. It allows businesses to plan towards marketing by allowing them to increase resources "on the fly" to prepare for spikes in resource use from advertising, tests, etc. After the period of need, you can lower it back to the usual.
Security is taken care of with daily checks for viruses and malware. If a user on one server is seen to have virus issues, that user is isolated from others to prevent the spread of malware. The automatic daily backups are stored for a month and you can easily restore your website or a single file from your cPanel.
Dominant Telecom accelerates website speed and server response time with LiteSpeed web server and OPcache.
With this company, you'll enjoy an excellent mix of advanced and beginner-friendly features. If you want to monitor log files live, start and stop services, and perform any other activity through the secured shell, you can as it offers SSH access on shared hosting.
If this is your first time using a web host or you're not an expert, there's no reason to fret. Dominant Telecom does the heavy lifting for installation of some software. Installing WordPress, Joomla!, Drupal, OpenCart, and 200+ applications is one-click away. Even if you don't want to use a CMS, you're still covered with the website builder plans.
Pricing and Support
Overall, Dominant Telecom offers one of the lowest prices you'll see for most of the features on offer. However, be aware that before you can exceed the storage offered on some of the plans, like the 100GB or "unlimited" traffic, you would have already reached the RAM limit of 512MB.
Dominant Telecom has a 14-day free trial, but you'll need to commit to a plan before you can use it. Don't worry, you get your money back after this period if you're not impressed.
It offers one-month, six-months, 12-month, and longer subscription periods. The month-to-month subscription is great for reduced risk, but if you're willing to pay for a year in advance, it'll give you a domain for free and a 50% discount on hosting fees.
The company offers email and live chat support. I emailed them and an agent promptly responded, providing answers to all of my questions.
Also, it has a FAQ section with a few tutorials, so you don't have to entirely rely on the support agents.