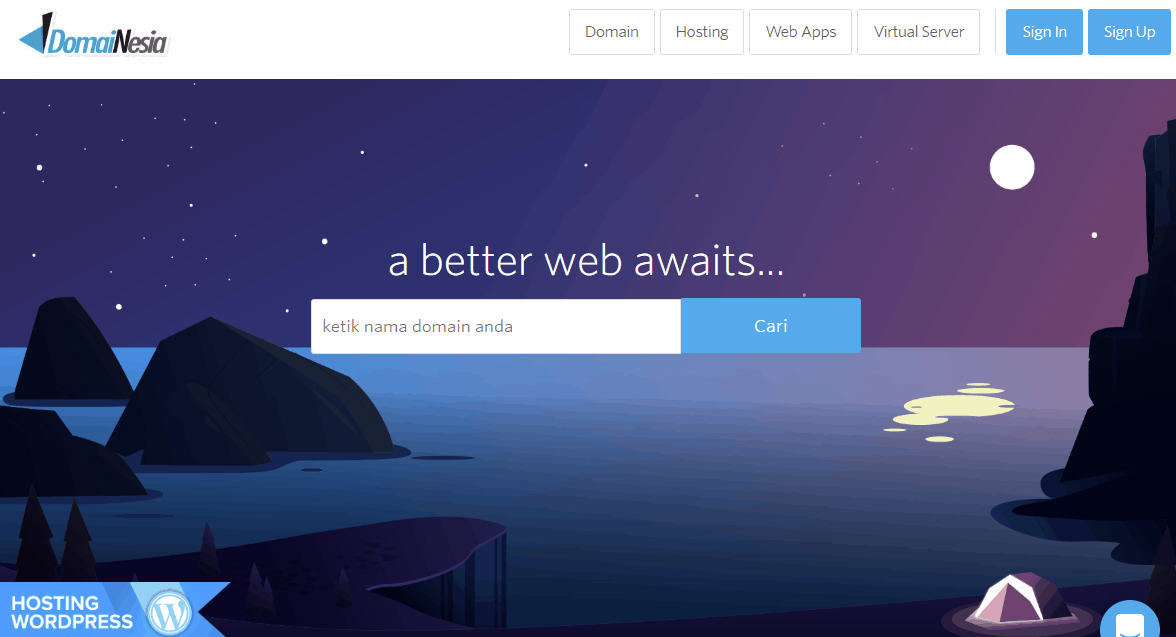 In business since 2009, DomaiNesia provides web hosting solutions to individuals and businesses. This is an Indonesian business with a website in Indonesian and server locations in its country, Singapore, the U.K., the U.S., and Japan.
Features and Ease of Use
For web hosting, DomaiNesia offers shared hosting and Virtual Private Servers (VPS) only. Its shared hosting can handle small to medium-sized businesses that need lots of processing power. The plans come in two categories with these features:
99.9% uptime guarantee
Lets Encrypt Free SSL
Free domain
Five or unlimited websites
Unlimited bandwidth
DomaiNesia offers low storage space on the basic shared hosting plan. Although it's on SSD, the actual space is between 750MB (which doesn't offer much) and 5GB, which is easy to exhaust especially if you plan on publishing blog posts often with media content. On a positive note, the Inodes are unlimited (within the storage space available).
Those on the business plan get a larger allowance – up to 48GB storage, which is enough for many businesses for a long time. Also, they get more CPU and RAM power – up to 2 cores and 2GB RAM, whereas the basic plans come with up to 1 core and 1GB RAM.
DomaiNesia provides tools to optimize your performance and load time. The Cloudflare cPanel plugin is provided, which allows you to connect your website to Cloudflare easily for free. Plus, this opens up Railgun settings, which without the plugin, you would have had to pay for. Railgun speeds up the delivery of content that cannot be cached while the other settings handle cacheable content.
Regardless of the plan you're on,  cPanel is provided, which is a pretty intuitive and easy to use control panel. It also provides an auto-installer that supports many popular tools, including WordPress and Joomla!.
DomaiNesia is also developer-friendly. It supports Node.js, Python, Go, Bash, Ruby, and PHP. Also, it supports control panel connection to Git repositories.
For security, it provides Patchman Security, which offers a defense system that kills Malware and fixes some security vulnerabilities in websites. There's also a spam filter, MailChannels, that ensures that the right emails hit your inbox; spam can be overwhelming and this software keeps that out of your inbox.
The vendor uses CageFS which pulls each account into a cage and restricts the spread of malware from one virtualized space to another.
Pricing and Support
Domainesia offers affordable prices for its services. While cheaper prices might be available elsewhere, it's unlikely that you'll find the same level of features that Domainesia provides. You have the flexibility to pay for one month at a time and can choose your preferred data center location.
Unlike most providers that offer a free domain from a minimum of one-year payment, DomaiNesia offers it from three months. And, if you don't want to deal with the auto-installer, the vendor can setup the software for you if you choose which you want before checking out.
DomaiNesia provides a money-back guarantee, but that only covers a ten-day period, which might not be enough to truly asses the service.
Support is available through in-depth documentation that covers hosting topics (advanced and beginner). There's also a phone number, email address, and live chat. I used the live chat to be in touch with an agent.