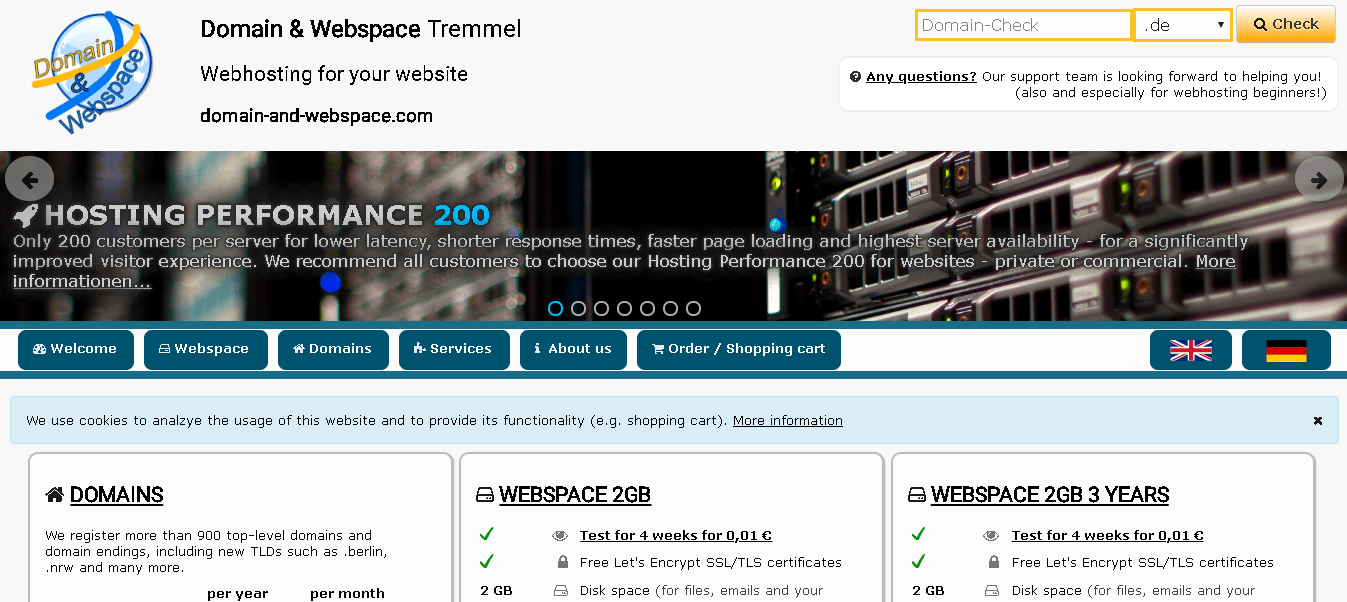 Domain & Webspace Tremmel is a Hamburg-based hosting company that has been providing green web hosting solutions alongside domain registration and reseller packages to customers since 2010.
Features and Ease of Use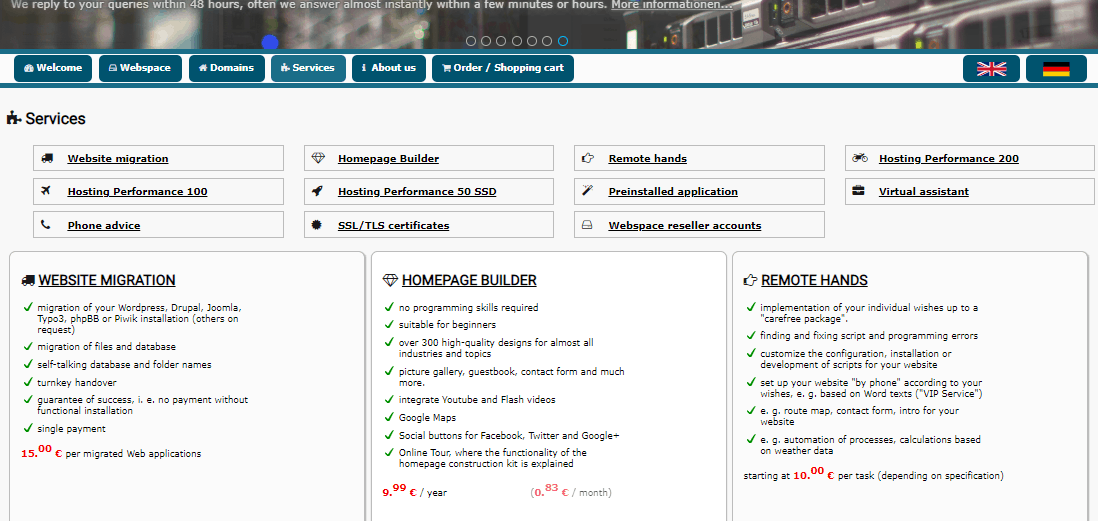 Domain & Webspace Tremmel's Linux-based hosting packages come with many features and tools including:
Pre-installed apps
Unlimited traffic
Unlimited emails
Free Let's Encrypt SSL/TLS certificates
MariaDB and MySQL databases
SSD disk available
14-day money-back guarantee
99.9% uptime guarantee
In order to ramp up the performance of their servers, Domain & Webspace Tremmel uses dedicated servers with 4 Intel Cores X and a minimum 16GB RAM connected to RAID 1 storage. Your websites will never get knocked offline. They use load balancers and restrict the number of users per core and server. Whenever their servers get overloaded, they migrate customers with large loads to different servers. All of this is aimed at delivering great performance to users.
Suitable for beginners, their homepage kit builder lets you create and customize a complete website. It comes with 300+ professional designs that cover different industries. You can lay out pages, embed Flash videos, add contact forms, social media buttons, and even integrate Google Maps. If you're green, take an online tour of the builder, so you can acquaint yourself with its features and see how it works. Additionally, their hosting packages come with pre-installed applications such as WordPress, Drupal, and Pikwik that you can use right out of the box.
Pricing and Support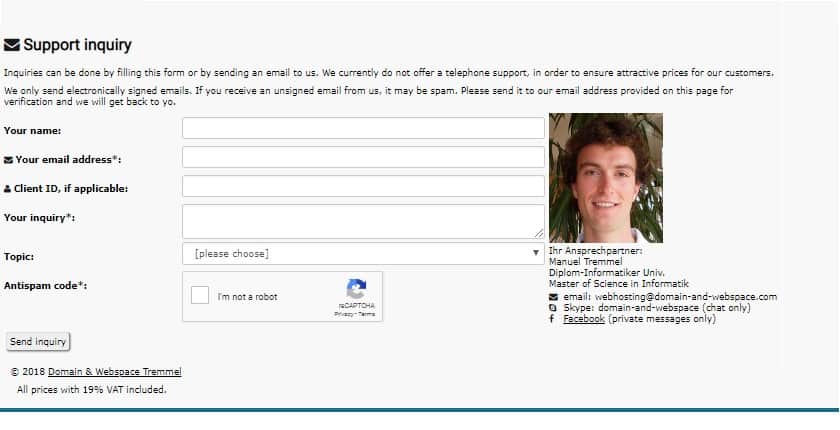 Domain & Webspace Tremmel lets customers test their lower packages for a month for close to nothing. Their packages also come with some nice features and tools that are designed to help you grow your business or personal blog. As you move up the pricing ladder to their 1-year or 3-year packages, you get more storage space, databases, and domains. You can scale up any time you want without a problem. My only concern is that they charge customers for website, files, and database transfer whereas many hosting providers do it for free.
When you read their testimonials, you'll see how customers highly praise both this company and their support staff. The main message is that they are quick and friendly when helping customers. Whether you're a tech-savvy person or not, they will assist you with various hosting issues. You can easily get in touch with them anytime through email, Facebook Messenger, or Skype. They also offer telephone support and consultation, although there is an additional hourly fee for that.
How much does Domain & Webspace Tremmel cost?
Domain & Webspace Tremmel offers plans from $0 to $38. The price depends on which type of hosting plan you choose. You can see the updated pricing table (updated weekly) below.

Which Domain & Webspace Tremmel plan should I get?
My recommendation is to start with a cheaper plan. You can always upgrade later on. Domain & Webspace Tremmel can help you with the migration to a more expensive plan. The increase in visitors many times takes longer than expected and you shouldn't pay a lot of money until the need arises. Of course, your needs may vary, and you can consult with a hosting expert from Domain & Webspace Tremmel here.

How good is Domain & Webspace Tremmel's customer support?
Domain & Webspace Tremmel is not ranked as one of our top web hosts. But that can also be a result of Domain & Webspace Tremmel being a small, under the radar, hosting provider. There are advantages to a small hosting company – as a customer, you are more important to them. You can also check out our comparison of the most popular web hosting services here.