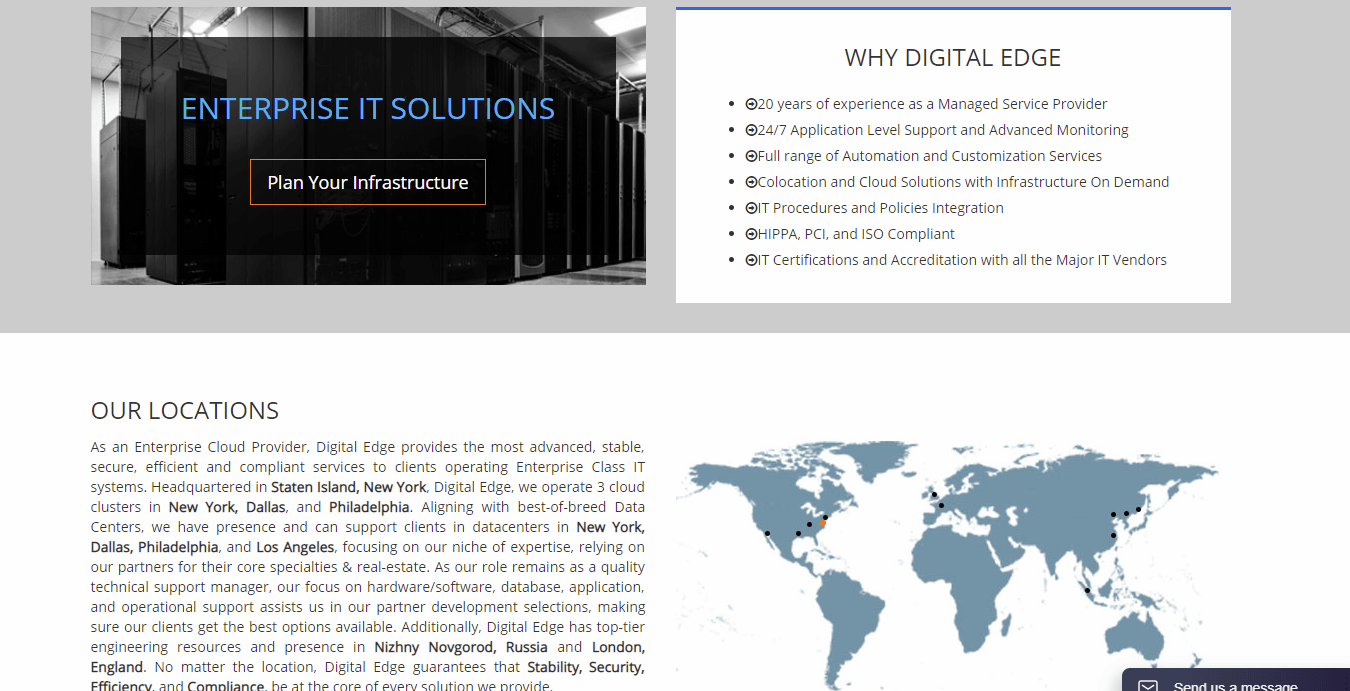 Founded in 1996, Digital Edge is one of the oldest hosting companies still in operation today. It doesn't offer the traditional shared hosting packages, though. It provides private and hybrid cloud, and dedicated colocation. These are services that suit large businesses with high-level needs and not small brands.
Digital Edge focuses its offering around E-commerce systems, optimizing its services for stability, security, efficiency, and compliance that online businesses need. Its network is in New York, Dallas, Los Angeles, and Philadelphia, United States, and the website is in English only.
Features and Ease of Use
If you own a large business and are thinking of moving to cloud hosting systems, Digital Edge private or hybrid cloud might work for you. Smaller companies will have to look towards providers like Hostinger that offer solutions for small business.
One thing you should note is that Digital Edge doesn't have prepared plans that you can choose from. To begin with, you'll have to speak with one of its specialists to build resources that fit your needs. It does assure customers of its 100% uptime. For large businesses, this is a big deal as having even a small amount of downtime doesn't speak well of big brands.
You also won't be sharing servers with other businesses because it uses only hybrid and private cloud packages. On both, you aren't sharing hardware with anyone else. That way, overuse of resources by another customer doesn't bring down your use of your own paid features.
Beginners should be aware that this hosting provider is most likely not for them, except if they plan on hiring an expert to handle the technicalities. There's no one-click installer or website builder. You're left to configure your cloud resources and set up the applications that you want. Also, the management interface is VMWare which is more advanced than cPanel.
Pricing and Support
As earlier mentioned, Digital Edge doesn't have plans on its website. It also doesn't publish its prices, likely because the cost is based on the exact resources that you need and that's different for everyone.
They have a process that allows customers to enter specifications, which provides estimated prices more quickly. I wouldn't anticipate their prices being low, considering the nature of the service. However, they ensure stability, security, efficiency, compliance, and 100% uptime and performance.
Digital Edge technical support works round the clock to ensure customer satisfaction. It uses a timetabled ticketing system where engineers are expected to be on top of the issue within 30 mins or less. In fact, its SLA for response times is 20 minutes. You can also get through to them through live chat, phone, and email.
I sent an email and received a response some hours later.