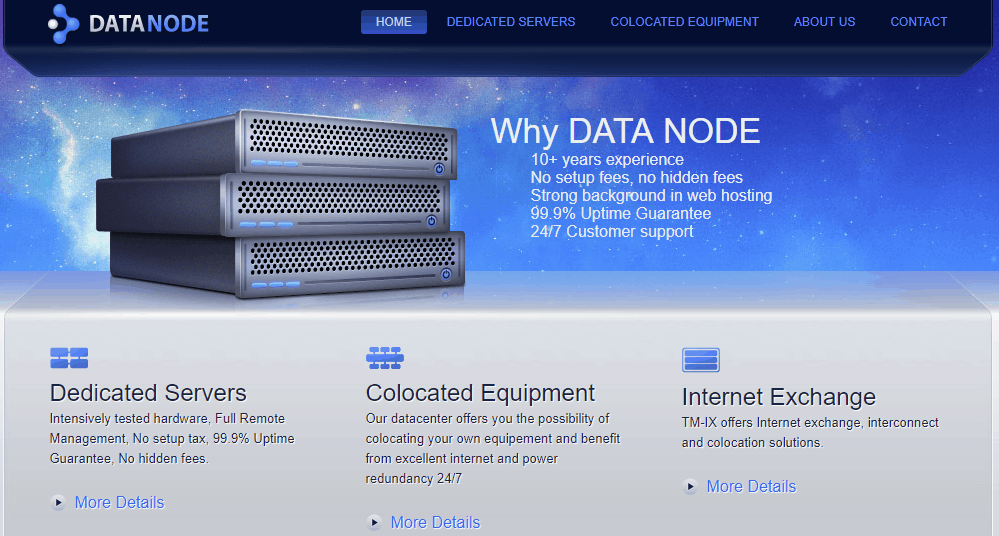 DATA NODE is a Romania-based company that was launched over ten years ago. It offers three high-level solutions, namely, dedicated servers, colocation, and internet exchange. It runs its own data center in Timisoara, Romania and its website is in English only.
Features and Ease of Use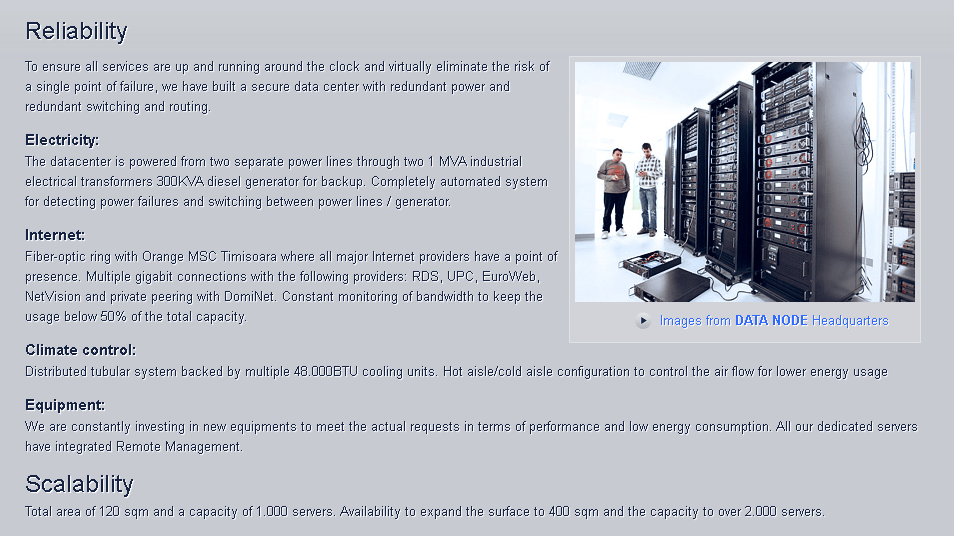 Its dedicated servers come in three plans with the following features:
99.9% uptime guarantee
Anywhere from 600GB to 2000GB transfer
Up to 2x 1 TB SATA III HDD up to 16GB RAM
Its downtime warranty comes in daily credit. If you record between 99.0% and 99.9%, you get three days free. For greater than or equal to 95%, you get seven free days, and for less than 95%, you get 15 days free.
DATA NODE provides up to eight dedicated IP addresses. You'll need one to access your files quickly without needing to go through your domain. Most large organizations take months for the testing and deployment of applications and websites before updates or new developments are launched. During this time, it's best to go through your IP address. A dedicated IP also comes in handy for quick access during times of peak traffic.
The company allows full remote access to the servers through an IP KVM connection. You can be halfway across the world and still be able to make crucial changes to the hardware setup of your server. Of course, this feature is something that only server/system administrators can get into and not beginners.
If you are looking for shared hosting or you want to host a simple business webpage, you'll have to look elsewhere. There are many good ones like Hostinger or Inmotion that can serve you well. In fact, even entrepreneurs looking into the hosting space cannot resell DATA NODE's services because it doesn't provide reseller hosting either.
For large businesses that already have their server but do not want to deal with managing the physical environment, electricity, and air control for servers, DATA NODE provides the security and management that you need through its colocation services.
Pricing and Support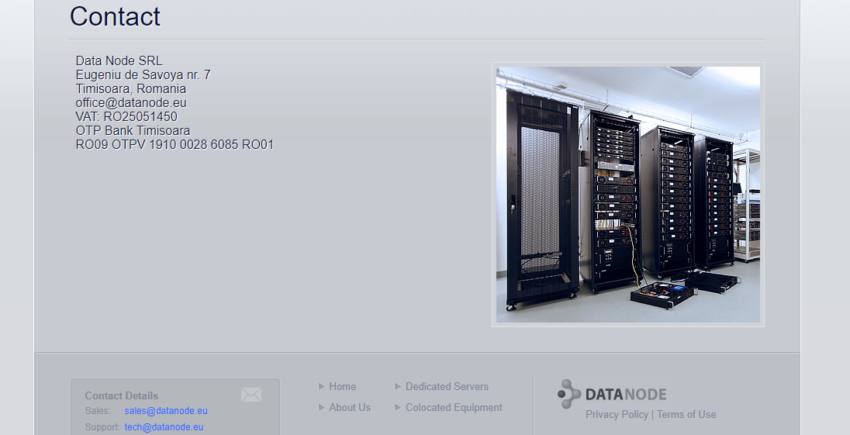 DATA NODE might not offer one dollar services, but it does make sure that its prices are not high for the features that it provides. Its three plans are reasonably priced. There's no setup fee attached, nor are there any hidden charges. What you see is exactly what you're charged for.
The company doesn't take direct payments through its website, so you'll have to send an email with your order details. You can get an email link with order details automatically generated from the "order" links on each plan.
For colocation, DATA NODE provides completely custom plans. All you need do is send an email with details on what you want.
The company lacks a knowledge base and does not offer live chat or phone support. However, they make up for it by providing easy access to a technician for server management through a dedicated support phone number, which is great for any assistance you may need.
You can reach the support team through email only. I sent an email but didn't get a response.