DanDomain is a web hosting company based out of Denmark. They were founded in 1999 and specialize in e-commerce websites. They currently handle more than 500,000 registered domains and boast a client list that includes well-known industry leaders such as WWF. Their website is in Danish and they only offer native Danish language support.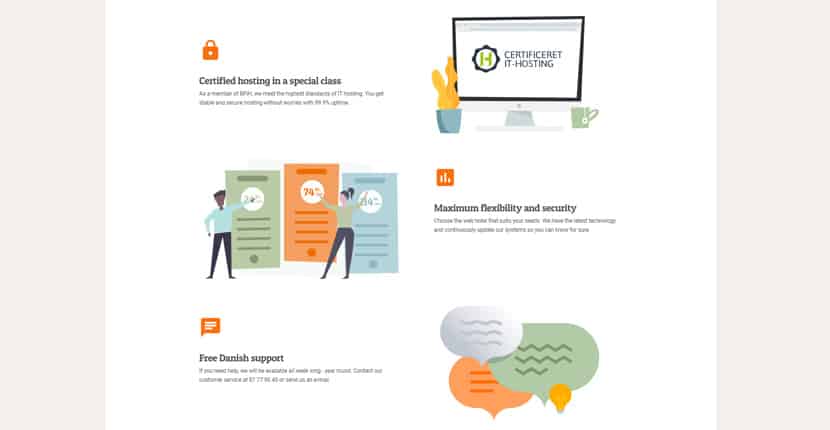 Features and Easy of Use
All of DanDomain's shared hosting plans come with 99.9% guaranteed uptime. In addition, they offer a number of features including:
Daily backups
FTP access for file transfers
Free SSL certificates
Antivirus and antispam protection
One-click app installer
In addition, their shared plans offer specialized feature lists for webmasters, depending on whether you use a Windows or Linux OS.
Windows:
ASP.NET 2.0/3.5/4.0/4.5 (full trust)
MSSQL 2012
MySQL databases
ASP (Classic)
ASP Components
Linux:
Plans begin with 5GB of disk space and no MySQL support. Limits can be increased to up to 50GB of disk space and 5GB of MySQL database storage.
DanDomain places an emphasis on e-commerce functionality as a value-added service. They offer specific integrations for all of the most popular extensions for online stores, including WordPress and Drupal. For Magento, you can have DanDomain take care of the technical setup of your website, and then also enjoy ongoing technical support to help you with platform-specific problems.
DanDomain also offers their own unique e-commerce store builder. You can transfer an existing WordPress website over, and then use the following features:
SEO tools
Design templates & drag-and-drop editor
YouTube, SoundCloud, and DropBox widgets
Contact forms
Social media integrations
Stable & secure hosting
Pricing and Support
DanDomain's entry-level pricing is about average for the 5GB of disk space that you'll get, but the lack of MySQL functionality means that it's not suitable for any medium or large-sized website — or even a small WordPress website. Their mid-tier "Websolution" plan is twice the price, but in line with what you will find elsewhere for 1GB MySQL database storage and 15GB of disk space.
However, despite costing only about twice the price, the highest-tier plan offers 5GB MySQL database storage and 50GB of disk space. That's a great value-to-price ratio that will leave many small and medium businesses struggling to find the right price point for their needs.
But for larger enterprises, the huge amounts of performance are larger than the maximums you'll find at many other popular competitors. If you are currently a large e-commerce store — or a store with ambition — you can be confident that DanDomain will be able to handle your traffic no matter how large your online presence becomes.
If you need help, DanDomain offers native Danish support over the phone on weekdays, but not weekends or holidays. You can elect to call the number listed on their website for support, or fill out a form and have them call you back. Email responses can take a few days. However, there is a fairly robust self-help knowledge base that can answer most basic questions.