Founded in 1997, Cyso is a managed hosting provider located in the Netherlands. They are a large provider with over 2000 customers, 3 data centers, and 50 employees. Their website is available in Dutch and English, and they serve customers worldwide.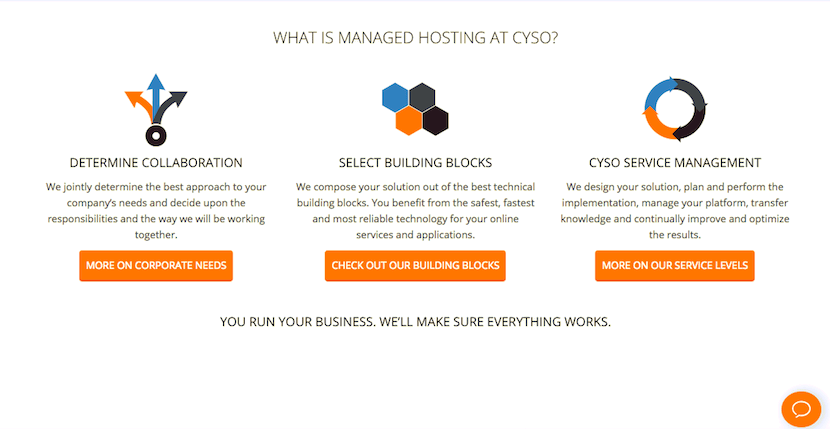 Features and Ease of Use
Cyso specializes in designing, building and managing business hosting solutions for complex platforms and applications. Their services are aimed at businesses who want to outsource the day-to-day management and maintenance of their servers to Cyso. They do not provide shared hosting for small business or websites.
All Cyso plans include the following features as standard:
99.5% uptime guaranteed
24/7 event monitoring
24/7 access to emergency service
Dutch datacenters
I really like Cyso's higher security package, Mission Critical Hosting, which gives you additional support on top of their regular managed hosting plan. It is for large businesses that require optimum security and cannot afford any website downtime or reduction in website performance.
Mission Critical customers enjoy a better uptime SLA (99.9%) than the managed package, a dedicated account manager, and an operational focus on performance and security. On this plan, you can leave it to Cyso to conduct security audits and implement the recommendations.
The other really great way Cyso adds value is with their extra support and outsourcing options. For example, they provide technical support to improve an application's performance. They also have a 24/7 outsourced I.T. team to help with your businesses technical requirements.
One downside to Cyso is their website. Whilst it looks very professional and appears to include a lot of detailed information, I found it quite confusing. It was hard to understand their exact services, and they did not include any pricing, which was inconvenient. To get a custom quote required several messages on live chat even to speak with an operator.
Pricing and Support
Unfortunately, Cyso pricing is not very transparent. They do not include pricing plans or billing terms on their website. In order to get a quote, I needed to contact sales to discuss my requirements in detail. They then designed a bespoke plan and price for my needs.
Whilst I appreciate the attention to detail and the consideration of my specific business goals, I would ideally like to see at least a ballpark price on their website before spending time on getting a concrete quote. However, the quote was reasonable and in line with local competitors.
Cyso provides a wide range of customer service options, including email, phone, live chat, Facebook, Twitter, Linkedin, and even in-person support. Their service desk is available from Monday to Friday, 08.30 to 18.00 (Dutch time) for non-emergencies. Outside of these hours, they connect you with an emergency team to address your inquiry.
Whilst the provision of support sounds comprehensive, Cyso can be slow to pick up messages on live chat, and their English support could be improved. I messaged several times a day during their open hours and did not get a response. When I did chat with an operator, I felt the help could have been more in-depth and… helpful.