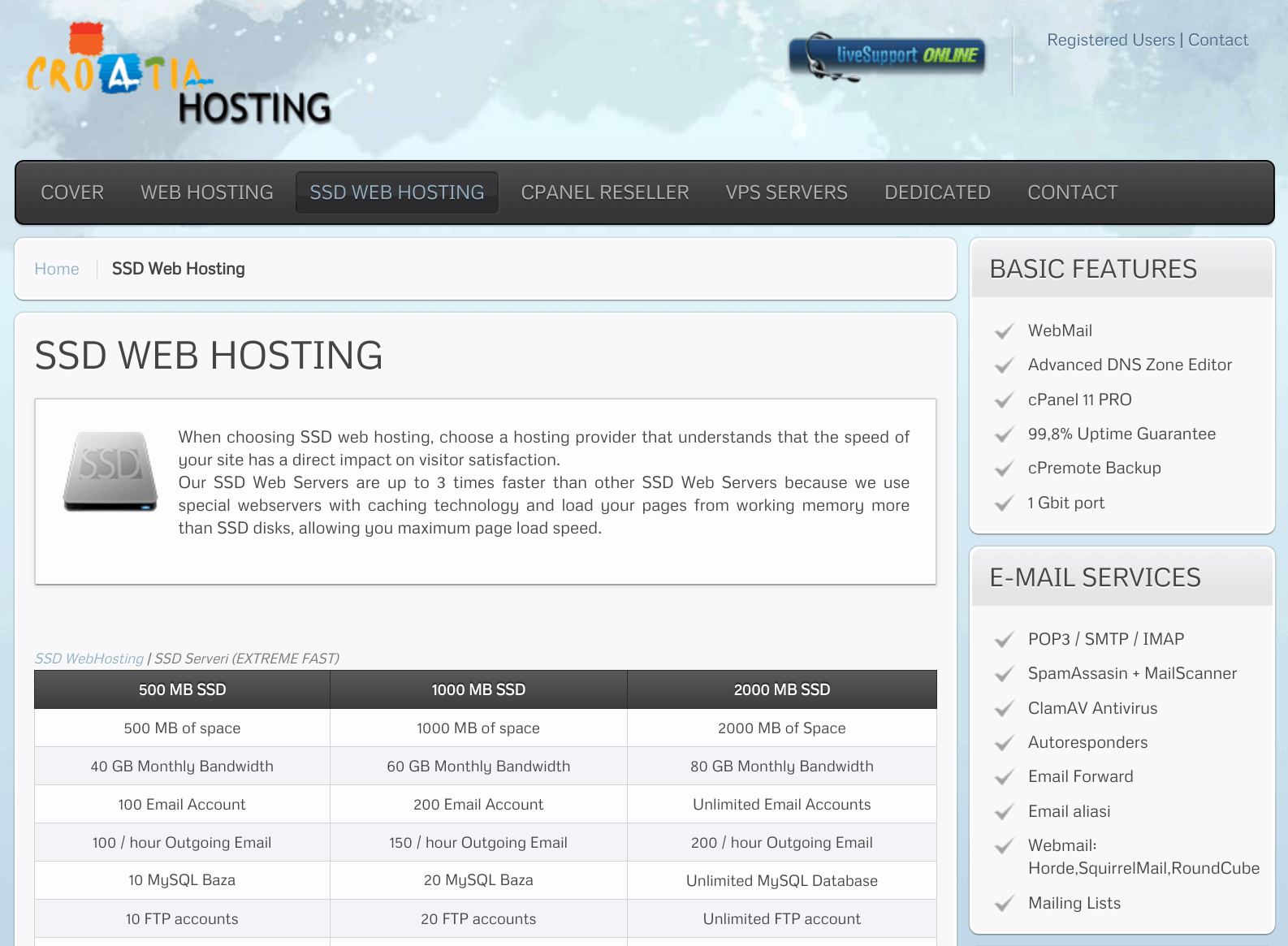 As its name suggests, Croatia Hosting is a Croatian web hosting company. It's not quite so simple, though, because attempting to order any hosting plan takes you to the WHMCS-powered site of STUDIO 4 HOST. Visiting this second Croatian entity's main website reveals a very similar site layout to Croatia Hosting, which suggests to me that its one-and-the-same organization. If true, we can deduce a joint history as far back as at least 2013, which is when STUDIO 4 HOST's Facebook page was created.
Whereas Croatia Hosting's website is in Croatian, the sister site is in English.
Features and Ease of Use
Croatia Hosting offers fifteen shared hosting plans (nine cPanel and six SSD), six reseller hosting plans, eight VPS plans, and several dedicated servers. The six shared cPanel SSD plans provide you with:
99.8% uptime guarantee
cPanel control panel
500 MB to 5,000 MB disk space
40 GB to 150 GB monthly bandwidth
10 to unlimited MySQL databases
10 to unlimited FTP accounts
10 to unlimited subdomains
10 to unlimited addon domains
Cron jobs
ClamAV antivirus, SpamAssassin, and MailScanner
cPremote backups
The inclusion of the Softaculous Premium installer means you can set up several popular applications without needing to have technical knowledge. At the other end of the expertise spectrum, the hosting plans support PHP5, phpPgAdmin, MySQL databases, PostgreSQL databases, IonCube, and Zend Optimizer.
Several website statistics tools are provided (Webalizer, FTP stats, and bandwidth stats) plus an Error Log Viewer and an Access Log Manager.
Croatia Hosting's SSD servers use caching for three times faster performance than non-SSD hosting, and the use of RAID storage for VPS plans helps protect you against disk data disasters.
Pricing and Support
Croatia Hosting's shared hosting plans are dirt-cheap, and you can pay for them in various currencies via PayPal or "Payment to Account" (translated from Croatian). There is no money-back guarantee as far as I can see.
While you should be able to contact this company via live chat or an online contact form, I have to report that my contact form submission seemed to fall on deaf ears. If you have to resort to self-support, you'll be disappointed to discover that sister site STUDIO 4 HOST's knowledge base is bare: