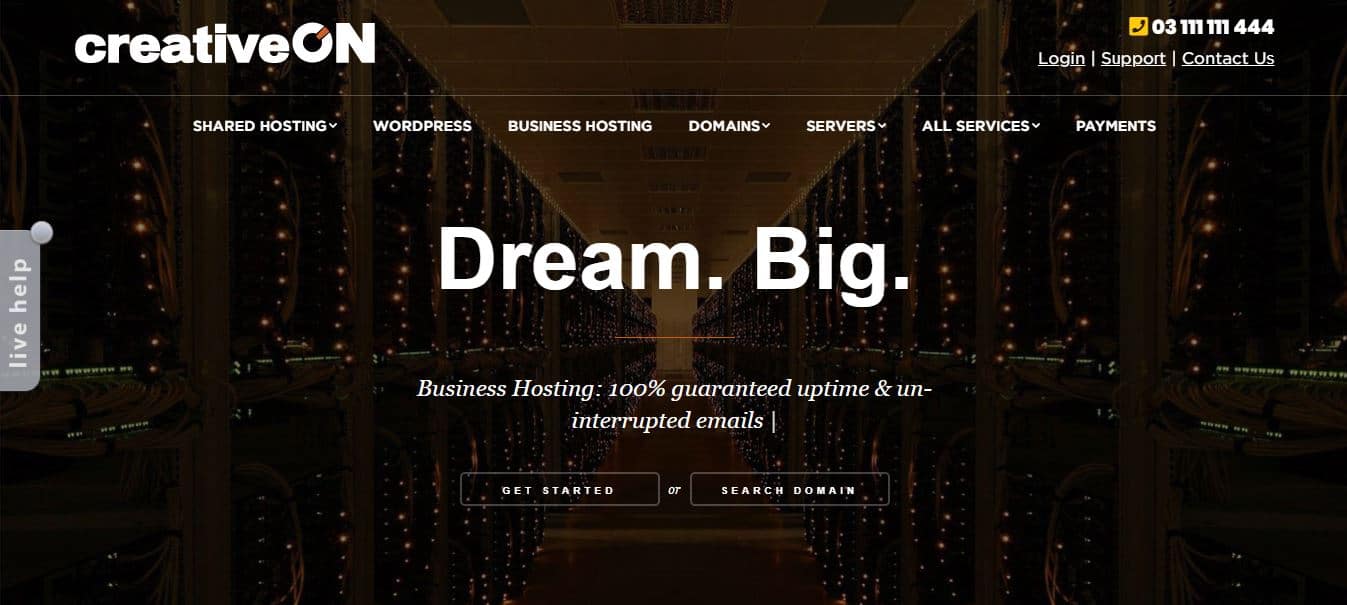 In operation for over 17 years, Pakistan-based creativeON helps startups, web developers, and medium to big businesses establish and run their websites with hosting, domain registration, web development, and SEO services. They offer hosting packages that are specialized to those on a budget and businesses looking to scale up. They serve over 8,500 websites and 35,000 registered domains.
Features and Ease of Use
creativeON offers four types of shared hosting for Linux and Windows OS – Budget, WordPress, Business, and Reseller. They also provide dedicated and VPS servers.
Depending on the plan you choose, you will enjoy these features:
99.9% uptime guarantee
A free .com domain registration
Add-on domains, only available on the business and WordPress packages
Up to unlimited disk space
SSL certificates, paid in all
From 10GB to 500GB data transfer
SSD storage, available in all but the budget plans
Automatic backups on the WordPress packages
Beginners using either the budget or business packages will have little to no issues. They can use the Fantastico! installer to get applications set up in seconds or minutes.
I particularly like that they have business plans for different needs that suit startups, medium, and large businesses. You can have up to one add-on domain, unlimited subdomains, 500GB data transfer, and 60GB SSD.
In addition, they host business accounts on a separate server. You don't share the same server with a personal or budget account. They also integrate fewer business clients per server to ensure high speeds. Another plus is that you have your emails secure with spam and virus filtering.
The business plan has one drawback – it limits you to 12 databases. This limitation might not be a concern if you use popular CMS platforms like Joomla! or WordPress. However, if you prefer setting up custom applications or utilizing Fantastico for application installation, each application and subdomain may require its own database. Depending on the complexity of your website, these databases might not be sufficient for your needs.
If that bothers you, you can go for a WordPress hosting plan. With the managed WordPress packages, you don't have to think of your databases, the SSD disk space is unlimited, you can have up to eight websites, and get frequent automatic backups.
You'll also enjoy 100% uptime monitoring. This means that you can verify if your website response time and load time is at peak performance.
Even if you have already taken a business or budget plan before now, it's easy to switch plans.
Pricing and Support
The Budget plan is as the name implies – very cheap. Don't expect everything, like unlimited subdomains or a free SSL certificate, but it sure does provide more than the industry average for that price.
The business plans are not as cheap, however, having a free .com domain forever is not something that you'll come across easily. With all plans, you have a lifetime domain registration.
Another plus is their 100-day money-back guarantee. This is one of the longest money-back guarantees in the industry and shows how confident they are in the service they will be providing to you.
Customer support is not 24/7. They are available on Monday through Saturday from 9 a.m. to 11 p.m. PKT. On Sundays, you can reach them from 12 p.m. to 7 p.m. They are available via email, phone support, live chat, and online tickets.
If you have a business account, you also have an added benefit of a dedicated support representative who knows all about your account. All business hosting accounts come with one.