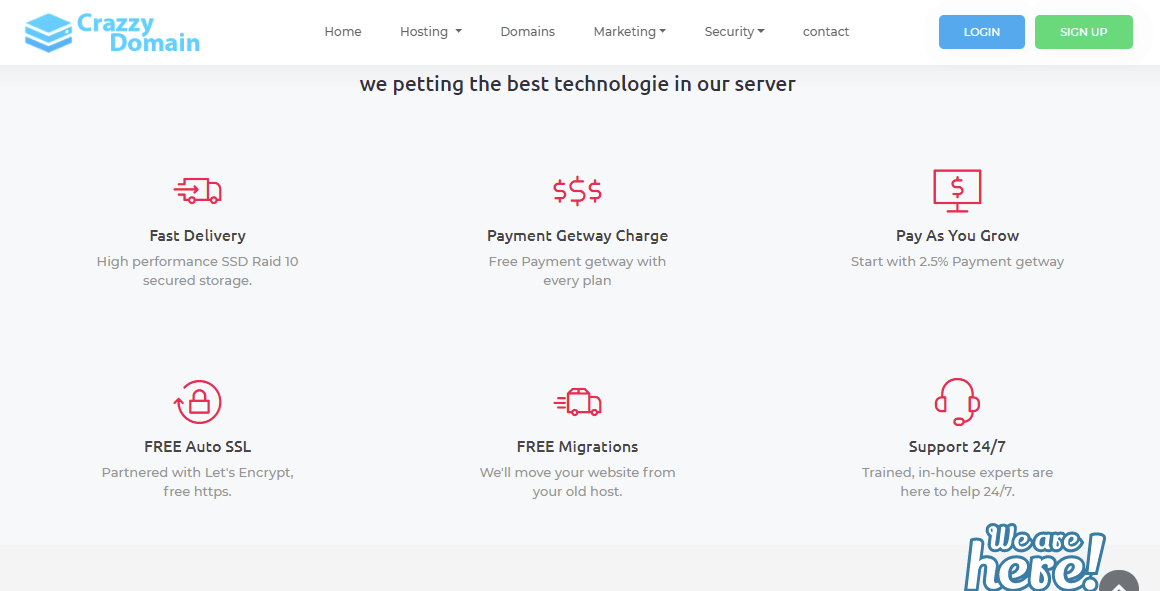 CrazzyDomain is a hosting company from India that offers shared hosting, reseller hosting, and domains. It also sells bulk SMS, SSL certificates, and the Weebly website builder. CrazzyDomain has servers that are located in the United States and its website is available in English.
Features and Ease of Use
CrazzyDomain offers the basic web hosting features with the Linux operating system. These are some of the features that customers get when they take a shared hosting plan with this company:
98.7% uptime
Free SSL certificate
Automatic backups
One, 10, 50 or 100 domains
Unlimited bandwidth
Unlimited space
CrazzyDomain is beginner-friendly, offering one of the easiest control panels to use – cPanel. Furthermore, it provides a one-click application installer from cPanel that customers can use to set up WordPress, Joomla!, and the likes. There's no website builder though so you might need to dabble with code.
The company uses a fantastic OS – CloudLinux. Along with CageFS technology, this separates each client into a "cage" that is free from interruptions due to actions happening in another "cage". This balances CPU and RAM usage amongst customers in one server.
At first glance, CrazzyDomain seems to be a nice option for small business websites and hosting startups looking to resell its services. However, a closer look at its offer raised some red flags.
To start with its automatic backups, though kept for seven days, are not restored for free. In fact, customers cannot restore them from the control panel. Many top hosting companies use software like Jetbackups to ensure that customers can restore backups in one click. Not here though as you'll have to pay support to have it restored.
Also, its uptime is 98.7%. Most hosting companies guarantee at least 99%. With this 98.7%, you should expect about four days and 18 hours of downtime every year, if not more.
No company, especially an e-commerce company or any small business that works 24/7 would want their "online branch" to be down when it's needed. To make it worse, there's no compensation for downtime. In fact, its terms of service state that it shall not "be liable for interruptions of service or downtime…"
Beware that CrazzyDomains's hosting services are for small businesses only. Large e-commerce companies and anyone looking for better control like you'll get in a VPS or dedicated server will have to look elsewhere as this company doesn't offer them.
Pricing and Support
Crazzydomain offers "unlimited" space and bandwidth and doesn't explain what the exact limits are. What's clear is that each plan allows a different number of domains to be hosted and that its prices are one of the lowest in the market.
Low prices are usually a perk, but I can't say if they are in this case given the downside to this host. Also, if the prices are this low, you shouldn't expect the highest of performance compared to a load of other hosting providers.
The company provides hosting services for one year, two years, and three years. Customers who opt to pay for three years will receive a complimentary domain alongside their hosting package.
The support options are a live chat, ticket, email, and phone. I wasn't impressed with the live chat. It started off well but turned bad later on. I am not sure if the agent was trying to sell me hosting while hiding information. Some of the questions I asked, they kept going round and round on.